The MMA Academy is a mixed martial arts gym in Liverpool that offers teaching in several disciplines, including Brazilian Jiu Jitsu, Muay Thai and MMA. 
Jason Tan is the head coach and owner of the gym who, along with eight other coaches, offers classes to people anywhere from beginners to black belts, women and children, teaching hundreds of members.
Tan is a UFC veteran having competed in the competition for three years in the mid 2000s, finishing with a record of five wins (one by knockout) and three losses. 
Jason (centre-left) is owner and co-founder of the Academy.
"I've been doing Brazilian Jiu Jitsu since I was 20 and I've been coaching for around 12 years," the 38-year-old said.
"We've been at this particular gym with the MMA Academy for around two years, but before that we were in another spot and we'd been there for about 10 years.
"I'm very lucky that I get to make a living from it, having the academy, coaching people and being able to follow a path.
"It's a job, but it's a really fun job – I count my blessings everyday. It's a dream and it's been amazing for me."
Jason recently promoted his first student to black belt, 34-year-old James Owen whom he has trained with since 2003.
"James came to the second Jiu Jitsu class that I taught over 15 years ago and he's trained with me since then.
"For me, he's not even really a student, he's my training partner and coach as much as I am to him."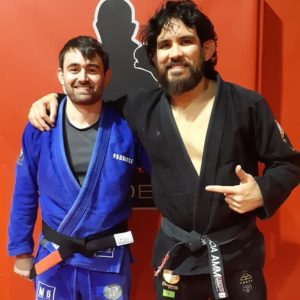 But what is Brazilian Jiu Jitsu?
The discipline is described as a self-defence combat sport based on grappling, ground fighting and submission holds.
Jason himself however likens it to a game which is much more commonly known.
"It's like a game of chess, almost like human chess," the Liverpool-born fighter said.
"You're trying to catch your partner into submission holds, and at the same time they're trying to do the same to you. That's what it comes down to.
"There's a variety of techniques and moves that you have to learn – it's a real thinking man's game and it's very addictive. 
"Once you get the basics, and you start to get a bit of success, it becomes an art that you have to delve into – you can't just train it once a week."
One of Jason's many students is brown belt John Moffatt who has trained under Tan for the past six years, and he believes the key to the discipline is patience.
"Patience and discipline are two of the most important factors to becoming good. Goals in BJJ are so difficult to achieve," he said.
"At first progression is easy, you go from not knowing something to then knowing it.
When you get up the grades it takes a lot more effort for much smaller improvements.
"Having goals of winning at competitions is difficult as it only takes one bad day and months of training almost feel wasted, even though the improvements you've made are more important in the long term."
John began his path in martial arts with traditional jiu jitsu, where he ranked to a second degree black belt before becoming a blue belt in BJJ. 
Since then, he's progressed to a brown belt at the Academy – one rank beneath black.
For this progression, John is considered as one of the academy's most active and competitive members.
"I love competition, I think it's the best test of your BJJ skills and ability," he said.
"It's a pressure test, dealing with a competitive opponent and competition nerves. This is where you see how good you are.
"But my favourite part is the community, the people are fantastic.
"You make friends and meet people who you would never normally meet and form such strong friendships with them. 
"You become a part of something which forms a really big part of your personality and identity."
The Academy is currently closed due to the global outbreak of the Coronavirus, but you can guarantee dozens of people like John will get straight back onto the mats as soon as they can. 
You can take a look at what the MMA Academy has to offer here.
(All photos courtesy of Jason and John's social media)