A young football coach from Liverpool is set to achieve his dream of coaching in the United States through the Camp America scheme.
Josh McDonnell, from West Derby, will be heading over to the Chippewa ranch camp in Wisconsin, USA to help coach a number of young kids with football training.
Josh, who has recently completed a 3-year coaching course at The City of Liverpool College, will fly over to the American camp for three months in the summer.
The 19-year-old says it has always been a dream of his to coach over in America and is looking forward to the opportunity.
"I have always been a fan of playing and watching football and once I heard about this Camp America scheme in college I jumped at the chance."
Only twenty coaches from across the United Kingdom were selected for the Camp America scheme, as well as another 100 applicants from the United States.
Although Josh's place at the camp is now confirmed, he says that booking his seat on the plane was not an easy ride. "It's quite a long process you have to go through which includes interviews with the camps and filling out quite a few application forms."
"Once I was accepted by the camp I had to apply for a visa down in London which was quite a long car journey for me, but it was all worth it in the end."
The young Scouser has always had aspirations of coaching the sport he loves, but he says a lack of confidence hindered his plans in the past. "It wasn't until I left school and went to college before I started getting into coaching." He said.
"Throughout school I was shy and lacking confidence so I didn't take up P.E. as one of my subjects because I thought I wasn't good enough to pass it. Also none of my mates were taking it up so I gave it a pass."
"College however was a fresh start for me. I was able to meet new people and by that time I knew that coaching was what I wanted to do."
"The best thing about coaching for me is the buzz you get out of knowing that you have helped someone get better and improve. Having that impact on someone and seeing them achieve with your help puts a smile on my face.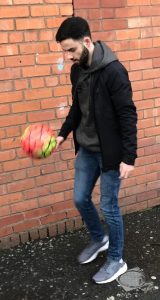 Even though the Camp America scheme will only last for three months, Josh already has plans on a return trip to the States for more coaching in the future.
"All being well my plan is to hopefully return in the next couple of years. When I come back to Liverpool after summer I plan to get more experience coaching and after a few years move back across the pond."
"The main dream of mine would be for me to set up a coaching business of my own over there, but there's a long way to go before then."
Josh also encourages more young people to take up such opportunities, believing that they shouldn't be put off by the paperwork that comes before hand.
"It was a stress getting everything sorted but I have no doubt that it will be an experience that I will never forget."
"Once you get older it's not something that you can go back and do so I would recommend that all young coaches take up the opportunity if it's presented to them."
"Not only will I be doing the job I love but it's also a great way of meeting new people from all around the world and I'll be able to experience different cultures, as well as making it a summer that the kids and myself will never forget."