Exclusive, by Andrew Howard
As the players of City of Liverpool FC and Colne made their way back to the dressing rooms, they walk across a narrow grass walkway.
The tight platform leads them directly from the pitch to the changing rooms, and has fans from both clubs leaning over the rails – literally touching distance of the players.
They stop and interact, openly responding to the praises or even criticisms that are thrown at them.
It lays bare the transparency that exists between non-League clubs and their loyal supporters who travel to tiny grounds every weekend.
The vast majority of these footballers work full-time jobs through the week, so humility is part of their nature when it comes to fan engagement.
However, there is a more familiar face making his way through the crowd, which is now spilling onto the walkway, stopping to talk and posing for photographs with people along the way.
Ex-Premier League ace and Liverpool-born Ryan Taylor, now 37, has just completed the full 90 minutes for eighth division side Colne, who have progressed to the next round of the FA Buildbase Trophy.
To move from the pinnacle of English football down to the bottom of the pyramid could cause motivation and passion to suffer.
But not for Taylor.
"I get out of bed on a Saturday morning and look forward to playing. How many more games am I going to play? I don't know," says the former Newcastle man.
The versatile defender/midfielder has endured some memorable highs during his time in English football.
These include scoring the winner in the Tyne-Wear derby in 2011 in the Premier League.
But such highs don't make the winning feeling in more rarefied competition any less satisfying.
"I still love winning, it doesn't matter what level. We've got a great dressing room here, with great staff and great players.
"I'm at an ambitious club, if the club weren't ambitious, I wouldn't be here. I'm still enjoying it," says Taylor.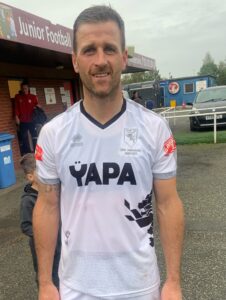 The ex-Tranmere defender spoke candidly about the differences between England's best league and the eighth tier, and the nuances he is still adjusting to.
"For me, the pressure is not the same (as playing in the Premier League), but you put that pressure on yourself to go and perform at this level.
"You get a lot of long balls. If you play in the backline, you have to be physical. It took a bit of time to get used to the league.
"I'm beginning to understand what the league is like, although I haven't played at half of the grounds yet.
"You can't just amble through games. If you do, the manager will just take you out the team. It's just not in my nature to do that."
Taylor played for 11 seasons in the Premier League – four successive campaigns with Wigan Athletic from 2005-2009, and six out of his seven seasons with Newcastle were played in England's top division.
In his one season out of the Premier League with Newcastle, he won the Championship as the Magpies earned promotion straight back.
At 37, the veteran recognises time is not on his side, but still has aspirations to play at a higher level again, and believes his lifestyle and mindset can help him to do so.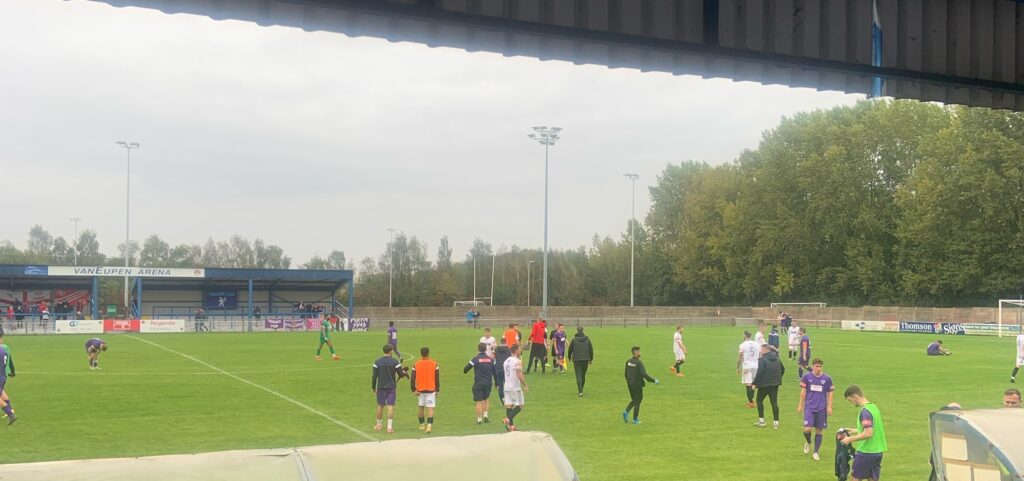 "To be honest, I turned 37 not long ago, but I have no desire to stop playing.
"I'd love to go and play at a higher level, if the club get there.
"I've always kept good habits. If you look at my record this season, I've played Saturday, Tuesday, Saturday, Tuesday – 90 minutes every game.
"It doesn't matter what level you've played at, if you can't do it, you'll get found out."
Although a hugely successful career, Taylor was blighted by several long-term injuries, which inevitably have had lasting effects.
However, the former Wigan man is confident in his preparation for matches.
"I prepare well. I know my body. I know what I can and can't do.
"At my age, my body can break down at any time if I don't look after it."
When asked what the next step after playing might be, Taylor expressed his desire to go into coaching, and when speaking, his knowledge of the game is evident.
"Throughout the season I've played in a back three, a back of four, and in midfield.
"Today, we're away from home, so it was about keeping ourselves in a shape.
"We get the goal, so it's then about trying to manage it. The manager knows I'll be in there talking to the players."
The 37-year-old has worked under some of the most established Premier League managers, including Kevin Keegan and Alan Pardew.
"I want to go into coaching. The next role for me, when I stop playing, is player-coach.
"I keep fit all week because I have the luxury of being able to maintain myself."
With his level of experience and pedigree in the game, the 2010 Championship winner knows players will often come to him for advice which could be invaluable.
And he understands the hardships at that level, trying to balance making a name in the game and working a full-time job through the week.
"It's tough at this level to maintain a lifestyle. People have got to work, as well as trying to progress playing football.
"Some of these boys go down holes and work on pipes in the week!
"Hopefully, people (scouts) can come and watch and see what a good bunch they are. Sometimes it can just be a game of luck.
"If I can give them any advice, I will. I have played at the top level and know what it takes to get there."