Darts player Michael Smith was at Broad Oak Community Primary School in St Helens yesterday launching Bullseye Maths.
Bullseye Maths is an initiative launched by the Professional Darts Corporation to help Key Stage 2 students. Along with anyone interested in maths with numeracy. Through a fun and inclusive way.
Smith wants Darts in schools
Smith who was runner-up in the World Championship in January has wanted to get darts boards into classes since he has in High School. He has used darts to teach his own seven-year-old son quick maths.
"I was teaching him by watching darts back home and teaching him finishes.
"He is really clever when it comes to darts and maths."
Smith advice to all the children was to learn the basics first and stressed the importance of making maths engaging for children.
He said: "Darts can have a massive improvement on your maths. Instead of writing down numbers by throwing a dart you are doing something else which is enjoyable."
The programme itself uses the Mathlete game available online alongside downloadable worksheets.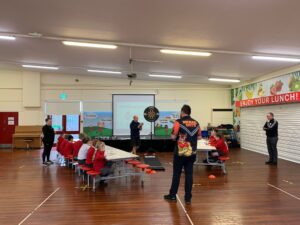 Deputy headmaster Gary Affleck spoke about the importance of the school's link with Smith in helping to engage and interest the children with maths.
He said: "Seeing [the children] throwing the darts at the board you could see smiles on their faces.
"There was apprehension at first, but they grew into it and the more they did it the better they became at maths."
The children all were all in agreement that they had lots of fun. One girl Alex saying her favourite thing about the day was "having fun."
Alex talked about the tips Smith gave to them on playing darts.
"He showed us if you were right-handed to put your right foot forward and if your left footed to put your left foot forward," she said.
Visit PDC.tv/maths for more on Bullseye Maths.
Watch our video report of Bullyboy's visit, below:
(Featured Image: Michael Smith – Bullseye Maths. Photo Credit: Alastair Telfer)