Manchester City and Liverpool fans have agreed that something had to be done to deal with poor fan behaviour ahead of the next meeting between the two clubs.
Following a spree of incidents in the Manchester City-Liverpool fixtures in recent years the decision has been taken now to impose sanctions with Liverpool's away ticket allocation reduced for the April 1 Premier League meeting.
Things came to a climax when the sides met at the Etihad Stadium in December and a Liverpool fan, who has still not been idenitified by the club, launched a plastic pint cup weighted with coins. The missile struck a young girl in the Manchester City end causing her to have to leave the stadium to recieve treatment.
Now Liverpool will have just 80 percent of the standard number of fans permitted for the next game after the safety advisory group who create the certificates authorising games to go ahead have advised City to reduce the away allocation from 3000 to just 2400 for the midday kick off.
This has been supported by MCFC Supporters Club Branch Member, Michael Keane, who was sitting nearby the incident in December.
He said:"It is clear that action needed to be taken to prevent further escalation. Although it may have only been one individual's actions that caused the injury, the fact nobody has been identified and charged has meant there is no choice."
Some will point to the origin of the problems being the Champions League home leg in 2018 where the Blues saw their team coach attacked by missiles from fans pre-match. Since then the onfield rivarly has often been overshadowed by off the field incidents with claims of coin throwing and unsavoury chanting at the Etihad and Anfield across the last few seasons.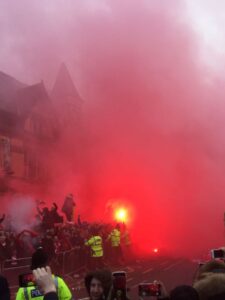 The cup throwing incident wasn't the only issue in December and some City supporters have also condemed their own club for housing away fans above home supporters.
Said Keane: "There were also dozens of other missiles thrown down on home supporters by Liverpool fans. Serious injury was inevitable.
"This has no place in modern football and it needs to be made clear that it won't be tolerated."
Liverpool fan and Content Creator at The Anfield Wrap John Gibbons also condemned the incidents, but pointed to the  Old Firm games in Glasgow where both teams recieve an away allocation of less than 1000.
Gibbons said: "I think we [Liverpool] need to look at it. We've created this situation at the end of the day.
"I think the problem is, it could then become a bit tit-for-tat and Liverpool could say 'Well we'll reduce your allocation cos you've done this or sang these songs.' And you end up in a situation similar to Celtic and Rangers."
Mersey Sport Live spoke with John Gibbons and Manchester City season ticket holders>>>