Everton Women take on Liverpool Ladies at Goodison Park in a battle for Merseyside Derby bragging rights this Friday (March 24).
Everton are sixth in the Women's Super League, six points behind Aston Villa Women with a game in hand.
Everton beat Liverpool 3-0 in the reverse fixture at Anfield in September.
Yet, Liverpool have a higher number of wins historically in all Merseyside women's derby clashes.
Brian Sørensen's team are aiming for a win after failing to gain three points from any of their last three league games.
Denmark-born Nicoline Sørensen hopes to make an impact in her first derby for Everton after suffering an ACL injury that put her out for 14 months.
Peter MacFarlane, Everton Women Official Supporters Club Secretary, told Merseysportlive: "I think Everton this season have been fantastic, a new manager has come in and we're playing a style of football that's a joy to watch.
"We've got international players throughout, we've got some really exciting young players as well."
Matt Beard's side have a number of injury problems with strikers Natasha Dowie and Leanne Kiernan still unavailable.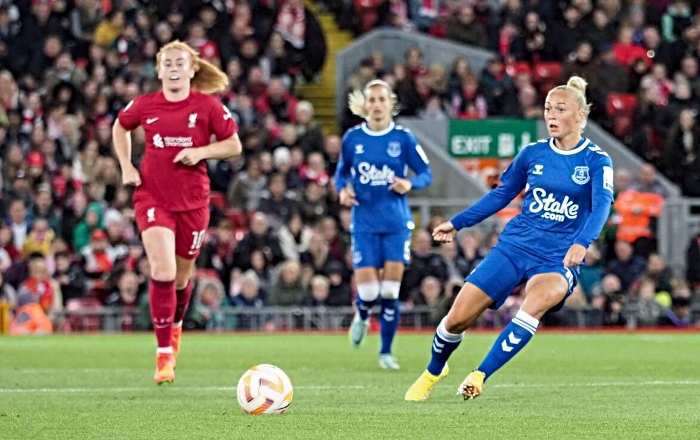 Liverpool have proven themselves against top teams this season, beating league leaders Chelsea among others.
They will fight for three points to pull further away from the relegation zone.
Bottom of the table Leicester City sit just seven points behind in the WSL.
MacFarlane added: "Missy Bo Kearns, a local girl, scouser, die-hard Liverpudlian. I'm sure she's going to want to put on a performance.
"They're going to be feeling bruised after we beat them 3-0 at Anfield."
Average attendance figures in the women's game are up more than 200% on last season.
And Goodison Park is likely to be packed for this latest derby clash. It will be screened live on Sky Sports.
(Pics courtesy of Alamy Images under agreed licence)