From joining the club as a boy aged 10 to being the first team manager over 40 years later, Martin Ryman has enjoyed an extraordinary journey at South Liverpool FC that has now seen him reach the 1000 game mark as player and manager.
After over three decades at the club, the lifelong Everton fan reached this monumental milestone in the 1-1 away draw to league leaders FC St Helens this month.
The 53-year-old admitted it was 'a very proud' moment for him. He said: "It means the world to me of course it does. I feel very lucky to have only managed one club."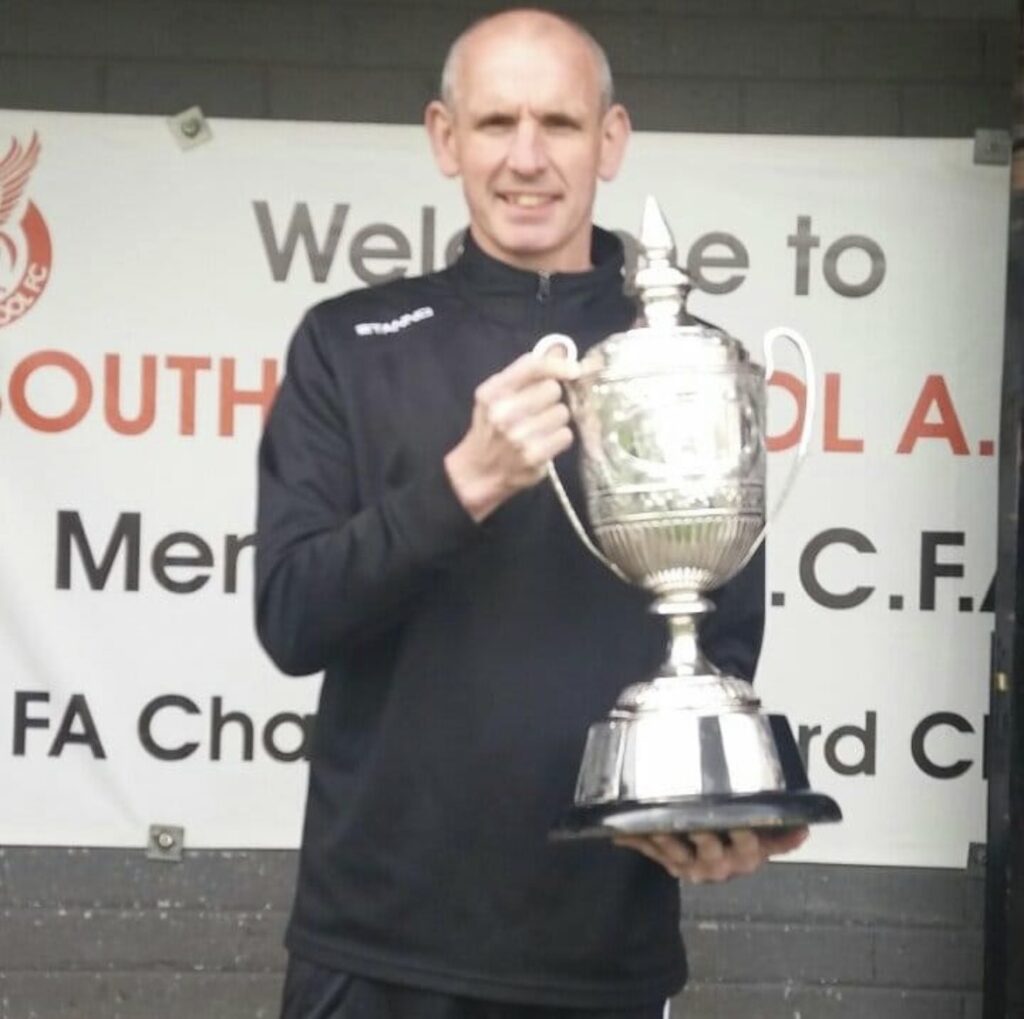 However, reaching 1000 games was almost ironic for Ryman after revealing he never actually wanted the manager's job.
He said: "I took over as manager of South when I was 30 years of age. I just sort of went from player to manager. I kind of got bullied into it a little bit, as I wasn't 100% sure if I wanted to do it, but obviously I did because here I am 20 years later still doing it."
After his millennium moment, he was rewarded with a bottle of whisky and a round of applause from the clubhouse at FC St Helens which he was thankful for.
👥 A big thank you to the players, officials and supporters of @fcsthelens for the game today and especially your great hospitality.
Best wishes in your upcoming games.
A huge thank you also for your gesture and gift to mark our very own Martin Ryman's 1,000th game at South.
1/2 pic.twitter.com/BOENF18NXi

— South Liverpool FC (@SouthLplFC) October 14, 2023
However, he labelled the game itself as 'nothing special' saying: "It was just another game really, although we were playing the runaway league leaders away from home, so it was very tough but no different to all the others. You've still got to pick the right side and get your message across to try and get the three points."
Despite reaching the impressive feat at a single club, the Scouser explained his biggest achievement in football came just three seasons ago when the South earned promotion into the first step of the semi pro circuit, helping to raise the profile of the club.
He said: "When I took over, we weren't a club, we just had a first team and that was it. But in the 20 years I've been here, not just me but with the help of others, we've managed to build it up. We now have a first team, second team, third team, Vets' team and youth system."
He admitted the North West Counties is a significant step up from the West Cheshire league in terms of the pace and intensity of the game, as well as the professionalism required to be involved at this level.
Another personal managerial highlight was winning a cup final at his beloved Goodison Park in 2009, as well as landing the treble in 2016, memories he cherishes as 'tremendous moments'.
However, while he has masterminded 18 trophy wins during his time as manager, Ryman admitted his playing days at South Liverpool weren't overly successful, saying: "It was pretty low key really compared to the achievements I've now had as a manager."
Been told by our stat man that today is my 1000th game at South Liverpool FC as player and manager makes me feel ancient 😫👴…couldn't have chosen a tougher game away to the runaway league leaders…will be trying our best to get the three points COTS ⚪️⚫️🔴

— Martin Ryman (@MartinRyman1) October 14, 2023
He made his youth debut for the club in 1980 for the U11's before making his senior debut for the side at 20-years-old, in 1992, featuring in a 1-1 draw against Manweb. He went on to become captain as well as figuring in the Junior Cup winning team back in 1997.
Despite being the longest serving member at the club, Ryman is still as dedicated to South Liverpool as ever. He said: "I think anyone, whether you're a player or manager, wants to test your ability to the highest level but I'm happy where I am.
"To be honest I don't think there's another club that will put up with me. I think it's only South that will have me!"
Ryman expressed his pride to still be at the club after a thousand games and is looking forward to the rest of the season, where they're hoping to improve on their previous two campaigns and push for a play off spot.
If that doesn't happen this year, there's every chance he'll still be around next season to try again.