Tributes are continuing for Everton chairman Bill Kenwright following the announcement of his death earlier this week.
A book of condolences was placed at the Park End reception at Goodison Park yesterday (Thursday) allowing players, staff and fans to pay their tributes to Kenwright.
A memorial has also been placed surrounding the Dixie Dean statue outside of Goodison, with flowers, scarves and messages left as people continue to pay their respects after the 78-year-old died from cancer.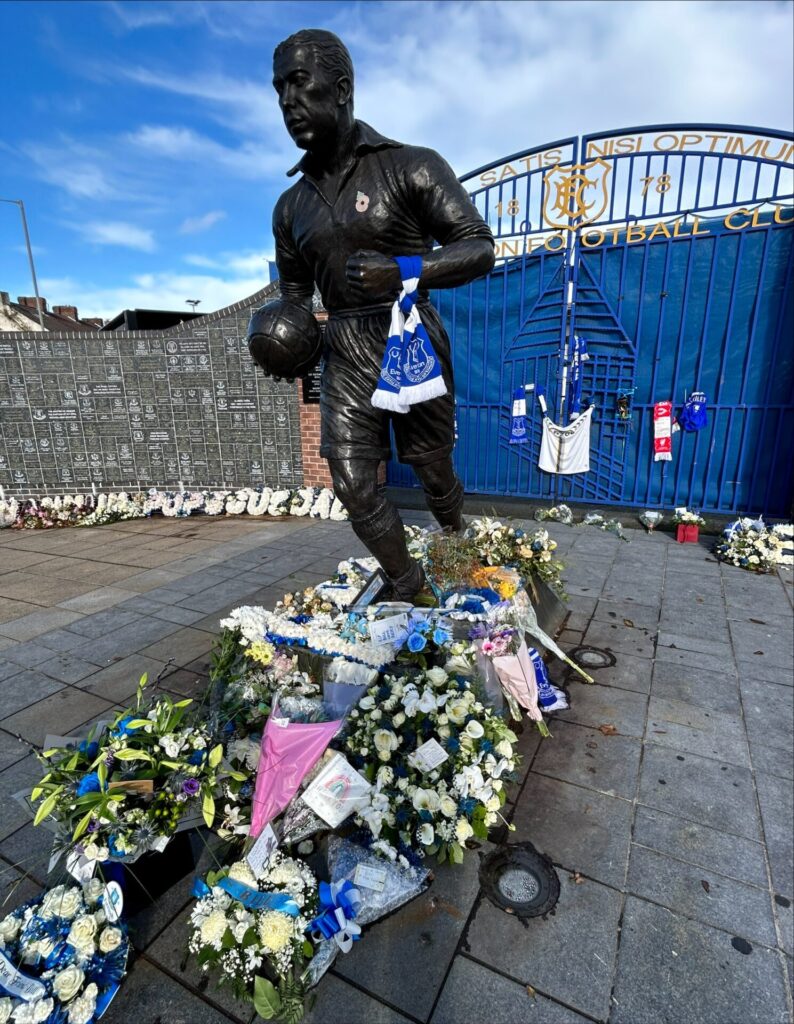 Everton manager Sean Dyche and captain Seamus Coleman were shown laying a wreath at the memorial, with Coleman saying: "Bill Kenwright was more than a chairman to me. He was a friend.
"He was inspirational, he was so kind, he loved Everton, and his presence will be sorely missed."
Sharing memories and paying tribute 💙 pic.twitter.com/IupeJ1GEUX

— Everton (@Everton) October 26, 2023
John Blain from popular Everton fan channel Toffee TV also paid tribute to Kenwright. He told MerseySportLive: "The passing of Bill Kenwright is the end of an era for both the football community on Merseyside and the regional theatres throughout the country that benefited from Bill's patronage and support.
"It is very unlikely we will ever see again a working-class lad from Liverpool grow up to own the football club he supported all his life. Bill was genuinely revered in the theatre industry where he was a very successful theatre and film producer.
"Bill Kenwright born a blue, lived and passed as a blue but above all, despite living in London he remained a true Scouser who remained proud of the city of his birth where he will be greatly missed."
The red side of Merseyside paid their respects before Liverpool's Europa League fixture against Toulouse with a minute's applause before.
The Hollies song 'He Ain't Heavy, He's My Brother' was then played at Anfield – a song Kenwright personally picked to play at Goodison following the release of the Hillsborough Independent Panel Report in 2012.
🤝 Liverpool fans paying tribute to Bill Kenwright tonight at Anfield💙❤️pic.twitter.com/vT6v0Rr6Cn

— 𝗧𝗵𝗲 𝗧𝗼𝗳𝗳𝗲𝗲 𝗕𝗹𝘂𝗲𝘀 (@EvertonNewsFeed) October 26, 2023
Forever a blue, the Everton chairman's support and work for the victims of the Hillsborough disaster earned him the utmost respect from both sides of the city, portrayed by a Liverpool scarf being placed at his memorial with a message reading: "Maybe a blue, but definitely a Scouser. R.I.P."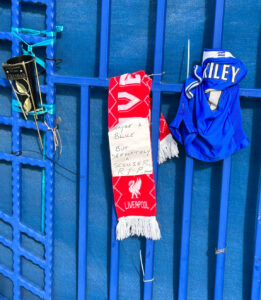 A moments applause is expected to take place at The London Stadium on Sunday when Everton travel to West Ham as they continue to mourn the loss of their longest serving chairman in more than a century.