Southport-born Matthew Taylor talks about the ups and downs of football, the cruel side of the game and the importance of perseverance to become professional.
"I've always been 100% focused, tunnel vision, that's the only way I've gone about it really. You get negative thoughts, but I've always had the end goal to make it." Said Taylor, as he sought to describe his turbulent career which began as a left-midfielder in Sunday League.
"When I was seven, I was with a team called Tarleton Corinthians. 
"I was there until I was 11 when I got picked up by Preston. I signed a deal there until the under-15's, which is when I was released."
It wasn't to be the last disappointment of Matthew's career, but it would be the first to bounce back from. 
"I was out of academy football then, playing in Liverpool for a team of lads like me who'd been released by clubs and were looking to get back into an academy.
"It took about a full season, but from there I went to Wigan."
Matthew joined the Latics on an under-16 contract, before going on to sign a two-year, under-18 scholarship at the club in April of 2015, just before embarking on his GCSE's.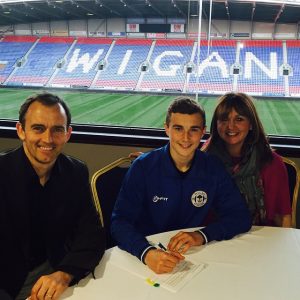 "I would miss two afternoons of school a week for training. In year 11, I completely missed French for the last six months so I had to do a lot more work at home.
"For a lot of lads, it's football or nothing. Whereas for me, I was genuinely invested in having a solid plan B in case football didn't work out.
"I took it seriously which put a lot of stress on me. Being a young lad, you need to commit your life to football, but at the same time you need to commit to school so it was basically just a massive balancing act."
After school, Matthew began his two-year scholar at Wigan which included a BTEC sports science course.
"I think the whole reason they do it is because players are likely to be interested in it, I definitely was.
"I got the top distinction in that and I had my GCSE's too so I got a place at Loughborough Uni, which was a plan B in case I didn't get offered a pro deal."
As Matthew had began playing for Wigan, he was moved from a left-midfielder to a left-back, going on to thrive in his new position due to his defensive work rate but also the ability to maraud forward as a modern day full-back.
It wasn't handed to him on a silver platter, however.
"My first year was a funny one because I got offered my scholarship, but two weeks later, Wigan bought a left-back on a two-year scholar and a one-year pro deal.
"There was already a left-back there who was the year above me so I had two people ahead of me for my first year.
"I managed to get second choice after a month or so, then towards the end of the season I started getting a run of games and playing. 
"I wouldn't change any of that because it was important for me to realise what football is like, you're not always going to get picked. You need to work hard to earn your place in the team."
They went on to win the league in the first year of Matthew's scholar before he really impressed in his second.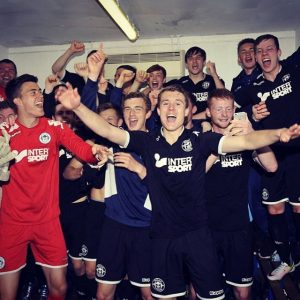 "In the second season, the lad I was battling for a place with moved on (to the Under-23's) so it became my position to keep. 
"He then got injured so I ended up playing on a Saturday for the 18's and on a Tuesday for the 23's for the whole of my second year. I played about 60 games, it was really good for me. 
"In January, I got moved up into the first team training ground to be with the under-23's on a full time basis – it was a really successful season."
Just as Matthew was set to be offered a pro deal by the club, the cruel reality of football struck. It wasn't to be the last time. 
Wigan's first team were relegated from the Championship at the end of the 2016/17 season, meaning the Latics' under-23 programme was scrapped.
"It was a Friday and the academy manager pulled the seven of us who were left in and said: 'I just need to have a chat with the chairman, but we've put all of your names down for pros.'"
By the following Monday however, the decision had been made by the club's hierarchy. 
"Because Wigan were getting relegated, they had to pick who they thought could step up to the first team in the shortest amount of time.
"They thought the other lads were more ready than I was."
Luckily for Matthew, all hope was not lost. Derby had been watching the then 17-year-old's progress.
"By the Thursday I was at Derby. I played a game for them on the weekend then got offered a pro deal the next Tuesday. 
"So in the space of eight days, I was released, devastated, offered a pro deal and then over the moon."
The whirlwind life of being a footballer was in full swing for Taylor, but some of the hardest challenges lay ahead as he moved away from home for the first time.
"I lived in digs at Derby, which is where a family gets paid by the club to have a player in the house. 
"It was awkward living with people that you don't really know. It did take me a few months to settle in and even as I got more comfortable, it just wasn't the same."
In August of 2017, Matthew's long-term girlfriend Hope moved away to Hong Kong for the best part of a year to work at Harrow International School, adding a new dimension of difficulty into the new surroundings.
"It was really difficult. Hope went away until the next June so she was away for the whole season.
"Hope is my best friend, her belief in me and her continual support is a massive part of my success. Being 6,000 miles away with an eight hour time difference made it hard to even FaceTime each other.
"It all built up stress, but I'd like to think I handled it fairly well. It was definitely a challenge."
Matthew struggled for game time during the first part of the season as County already had three left-backs in the squad, but this gave him the chance to go out on loan and play men's football.
A fruitful spell at Gainsborough in the National League North followed in September, with Matthew racking up five assists in his final seven games as The Holy Blues climbed up the table.
Whilst Matthew was at The Northolme, the club reached the first round proper of the FA Cup, with Taylor assisting the winning goal in a 2-1 win over Harrogate in the fourth qualifying round. 
Upon returning to Pride Park in December, he found himself in the team more, but it wasn't enough.
"I was playing in the cup and the under-23 Premier League, but it wasn't like I was playing every week. It was once every couple of weeks, it wasn't consistent game time."
Whilst Matthew could've stayed with Derby, his admirable desire to play football and test himself saw him leave the club in the summer of 2018. 
"I thought I could go and play week in week out somewhere, that's when an opportunity at Oxford came up.
"I was lucky because I've got family in Oxford who had a spare room for me, it was twenty minutes from the training ground. 
"It was miles better (than digs), a lot more comfortable. Hope was back and in Sheffield University, whilst it was still a two hour drive, it wasn't 6,000 miles. It was a lot better in terms of how comfortable I felt."
Whilst at Oxford, Matthew admitted his agent at the time wasn't putting his name out there for loan moves, meaning he ended up going to local side Banbury United in the seventh tier come November for game time.
It wasn't Taylor's ideal level, but he enjoyed his time on loan. He went on to score his first senior goal during a 6-1 thrashing of Barwell in which the left-back also assisted.
Matt Taylor's goal and United's third against Barwell in a 6-1 win this afternoon pic.twitter.com/iDUi3rSOUS

— Banbury United FC (@BanburyUnitedFC) January 5, 2019
When he returned to Oxford however, he was dealt another big blow.
"This is the rubbish side of football, I guess." Taylor admitted.
"I was only told good things until late April, then I found out that the people who wanted me at the club weren't the ones who made the final decision, so therefore my time was up.
"Footballs just a crazy game and it's not fair on so many players, that's why it's so challenging and so few do it." 
Unlike when he left Wigan, there was no club there to pick Matthew up as he began the off-season unemployed. 
After working so hard at six clubs by the age of 20, Matthew could have been forgiven for packing it all in. But his ruthless determination had taken him this far, and it would take him even further. 
"During the off-season, I changed my agent and signed with the company Full Ninety, they've been nothing short of unbelievable for me. They organised the clubs for me to go on trial to in pre-season."
Matthew was offered contracts at both Football League and National League clubs, but they either fell through, or Matthew decided they weren't right for him. 
His agent told him to stick with it and eventually, perseverance paid off. 
"After two or three months of that, I got a call saying Harrogate needed a left-back." Taylor recollected.
"I trained with them for a bit and they really liked me, but the only problem was I hadn't played a game."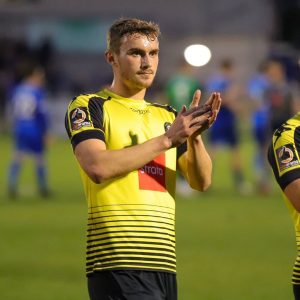 Matthew couldn't play in league fixtures as a trialist, but club friendlies and under-23 games were consistently called off.
"You can be as great as you are in training, but if you can't do it in a game, clubs aren't going to take a chance on you. 
"I'd been unemployed for the past three months when you think about it, it doesn't seem like it because i've been at clubs getting offered contracts and that, but I hadn't been paid."
In the end, the National League side offered Matthew a deal on 'non-contract' terms, meaning the 20-year-old has a wage and a deal until the end of the season, but it can be cancelled at any time.
"Hopefully, I can get something a little more long-term and I can keep progressing on from now. 
"It's a great club to be at and I'm really enjoying it as well, they're full-time, it's a chance to play and if I do well enough, who knows who could be watching?"
Everything seems to be settling down now for Matthew after a rollercoaster couple of years, he's staying with Hope in Sheffield now and whilst it's still a 90 minute commute, he's happy.
"I think that I've found the right club for me, I'm happy and obviously I've got my family (in Southport) closer and my girlfriend with me. 
"I'm happy with how it's going and I'm sure there'll be plenty more ups and downs along the way – but that's football."
We agreed that an apt description of Matthew's career so far would be a story of 'doing it the hard way' to get where he is now.
"Definitely, It's how I would sum up my career so far.
"It's not been the case that I've come up through the ranks of an academy and been offered my first pro deal there, gone on loan to a local team and still been able to live at home with my family around me. 
"I've had to live away from home for the first time, without my girlfriend or my family with me, it definitely has been a challenge. 
"I wouldn't change any of it because it's made me into the person and the footballer I am today. It's something that I'm proud of in a sense."
Throughout the low points however, Matthew never wanted to give it up.
"You get thoughts in your mind like 'this is terrible', 'why am I doing this to myself', but those thoughts never lasted for more than 30 seconds. I've always been so driven that I'm going to be a professional footballer.
"I completely understand why someone would want to stop and it's what happens to so many different lads, there's no shame in feeling like that."
Football is a cruel, fickle, toilsome industry like no other. There are no guarantees, setbacks and disappointment are inevitable. It's a dream many harbour, but few achieve.
It's testament to Matthew's character and resilience that he's been able to roll with the punches that professional football has to offer. He's now playing for an ambitious, progressive club.
With more trademark hard work, and maybe some of the luck which has alluded Matthew so far, this will be the beginning of a very bright career.
You can read a similar article on former Everton under-23 striker Delial Brewster here.
Photos credited to Matthew's social accounts.