Former Everton under-18 and under-23 star Delial Brewster opens up on his time at Everton, difficulties with injuries and where life has taken him after he left his boyhood club in 2017.
"It's a really proud moment for me. I've dreamt of playing for this club and this contract is a step closer to doing that."
Said a 17-year-old Delial Brewster in 2015, as he revelled in the delight of signing his first professional contract with Everton. 
However, Delial's journey actually started at Liverpool due to the then seismic difference in facilities at The Reds in 2005, joining at the age of seven. 
But as he began his ascent up the youth ranks at Anfield, things at Everton were changing. He was offered the chance to sign for The Blues again in 2010.
"At the age of 12, you get the chance to sign on until you're 16.", he recollected. 
"Throughout my years at Liverpool, Everton were always in contact with me asking me how it was and saying stuff like 'come back', 'come to Everton', all of this.
"Martin Waldron (Everton's Head of Academy) spoke to my parents and it just sort of happened from there, really. I supported Everton, Finch Farm was around then so the facilities were better, the team was better.
"I wanted to be at Everton from the beginning, some things you just have to wait for."
The wait was worth it, as Delial consistently scored goals on his climb through the age ranges at Everton as he became known as a striker with 'power, pace and an eye for goal'.
At 16, Delial was involved with Kevin Sheedy's under-18 side which went on to win the Under-18 Premier League in May of 2014, in a team which contained the likes of Tom Davies.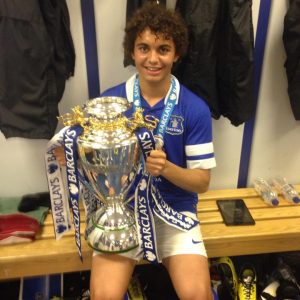 "It was amazing that year when we won the league. Kevin Sheedy was the manager and Duncan Ferguson was the assistant, I was in awe of them."
Then in July of 2015, he signed his first professional contract with the club as he put pen to paper on a two-year-deal. 
"I remember the day, it was really good. 
"When it happened I was made up to say, 'I've signed a professional deal with Everton, the team I support', all of that.
"I was just dead happy."
Five months later, Delial got his first taste of men's football as he was sent on loan to Stockport County. 
Just 12 minutes into his debut, the then 18-year-old scored his first senior goal away at Harrogate. The dream start.
"It was very different and physical." Delial said of the change from youth football to adult football. 
"It was scary to be fair, but I felt like I adapted quite well considering I scored in my first game.
"They liked me and I really enjoyed my time there, but I had a hernia injury so I had to cut it short."
It wasn't to be the last time that injury prevented the frontman from getting into any real rhythm either, sadly.
Upon returning to the Everton, Delial had his defining moments in an Everton shirt in March of 2016, as he helped the under-18's lift the prestigious Dallas Cup for the first time.
"The Dallas Cup was surreal. Sheedy pulled me to one side during the first training session and said to me, 'if you play well, we're going to win this'."
'Playing well' was an understatement. Delial scored five goals, as well as two in the final against Fulham, as The Blues brought the trophy home with Brewster finishing as the tournament's top scorer. 
"It was one of those weeks where everything I did worked, everything I hit went in.
"We dominated it."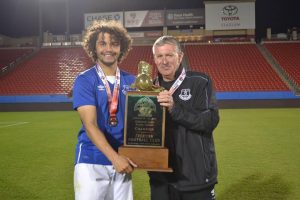 Upon returning home, plenty was made of the achievement in the Liverpool Echo and Southport's OTS news, but by Delial's own admission, not much else happened.
"When I went over to Dallas I was there or thereabouts with the under-23s, I wasn't really playing or training, but I knew David Unsworth was looking.
"I came back and I was straight into training with them but other than that, nothing much happened. I expected more to happen than it actually did, to be honest."
With the Everton first team languishing in mid-table, with teammates Tom Davies and Callum Connolly making their senior debuts just 20 days after Delial's Dallas heroics.
There appeared to be a pathway to the first team for the academy players. 
"The first team was the aim." The 21-year-old said.
"I thought the pathway may have come about (after Dallas), but don't get me wrong, I had my injury problems. 
"Three operations on my hernia, a stress fracture in my back, every time I was maybe kicking on to get to that stage, I had a little setback. 
"I wouldn't say anything bad about it, though. There probably was that pathway, I obviously just didn't get to it."
The 2016/17 season was pivotal for Brewster as he entered the final year of his contract with Everton. A lack of playing time with the under-23's was far from the ideal start, but an in-house game against Derby opened up a new window.
"I remember playing that game and the Southport manager was there. I scored twice and he messaged me straight away saying he wanted me to sign.
"I was buzzing, being a local lad and Southport was right on my doorstep."
Once again, Delial scored on his debut.
He netted in a home victory over Wrexham, in front of The Jack Carr Stand, before being swarmed by a collection of jubilant friends. The delight was palpable. 
"It was a good feeling to score. But then I had another hernia operation." He chuckles, almost as if he can't believe the wretched luck he suffered looking back on it. 
His loan spell ended after just three games as he returned to Everton with the final few months remaining on his contract.
"I'm not going to lie, the last few months at Everton were dull, they weren't great.
"A few of the lads were in a separate changing room and we never really got a look into the team."
A new deal never came, and Delial left Everton in the Summer of 2017 after seven years with his boyhood club. 
"I wasn't shocked, I probably knew it would happen, I was just disappointed.
"I feel like it could have gone a different way, but unfortunately, that's football. You just don't get fancied, that happens and you've just got to move on.
"That following pre-season I didn't do anything. I ate reasonably well so I wasn't really out of shape, but training wise I didn't do anything.
"I was sulking, feeling sorry for myself. 
"Looking back in hindsight, I think that should've been the time when I said, 'I'll show them. I'm going to work hard', but instead of swimming, I sank.
"I can say that now, but if you'd asked me at the time I would've said, 'I'm not kicking a ball again', I had no intentions of playing anymore. 
"I said to myself, 'that's me done.'"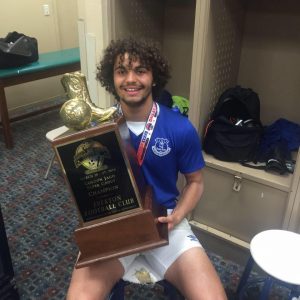 A call from his agent changed that, however. He'd found Delial a two-year deal at then League Two side Chesterfield. 
"I thought 'I may as well sign it, it's two years of guaranteed pay'.
"I wasn't really feeling it, but that all changed when I went and started training, I started getting it back."
Despite being behind fitness wise, Brewster was scoring goals in friendlies and he started the season under Gary Caldwell. 
"We didn't start the season great but Gary was playing me, I felt like I had a chance under him. 
"Once he got the sack, it went a bit downhill."
Caldwell was relieved of his duties in September of 2017, replaced by Jack Lester later that month. 
"We got some other fella in who one week said to me, 'right, you've got a behind closed doors game tonight, if you play well, you'll play on Saturday.'
"I scored four goals in the first half, and I still didn't play that Saturday! What more could I have done?"
An ill-fated loan spell at Chorley didn't help matters, with Delial admitting he didn't want to go and that it's hard to give it your all when you've not got the right mentality. 
Chesterfield were relegated from League Two at the end of the 2017/18 season, but new manager Martin Allen didn't have Brewster in his plans.
"I had a meeting with him and he said, 'I've never seen you play, I've got nothing against you, but I've been told you need to go', I was just thinking 'bloody Hell'.
"I had thought, 'I'm going to show this manager, he's going to give me a chance.'
"After that, again I thought, 'I'm done, I don't want to do this anymore.'"
A brief stint at Witton Albion followed before Delial eventually returned home to Southport after a turbulent year. 
"I came back and had some time off. Some may say I've joined the 'real world', I've got a full time job now.
"I started playing 5-a-side with my mates, just trying to enjoy football with no stresses and to try and get that fire back.
"I'm back on the diet and in the gym, I'm aiming to get back at it again in January. I feel ready to go back mentality wise.
"I'm keen to do it."
Getting fit is the key now, we agreed that Delial can't be playing 'catch up' anymore and that he has to go to places fit and ready to play. 
"This is the first time in a while that I feel like I want to train, I'm enjoying working hard and going to football, being with the lads, the feeling of winning, everything about it. 
"I want it again."
Upon reflection, Delial admitted that he worked hard at Everton, but being released should've been the making of him. 
"That should've been a 'kick up the arse' when I got let go, but instead it was a 'let's feel sorry for Delial', it took me this long to admit that I've been in denial.
"I look back now and wish I'd done it differently, but you can't wish on these things. Everything happens for a reason, so I just need to man up and sort it out, don't I?"
Whilst playing for your boyhood club and being paid to play football sounds like the dream, the chat with Delial showed it runs so much deeper than that.
You can quantify skill or talent, but you can't quantify luck, timing, injuries and the effect football has on a player mentally. All of which are just as important. 
Delial is still only 21, and with things looking up, this is far from the end of his career – this is just the beginning. 
(All photos credited to Delial's social accounts)