Widnes Wild put on an emphatic display to defeat 1st place Bradford Bulldogs 5-2 in their NIHL North 2 league match at Planet Ice on Sunday.
The two sides had previously met earlier in November, when Bradford Bulldogs emerged victorious with a 5-1 victory over Widnes. However, this time, it was Widnes Wild who came out on top.
Goals from Shaun Dippnall, Daniel Bullock, Michael Joseph Clancy, Matt Tarpey and Ryan Kemp meant that Widnes took all the available points. With such a dominant display over the league leaders, it's evident how far they have progressed since their recent matches.
Widnes Wild manager, Mike Clancy, believes this is his one of his team's biggest performances so far this season. He said, "You can't be complacent against a big side like Bradford. We knew they'd come strong and hard. Then again our game plans, all the other parts we put into the training sessions, we knew it would pay off."
First Period
In the opening moments of the match, both teams began the game with a fast pace. As both sides had their own set of chances early in the match.
Widnes Wild Captain, Daniel Bullock, had the best chance in the opening moments. A great pass from the right-side set-up the captain with a perfect opportunity to put his side ahead in the first period. However, he was unfortunate not to convert the chance, as he put his shot wide.
Widnes continued with their relentless attacks, as they sent a barrage of shots towards the Bradford netminder, who did incredibly well to deny the hosts an early lead.
However, against the run of play in the final 5 minutes of the first period, Bradford Bulldogs went 1-0 up. Crafty play from the visitors meant that the Widnes defenders were left trailing, and they made no mistake as they took the first goal of the match.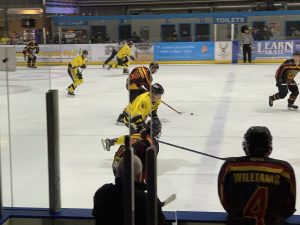 Although, Widnes were quick to respond with an equaliser. As Jakub Hajek cleverly set-up Shaun Dippnall, who put away the equaliser and pulled his side level at the end of the first period.
Second Period
In the second period of the match, both teams picked up right where they left off. With some swift end-to-end plays from both sides, the match was in the balance and there for the taking.
Midway through the second period and Widnes were unfortunate not to take the lead. Daniel Bullock made an intuitive pass to Jakub Hajek, however he put his opportunity wide of the net.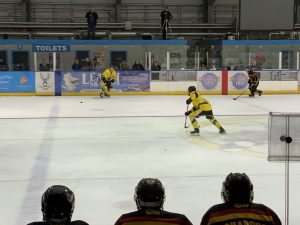 Daniel Bullock continued with his impressive performance, and consequently, he was rewarded with a powerplay goal in the final moments of the second period. More clever communication between Daniel and Jakub resulted in Widnes extending their lead to 2-1 at the end of the second period.
Third Period
In the final period of the match, it was clear tensions were rising as Bradford were quick on the attack in order to salvage an equaliser.
Widnes Wild netminder, Phil Pearson, was called into action early in the third period. A brilliant double-save from Phil meant that he kept Widnes ahead at the beginning of the final period.
Widnes then took that advantage and managed to extend their lead to 3-1. It was another impressive piece of play from the hosts, as Mike Mawer played a pass to Michael Joseph Clancy, who showed great intuition and capitalised on his opportunity to extend his sides lead to 3-1.
However, Bradford then quickly piled on the pressure, and their efforts were rewarded. They capitalised on their powerplay and responded with a well-worked goal to get themselves back into the match.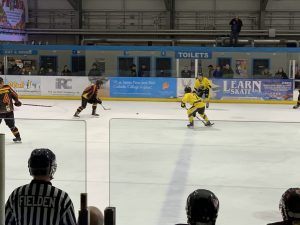 In the final 10 minutes of the game, tensions continued to rise, as Widnes received a plethora of penalties in an attempt to sustain their lead. Bradford tried to take advantage of this opportunity, as they amounted tremendous pressure on the Widnes net. Although, Phil Pearson continued to keep his side ahead with another set of tremendous saves.
Widnes Wild then managed to extend their lead to 4-2. An audacious long shot from Matt Tarpey managed to find its way through a crowd of players and into the Bradford net, putting the hosts ahead by 4 goals to 2.
Widnes weren't finished there. In the final moments of the third quarter, a goal from Ryan Kemp extended his sides lead to 5-2 as the third, and final period came to a close.
Full time
After the match, Widnes goal scorer Michael Joseph Clancy praised his sides camaraderie and performance after their win. He said, "I think as a team, it's starting to come together. The referees were against us, everything was going wrong, but we still managed to pull together as a team and that's the main thing.
"We had a few unlucky bounces here and there, but we keep going, we stuck it out and that's what got us the win."
Widnes Wild travel away to Telford Tigers in their next match. Follow @merseysportlive on social media for all your latest sports news and updates.
If you would like to learn more about Ice Hockey, then please read our beginners guide to ice hockey here.