Merseyside's biggest Ice Hockey team has been lighting up the National North Division 2 in recent seasons, but who exactly are the Widnes Wild?
The club first started operating in 2013 and has remained popular with the local community for the past 6 years, playing their home games at the Planet Ice rink in Widnes.
The Wild have finished in the top two of their division in each of the past four seasons, crowning off their most recent full campaign as champions. However, due to various reasons, they have not progressed further up the divisions, but head coach Mike Clancy is hoping that will change at the end of this current season. 
Merseysportlive were in attendance for the Wild's comprehensive 9-1 victory over Telford Tigers 2 last weekend, and with more performances like that from Clancy's men, it won't be long before they will be testing themselves against other top sides in the Division 1 North.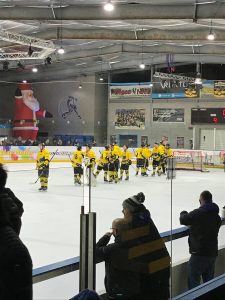 Despite losing a number of key players during the off-season, the Merseyside club is still jam-packed with quality throughout the squad. Amongst their ranks is Hungarian born defender Peter Toth, who caught the eye at the weekend with an MVP display.
Widnes Wild also boast a few Eastern European imports in their roster, with forwards Michal Novak and Jakub Hajek both hailing from the Czech Republic.
The community club also have a Wildwomen team that competes in Division 1 North of the Women's National Ice Hockey League. Furthermore, the family orientated club have a youth system starting at Under-9s, and also helps run school programmes throughout the area to help introduce children to the sport.
During the tie against Telford Tigers, Merseysportlive took the time to ask some fans about their experiences watching the Wild, with one keen supporter saying;
"I've been coming here as a season ticket holder for nearly three years now. I just love the fast pace of the game and it's really quick and exciting.
"It's highly competitive but the fans from both sides are able to mix together to create a nice family atmosphere."
Another young follower also praised the sport, saying;
"I've started watching for the past seven weeks now and I like the speed of the game and how everyone is so interested, which makes a good atmosphere."
Widnes Wild are next in action in a cup tie this Sunday up against Blackburn Hawks 1 at the Planet Ice rink, and you can keep up-to-date with their progress with Merseysportlive.