Football fans in the North West are the unhappiest with VAR technology, according to a poll conducted by YouGov.
Fans from Premier League clubs across the UK, including Liverpool and Everton, were asked how they felt about the technology.
Sky Sports revealed that 35% of fans based in North West England voted that VAR has worked 'very badly' in the poll.
This was just 1% more than fans based in Yorkshire, 2% more than those in the West Midlands, but almost double the 18% of fans who voted the same way in London.
Liverpool are five points worse off this season than they would be if it were not for VAR decisions overturning referees.
The Reds are among the worst affected clubs in the Premier League by VAR this season, and the five points lost would put them just a point away from fourth-placed Leicester as it stands.
VAR 😂😂😂😂😂

— Jamie Carragher (@Carra23) May 8, 2021
Seven Liverpool goals have been disallowed by VAR this season, and the technology has led to three goals conceded by Jurgen Klopp's side.
They have seen five subjective decisions go against them with just three in favour of them.
One game which encapsulates Liverpool's fortunes with VAR this season is the 1-1 draw at Brighton in November last year.
Mo Salah and Sadio Mane both had goals disallowed for narrow offside decisions, before VAR awarded Brighton a penalty in stoppage time after Andy Robertson was adjudged to have brought down Danny Welbeck, paving the way for Pascal Gross to bag the equaliser from the spot.
There was also a significant incident in the Merseyside derby where VAR backed the referee's decision that Trent Alexander-Arnold had fouled Dominic Calvert-Lewin in the Liverpool penalty box, despite many fans claiming it was not a foul.
Gylfi Sigurdsson converted the spot-kick to pile the misery on the Premier League champions and complete a 2-0 win for the Toffees.
Jurgen Klopp:

"I used to be one of the people who would say VAR is a good idea. I'm really not sure if I would say it now." 📺 pic.twitter.com/W585X0CDFp

— Goal (@goal) December 9, 2020
Everton, on the other hand, are four points better off in this season's Premier League table thanks to VAR interventions. Without those points, Carlo Ancelotti's side would be one place worse off in 9th, behind Arsenal.
VAR has disallowed just one Everton goal this campaign, a Michael Keane effort when the Toffees hosted Southampton in March, a game which the home side won 1-0 anyway.
Three subjective decisions have gone in Everton's favour, with zero going against them.
The most notable VAR moment for Everton this season was when Jordan Henderson's injury-time winner was ruled out for an offside against Mane in the build-up.
The game finished 2-2 as Ancelotti's men salvaged a point just when it looked like they had lost out.
The YouGov poll revealed that UK fans gave an average rating of four out of ten for how VAR has worked in the Premier League so far. 10% voted zero out of ten.
74% of voters said that the Premier League should keep using VAR but with changes, which aligns with research carried out by MerseySportLive two years ago.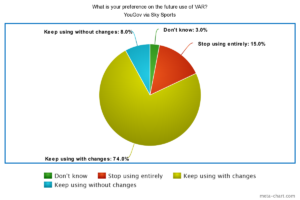 The system has not changed since then, with the only notable difference being referees going over to check the pitch-side monitor more before making decisions.
52% of voters in this poll backed the solution of encouraging referees to do so, with 43% of fans voting that fans should be able to hear conversations between the on-field referee and the VAR official.
42% proposed the introduction of a time limit on VAR decisions.
The results show that VAR still has a long way to go in its development before convincing fans of its effectiveness.
Liverpool fans certainly think so, but Everton fans may be more inclined to keep quiet considering the way decisions have gone so far this season.
(Feature image via Creative Commons)