With Liverpool boasting many top-class fighters over the years, this famous city is continuing to develop a new generation of boxers.
With the likes of Tony Bellew, Natasha Jonas, Jazza Dickens and Callum and Liam Smith in the spotlight now, outside of the public's view is the next batch of contenders, all raring to make a name for themselves in what is the most brutal of sports.
These young, dedicated fighters are in similar positions right now, but are also in very different positions at the same time.
Merseysportlive spoke to 2021 Olympian Peter McGrail, former Team GB fighter Callum Thompson and the Tony Bellew managed Meshech Speare and rising star Nick Ball to find out who they are and why they are the next batch of fighters that could potentially carry the expectations of a city in their respective careers.
Meshech Speare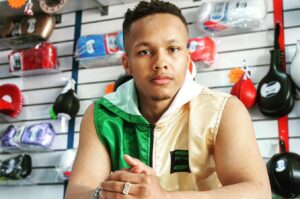 Beginning with Speare, he is one of two fighters on this list to have turned professional. In fact, he's been professional for over three years.
Liverpool born and bread, he is managed by former Cruiserweight world champion and Liverpool boxing legend, Tony Bellew.
At 24 years old, he boasts a winning record of five wins with three knockouts and one sole defeat.
That defeat came at the hands of Kane Baker in six rounds, on points, in October 2020. However, he only took the fight at just a few days notice.
"The story was, I wasn't in the gym at the time when I got the phone call. I told my manager Tony (Bellew) because I wanted to fight. Big opportunity, Sky Sports, biggest platform, sounds brilliant.
"It's hard I've got a young family, and I work with kids when I don't box, I was away with work and I just came back that day and the phone rang and I had an hour notice.
"I wouldn't change it, if I could go back and change it I wouldn't."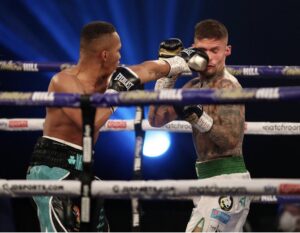 In terms of the fight itself, it was a closely fought contest losing 59-56 with only a sole judge scoring the fight.
Baker also suffered a cut to his left eye in the second round.
Despite the loss, Speare's has taken the positives as he looks to move forward.
"You've got to take the good with the bad, and last time out I took my first loss, I suppose its made me a better man and a better fighter, some things are meant to happen.
"I haven't taken any negatives from the fight, everything's a positive. I'm happy it happened at this part of my career rather than the latter part of my career where the career defining fights are."
It was Speare's first appearance on a Matchroom Boxing show, which is the biggest boxing company in England.
Despite being upset with the loss, he claimed that being in and around an event like that has only increased his desire to get better and fight on a Matchroom show again.
"It was brilliant, the experience and coming out on the big stage and all the build-up.
"You've got all the media outlets there, more than I've ever experienced before with Sky Sports Boxing and Matchroom Boxing, I felt like I belonged there.
"I've got that fire in the belly now to go even beyond there now."
With pandemic seemingly moving away, fans will return to sport soon and it also means that boxing shows can begin to take place around the country.
The goals haven't changed since that defeat in October, but 'Mr Notorious' is more determined and willing than ever to earn his place and prove himself in the ring.
"Everything has stayed exactly the same, just a different hunger, mindset and a different dedication.
"The goals still stay the same, I know I can be world champion, but now it's putting it into practice.
"I know what my goals are, and I'm working towards ticking off everything on the list by working hard to hopefully one day become world champion."
Nick Ball
Nick Ball is the second fighter on this list to have turned professional, but he is by far the most advanced in his career so far.
The 24-year-old has a professional record of 13 wins, with six of those wins coming by way of knockout.
A talented amateur fighter, he was former Junior ABA champion, winning 23 of his 25 amateur bouts. Another born and bread fighter from Liverpool, his roots came at the Kirkby ABC and now he trains at the highly regarded Everton Red Triangle gym, coached by Derry Matthews.
The Featherweight contender is also signed to hall of fame promoter Frank Warren's stable of fighters at Queensbury promotions. He has fought twice in the pandemic, winning both, and his most recent win took place on BT Sport, as he made his TV debut under the bright lights.
"It was good because it was my first time on the tele, and I was just getting used to it all with the no fans and that, the bubble was a bit mad, but you just have to adjust and it was an amazing experience.
"It's my first TV fight and I bossed every round and went the distance and won, but that was only a tiny percentage of me and they haven't seen nothing yet."
With all the hard work up to this point, to be signed and fight on a card put together by Warren represents a career progression and at 13-0, he's looking for the big fights before the year is out.
There is a keen eye on the British title, which was just won by Leigh Wood in February.
"I'd just go straight in with him, I don't really call people out with the names, it's just whoever's got the belt. He's in my weight and in my way, so I'm going to fight him and get him out my way.
"I'd go for a title in my next fight, whatever they throw at me really! My last one was a 8 rounder, so I'd like to do a 10 rounder and see where I am with that. Whatever they throw my way, I'm ready for."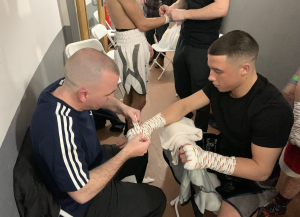 In terms of Ball's style, he's a fan-friendly fighter. That means he's an exciting fighter, who looks to put the pressure on, close off the ring and be very aggressive. His boxing influences come in the way of some of the world's best.
"My style is TV friendly, I'm a real front foot fighter who is very aggressive. I haven't shown too much boxing ability so far, but I can box and move.
"I am really skilful and I'd rather just keep on the front foot, putting the pressure on. I'm very fit so I use that to my advantage."
With this crop of fighters showing great promise, there is a recognition and respect for fellow fighters coming out of the same city. Ball claims it's great to see people that he knows coming through the ranks, and he backs them to go and do great things in the future.
"I'd actually say it's an underrated crop of fighters in Liverpool, people who know boxing know but in terms of everything, it is underrated because no one has really seen us.
"I think when we get our shot and we get our chance we'll let everyone know who we are."
Peter McGrail
Peter McGrail has been touted as a future star in British boxing and the 24-year-old is still an amateur as he is set to represent Great Britain at the 2021 Tokyo Olympics.
He has produced a glittering amateur to date so far, with seven national titles and a medal at all the competitions in which he's represented Britain so far.
As COVID-19 has swept the world, the Olympics has been in doubt since the first lockdown in England in March 2020.
As it stands, they will go ahead, albeit without international fans.
But the uncertainty and the stresses about delays and cancellations have made for a troubling, uncertain time for McGrail.
"We were meant to go last year and when we were at the qualifiers and everyone was stood around and only me and Galal (Yafai) were the only ones who did then the day we boxed, the qualifiers got cancelled.
"A few weeks later, the Olympics was cancelled. It was a nightmare at the time, we had it all in our heads that we're all going to the Olympics, most of us would have been turning pro after too."
Thankfully, they will be going ahead and now McGrail has the small task of looking to medal at the Olympics.
After his performances around the world representing Team GB, he's in a good place to go and compete for medals in Tokyo.
"My confidence is high because I've medalled at all the major tournaments in the last 4-5 years, winning two world bronzes and European and commonwealth gold which means that I know I'm up there with the best in the amateur game.
"I lost out in two close fights for the world's but going into the Olympics I'm feeling bigger, stronger and that I've grown into the weight more plus, having more experience too."
Following the Olympics, he will be turning professional as so many boxers do. Some boxers do stay as an amateur but in McGrail's case, the plan was to always turn professional after the Olympics.
It's important to consider that the delays to the Olympics had no effect on his desire to go and compete at the pinnacle of amateur boxing.
"The decision for me and the other fighters were whether to wait around for the delayed Olympics or turn pro.
"I just thought give me another year of experience with the Team GB squad, getting fitter and stronger and make myself fitter for the Olympics, it will all help me for this summer and beyond."
One commendable fact about McGrail is that he's been with his same coach from the age of 10 up until now.
In fact, he's never trained in any other gym apart from when on international duty for Team GB.
Him and Paul Stevenson in the Red Triangle Gym has been his life so far and he's hoping to go all the way with his childhood coach.
"I've been with him since I was 10, I've not been to any other gym apart from when I go to Sheffield for the Team GB training.
"It would be great to go all the way to the top with him, from driving around England going to schoolboy finals to maybe one day fighting in America for world titles, who knows.
"We're only halfway through that journey but I'm looking forward to getting in with my coach full time when I turn pro, so we can start this professional journey together."
Callum Thompson
🗣 Announcement
New Signing 📝
Delighted to sign the very talented @callumTomo98 🥊 #WELCOMETOTHETEAM pic.twitter.com/S3lAxUE3GB

— Joe Gallagher (@JoeG) February 19, 2021
Last, but certainly not least, is Callum Thompson who is a former Team GB fighter who shares a similar pathway to McGrail.
The overriding difference is that Thompson decided to turn professional and not go to the Olympics.
He resides in Joe Gallagher's gym in Manchester which is a gym that is no stranger to success.
It is a gym that has featured a high calibre of fighters such as, brothers Callum and Liam Smith, Natasha Jonas, Amir Khan and Scott Quigg to name a few.
Thompson has been there since the start of the year, as he prepares for his professional debut.
When asked about the gym, he expressed just how good a learning environment it has been for him.
In addition, he spoke about his first visit a few years ago, when he was selected to come and spar Scott Quigg as he prepared for his final fight of his career against Jono Carroll.
"It all started when I sparred Scott (Quigg) when he was preparing for his last fight, I got asked to come down and I did a few sparring sessions over the course of a few weeks.
"I got speaking to Anthony (Crolla) and explained I wanted to turn pro and was looking for a coach and he suggested Joe (Gallagher) who invited me down after the sparring.
"With it being such a high profile gym, the people who are around me every day, I'm learning so much. At the minute, I really love it there and I'm completely settled."
Getting ready for his professional debut @callumTomo98 🥊#boxing #debut pic.twitter.com/WnRmKL7EMB

— Joe Gallagher (@JoeG) March 23, 2021
He has been touted as one of the next big stars in British boxing thanks to his years in the GB squad producing consistent performances.
It's something that he believes will put him in good stead for his professional career.
"There's no one way to come up through the ranks, there's people who don't have any amateur experience like Conor (Benn) but he's come up learning in the pro game.
"Myself having that amateur experience fighting at a high level, fighting people who have won Olympic medals – you just can't buy that experience.
"When it comes to boxing these journeymen, with no footage I don't need to watch videos of them, I'm fine with facing people with different styles because of the amateur experience.
"I'm used to fighting three of four days on the run, against people of all styles, so it's all going to help me in the future of course."
With a professional debut in the near future, it's a special moment for the 22-year-old fighter.
He claimed there's been a lot of talk and waiting, but when the times comes he's ready to show just exactly what he's about and prove to everyone that he's worth the hype.
"It's just about getting the ball rolling, getting the pro debut out the way and just show people what I'm about. It's one thing saying you're going to do something but another thing showing it.
"I want to prove exactly why I will be world champion and prove to people why they are saying the things that they are saying about me. When I do get the chance, people will see why and how far I'll go."
In terms of when we will see these fighters in the ring next, McGrail will be competing at the Tokyo Olympics this summer, in which he is being touted as a potential medallist.
For Thompson, his professional debut is expected to be around the summer months, as fans begin to return.
The same can be said for Speares, who will be looking to bounce back from that defeat to Baker which is likely to be in the summer months. Similarly, Ball is looking to build towards what is likely to be a title shot in his next two fights.
Who knows, with the pedigree at amateur level and the foundations set with the training setups and coaches, it would be incredibly naïve to rule out any of these from fighting and winning at world level in the future.
Fans should be excited for the next generation of talented fighters waiting to follow suit and walk in the footsteps of Merseyside boxing icons.