Caldy RFC beat Sale FC 13-9 to clinch the National League 1 title and promotion to the RFU Championship for the first time in their history.
Next season will be the highest Caldy RFC has ever finished.
Their route to promotion was far from easy.
Caldy RFC Flanker Callum Ridgway said after the game: "I thought we found it quite difficult, we had quite a few mistakes, few knock-ons."
Caldy had been unbeaten since December yet could still fail to secure promotion.
In fact, heading into the final 10 minutes they were 7-9 down.
Ben Jones had missed a penalty which caused concern around Paton field.
However, the league's top point scorer bounced back perfectly.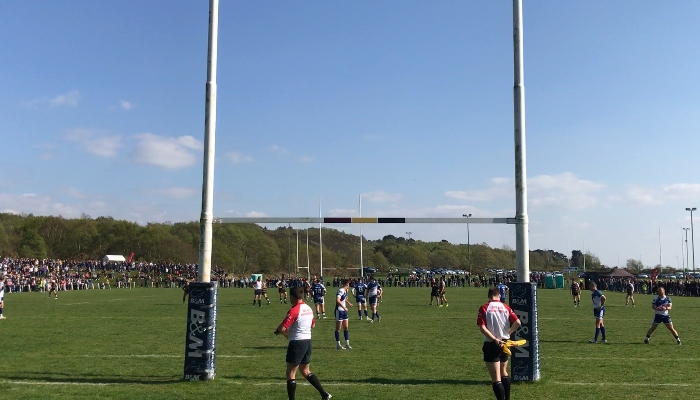 He opted to kick two penalties in the final five minutes to earn them promotion.
There were calls to head into the corner in the crowd but Jones kept his composure and converted both the penalties.
Sale FC edged the first half keeping Caldy penned in their twenty-two.
However, second half the roles were reversed.
Both sides put up staunch defences keeping it a low scoring game.
Heading into Saturday, both teams could still earn promotion if they picked up maximum points.
Sale FC had a game in hand so a victory meant they could be promoted as well.
Caldy RFC 2nds also made history by having the longest unbeaten run in the club's history of 44 games after winning 68-0 against Burnage RFC.
Caldy's 2nd team got the crowd warmed up with a devastating display.
The Ravers 2nd team had won 17 out of 17 league games this year.
Their unbeaten record is currently at 44, stretching back over two years.
Hooker JP Johnson said: "We don't really feel like a second team, we see ourselves as one squad… we won today and that wouldn't be achievable without the help of the second team… the whole squad is important to everyone's development"
There will be no promotion from the RFU Championship this season as Ealing Trailfinders and Doncaster Knights have failed to meet the top flight standard.
(Featured image – courtesy Samuel Hughes)