The frustrations of golf. From short to long game, the physical and psychological demands, consistency is a combination of multiple factors. This is why so many top professionals have a specific putting coach. Callum Gould travelled to Formby to sit down with one of the best in the business.
Tucked away in the corner of the pro shop at Formby Hall Golf Resort and Spa sit a couple of unassuming rooms. To most these rooms aren't anything special, but this is where some of the most talented golfers of all time have come to refine their putting skills.
These rooms are home to Phil Kenyon Putting, the base for two of golfs best putting coaches, Kenyon and his right-hand man Mike Kanski. The secret to the company's success Kanski says is down to him and Phil "complementing each other well" and "being good friends."
Even if his boss is more renowned, Kanski is also highly regarded as one of the best coaches in the business. With a stable that includes former major champion Martin Kaymer and multiple DP World Tour winner Matt Wallace, the Southport native is well respected in his own right.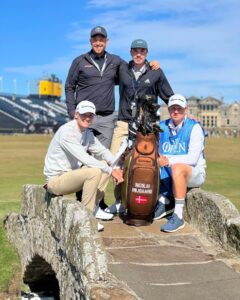 It was as a member at a local club that he became friends with Kenyon, who then invited him to become a coach in "the lab" at his company in 2011.
Kanski, 41, had not thought about coaching in such a specific area as putting when he got his PGA Pro license. He said: "I never went out to be a putting coach. Being friends with Phil meant the role just sort of fell into my lap."
This led to him working behind closed doors for three years. Then in 2014 Kenyon wanted his understudy to get out and coach players on tour. This is where the approachable Kanski found out the hard way the difference between coaching at the putting centre and in tournaments.
He explained: "I didn't realise out at a tournament how much of it was more mental coaching. I heard Phil talking about it, and I thought 'yeah, I can do that.'
 " All the stuff I had been doing at the centre wasn't as important. It was more reassuring my players about their technique if they had a poor round putting."
Data is also key to his job and over the past five years players and coaches have put more emphasis on looking at strokes gained putting. For Kanski this is something those under his tutelage excel at with most of his players being in the top 100 on the DP World Tour.
Hung on the walls around the putting area, where the likes of Rory Mcilroy and Justin Rose have stood, are flags from The Open signed by Kenyon's students and other pieces of player memorabilia. In the corner is Kanski's personal area of accomplishments where he has a picture of one of his pupils, professional Andy Sullivan, winning on tour.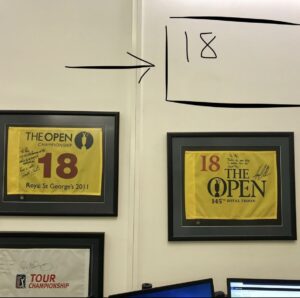 This is an achievemant Kanski is clearly proud of even if he does not take credit for it.
He said: "I don't think there's one standout moment. When someone wins, I go 'well I'm kind of a part of that,' but the player's won, it's not on me, I don't feel a massive personal achievement."
The goal for Kanski now is to add to the list of major winners that have honed their putting technique in a room that's hidden away at the back of a pro shop in Formby.