"I always say, if I didn't have my sport, I don't know where I'd be. I can't imagine my life without it. But we have to stop demonizing people who have disabilities."
Nathan Maguire is a very successful parathlete – and has his sights firmly on medal success in Tokyo next year.
But when he took time to visit Merseysportlive , he spoke about his career so far and the issues that are currently rife in parathletics.
The 21-year-old wheelchair racer, a student at Liverpool John Moores University, competed at the 2016 Paralympics in Rio and the 2018 Commonwealth Games, and won gold in the IPC European Championships University 4x100m relay.
Despite this, his name hasn't even made it onto his old high school honours board in Cheshire for sporting achievement.
The Paralympics first began in 1960, when more than 400 athletes from 23 countries competed in 13 different sports to begin a new movement in the Olympic Games.
50 years down the line at London 2012, more than 4,250 athletes from 164 countries competed in 20 sports and a record 2.7 million tickets were sold to spectators.
It's clear the Games have grown massively since their inception.
However, Maguire feels much more now has to be done to keep up with the growing need for support and equality when compared to the Olympians.
"If I didn't have my sports, I'd probably be sat at home on Playstation," says Maguire.
"But there just isn't the infrastructure for sport here. Sports centres are falling into disrepair because they aren't being kept properly, it's too expensive to go into a gym, it's too expensive to access sport."
A £2 million cut ahead of Tokyo 2020 from the funding Rio 2016 received for Paralympic sport has already been announced.
"We need to start investing into local infrastructure, because the amount of cuts has just been ridiculous," he continues.
"I think it's a real barrier for people and we're pricing out those who could become future Paralympians."
Maguire began wheelchair sports when he took up wheelchair basketball at the age of eight.
There, he met his coach, former Paralympic athlete Josie Cichockyj who made Maguire realise that he wanted to be a Paralympian, and wanted to go to the Paralympics.
In her career, Cichockyj competed at the 1984 Games in Wheelchair Racing, as well as competing in Wheelchair Basketball in the 1988 and 1996 games.
Whilst racing, Josie held every British Track Record from 100m through to 5,000m, breaking 28 British records in the process.
She was also a national champion in tennis and a DSE Champion in table tennis – a true pioneer of Paralympic sport which inspired Maguire.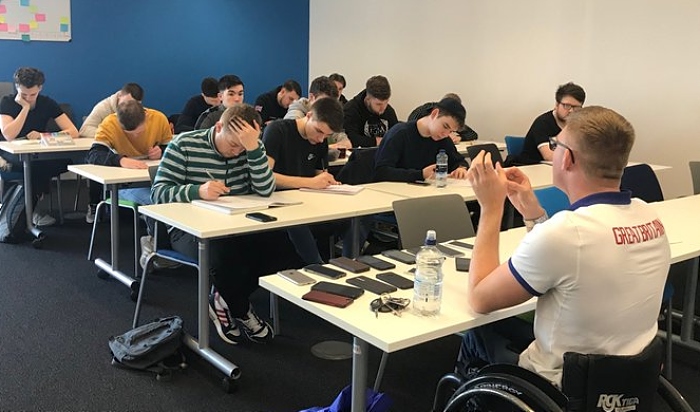 "It was kind of from there I decided I wanted to be a paralympian and I wanted to go to a Paralympics.
"I didn't really know what sport, but I knew I wanted to go.
"I was always quick on a basketball court so that's why we decided to try racing when I was 16. It just felt like a natural progression.
"I think I probably decided I wanted to do it as a career when I was 15 or 16, when I left school.
"I didn't want to get a job for as long as possible and try being an athlete."
Making a living as a parathlete is far from easy, however.
"We get UK sport funding which is money that is given to us by national lottery, but it's just enough to live on and it's entirely performance based so if you don't perform, then you don't get paid.
"At the moment, I'm just trying to work out how to get some sponsors and try to broaden myself to not just be a racer and do talks, rather than just being an athlete. I want to be a brand.
"It's very hard to make a living off it and there's a lot of things that go into it so I'll just see how it goes.
"But it seems to be going well so far."
A main concern of Maguire's is the gulf between parathletes and able bodied in funding, prize money and broadcasting.
A world record breaker in able bodied athletics gets a £10,000 prize.
The same feat in parathletics earns you a pat on the back.
The European Championships for able bodied athletes featured on BBC prime time all day – but the parathletes only made it onto a Channel 4 live stream.
They even competed in different stadiums, because the powers that be decided the parathletes wouldn't be able to fill a larger stadium.
They don't give parathletes the opportunity to fill these stadiums however, and Maguire is adamant this has to change.
"The disparity is massive and it annoys me a lot.
"It's just too far apart at the minute for people to actually recognise us as athletes, that's the big problem.
"It's always about your story, or your disability, it's never about your actual sporting achievements.
"You would never say Mo Farah is the best athlete because of what's happened to him in the past, it's because he's training.
"The words that are used around disability are 'inspirational', whereas Mo Farah is 'elite', 'he's the fastest'.
"We don't get that."
Maguire achieved a personal best time in most of his races last year and has plans to do the same leading up to the World Championships in Dubai this November.
At just 21, there's a lot of racing left in the Chester-born star, but that doesn't stop him from thinking about the future.
"I want to sit in Parliament one day," he smiles.
"I love politics and trying to make people's lives easier and better.
"Britain is accessible in terms of its disabled access, but not accessible enough. That would be a challenge I'd love to take on."
Maguire is a fine athlete and an equally strong speaker, with a cause.
Don't be surprised to see him in Parliament as Mr Maguire MP one day.