For 120 years, St Helens Sutton Athletic Club has long established itself in the town's history.
A former St Helens Mayor once said that nobody who has lived in St Helens for even a short time can be unaware of their existence.
Albeit times have changed and years have passed since, the club's name in the sport and region will forever be decorated. 
A new patch of history could be about to unfold itself on the club however, with several athletes enjoying national success much like in years prior.
St Helens Sutton Athletic Club History
To understand the club and its status amongst the athletics scene, you must know their rich history.
The current club of St Helens Sutton AC was formerly two separate clubs in the area, with Sutton Harriers and St Helens Athletic Club merging in 1990.
Sutton Harriers began in 1899 and enjoyed mass and varied success during the 20th Century. Even as far back as 1901 when the club won their first-ever trophy being the Liverpool and District Novice title before winning the senior version a year later.
As featured in the notable athletes section, Bill Bailey became the initial figurehead for the club as they established themselves on the national stage, with a quick rise to success seeing them win the Northern Juniors in 1904 and eventually the National Cross Country Championships in 1906.
The win allowed the club to compete in their biggest competition still in history, as they took on Stade Francais in Paris.
At the time, it was a tradition that the club who won the English National Championship would be invited over to France to take on their best teams in France and Paris individually.
So when Sutton won in 1906, they travelled abroad the following January.
The lavish trip saw the working-class men treated exceptionally, but unusually for them, as they raced their hearts out in the Vie au Grande Air Cup, with over 10,000 Parisians lining the streets to watch.
Despite Stade Francais taking the team win, Sutton's Sammy Welding finished first individually with teammate Joe Bailey taking second.
Winning wasn't everything though. The chance to travel to France and be recognised amongst other world-class runners made the club noticeable and put them on the sporting map.
Aside from the 1930's successes in the West Lancashire Cross Country Championships, the club had to wait until after the Second World War before the golden period came.
Bill McMinnis led the line and together with a team of talented runners, they cemented themselves as the premier cross country team in Great Britain.
The major success was winning four national titles in five years from 1947, with a second-place finish coming in the solo year they didn't win.
The titles saw them receive an invitation from St Helens Mayor Mrs E McCormack to attend the civic hall, in which she complimented them at dinner and talked about how they had earned international and national praise for the town.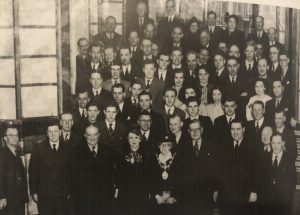 Sutton Harriers with St Helens Mayor in 1949 – Picture from 'From Acorn to Oak: A history of Sutton Harriers & Athletic Club (St Helens)' by Mary Presland, Ken Wilcock and Alan Moore.
Joe Harrison, in particular, was a key figure at that time before he moved on to longer distance running.
A story still remains about him that when he ran a 50-mile race from London to Brighton, he was hit by a taxi and injured his shoulder, but carried on, even stopping for a pint in a local pub before continuing.
Quite a feat.
The club also hosted the 1947 Northern Counties Cross Country Championships at Sherdley Park, which is ironically still the venue for several of their meets and training sessions each year all these decades later.
Similarly, 1959 saw the annual Sutton Road Race born and it became a stable in the calendar for the club. 
The race included a female section in 1983, with Susan Crehan winning five consecutive years before she made the Olympic team.
The 1970s and 80s marked a period where the females proved dominant in the club, with both Susan Crehan and Ann Williams going on to perform at the highest of levels.
The female athletes won the national championships in 1979 and continued that for years after.
Since the joining together in 1990, the club has continued to win medals. Dave Forrester especially competed alongside the best there was to offer and youngster Charlie Roberts is currently doing that as well. Jade Smith similarly has Paralympic aspirations.
They have yet to have somebody progress to the world stage like before, but a few currently have promise and those who join in the future will have a knowledgeable system behind them so they can put themselves in the history books too.
Notable Athletes
Bill McMinnis 
A catalyst of the post-war success. He joined the club before the war and found northern success, but was forced to participate in the war as a PT Instructor.
McMinnis initially intended to retire from running after the war but came back under persuasion as he helped establish the club as the best cross country club in the country.
They won the National Championships four times in five years from 1947 and he eventually picked up an English jersey in 1952.
Ann Griffiths (
Formerly Williams
)
One of only two Olympians in the club's history and arguably the most successful athlete.
After joining the club in 1979 at the age of fourteen, she went on to represent Great Britain on several occasions, becoming the first female in the club's history to earn international selection also.
She would later hone her talent in middle distance running and earn a Commonwealth silver medal in 1990 in New Zealand. 
After that, she competed in both the Olympics and World Championships, placing 7th in the 1991 Tokyo World Championships in the 800m (2:01:01) before sadly falling in the 1500m heats in Barcelona's 1992 Olympic Games.
Susan Crehan
The second of two Olympians, who joined the club in 1970 with her sister off the back of a recommendation from her teacher Roy Ashley, who was also a coach at the club.
Her first big achievement was playing her part in Lancashire winning the English School's Cross Country Championships, finishing 6th individually on relatively little experience.
She returned to the sport after a studying hiatus and began to be coached by husband Jim Crehan. She made the jump to running longer distances, moving to Sale Harriers for better training facilities and that pushed her onto the world stage.
Crehan raced the 10,000m at the World Championships in Rome in 1987 and a year later went on to compete in the Seoul Olympics where she took 32nd in the Marathon. She qualified for the Olympics after finishing 3rd in the WAAA London Marathon.
As previously mentioned, she won the annual Sutton Road Race five consecutive years in a row from 1983 and surprisingly, the 63-year-old still participates on occasion in Sherdley Park events.
She is still connected to the club with her son Matt Crehan the current club chairman.
Bill Bailey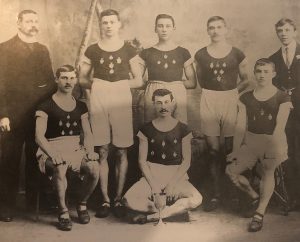 Bill Bailey posing in the centre with his legs crossed in 1901 – Picture from 'From Acorn to Oak: A history of Sutton Harriers & Athletic Club (St Helens)' by Mary Presland, Ken Wilcock and Alan Moore.
A member of the club for 75 years from 1901 until his death in 1976 and a huge part of the first team in the club's history to achieve success, winning the Liverpool and District Novice Championship in 1901.
As a club figurehead, he would go on to play his part in Sutton's Liverpool and District Championship success in 1902, Northern Championship gold in 1904 and gold in the English National Cross Country Championships in 1906.
As previously mentioned, he was involved in the famous French race in 1907, finishing 10th individually. 
Another notable event for him was the 10-mile race in Fallowfield, where he finished in 57 minutes in the early 1900s.
Sammy Welding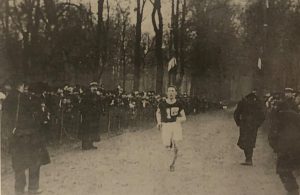 Sammy Welding winning the Vie au Grande Air Cup in 1907 – Picture from 'From Acorn to Oak: A history of Sutton Harriers & Athletic Club (St Helens)' by Mary Presland, Ken Wilcock and Alan Moore.
A stand-out amongst the very early runners and a member of the successful 1906 national champions alongside Bill Bailey.
Welding won the famous French race in 1907, just ahead of fellow teammate Joe Bailey.
The achievement put him amongst the best runners in Europe at the time.
When he returned home from the event, Welding especially was greeted joyfully, as hundreds of spectators lined the streets to see the team and his individual trophy.
He would compete for England five times in total.
Dave Forrester
A more recent member of the club who raced internationally and attracted attention for St Helens Sutton AC.
Relatively early into his start in the sport, he began winning regularly, picking up 1st place in Warrington events on several occasions in 2004.
He began to represent England in 2005, two years into his start in the sport. He won team gold for his country at the School's Cross Country International to compliment his high-placed finishes in English national championship events individually.
Forrester moved to the USA to compete in the Northern Collegiate Athletic Association (NCAA) at Florida State University and proved his elite quality.
Current Day
In the current day, the club is led by one of the youngest chairman's in the country in Matt Crehan, who spoke to MerseySportLive about his experiences in the role and the trajectory of the club going forward.
He joined the club at 15 from Wigan Harriers and has been there since and as previously mentioned, his mother is Susan Crehan who began her athletics career in Sutton before going on to compete at the sport's highest level.
His three-year period at the helm of the club has been supported by President John Irwin and Treasurer Chris Causer, as well as over 20 officials who help to train and organise various events for the athletes.
The several age groups train on Tuesday and Thursday night, but anybody can access the track at Sutton Leisure Centre for £3.40 on any other weeknight. 
As well as competing in races across the country in various leagues and regional/national meets, the club put on their own annual events at Sherdley Park and Victoria Park's athletic track in Warrington.
Their most noticeable event is the Dream Trail Race which is an annual 5k and 10k multi-terrain race organised by the club surrounding the St Helens Dream monument in the name of the Steve Prescott Foundation, which raises money for cancer treatment and the Rugby League Benevolent Fund.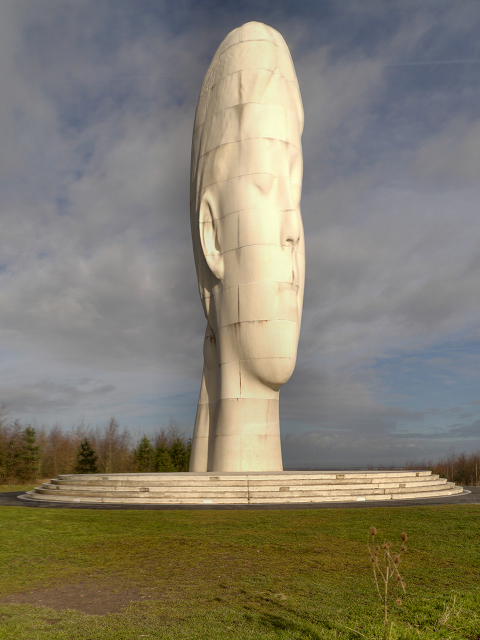 The St Helens Dream Monument – Picture courtesy of David Dixon under Creative Commons License
Funding
One thing that is common for all sporting club's to face is a struggle for funding, especially in the last decade. St Helens Sutton AC is no different despite their decorated history.
Speaking about the current state of the club's funding, Crehan alongside other members of clubs around the country have questioned England Athletics' role. 
He explained: "There has been a massive divide the last couple of years in Facebook pages about England Athletics, as clubs are unhappy. Currently, £15 of our membership fee goes directly to England Athletics and they have cut funding to regional bodies in the last two years.
"There is a call at the moment that if by next April, they (England Athletics) aren't being more transparent about where the funding is going, clubs will boycott the fee.
"The majority of England Athletics funding, apart from the lottery money from UK Sport, is coming from the club system so it is right there is a discussion of a boycott."
Club Chairman Matt Crehan in action  – Picture courtesy of www.st-helens-sutton.co.uk
He did credit Northern Athletics, however, for their role in the sport and need to keep them alive. Each club agreed to give them £2 per athlete to help put on events in the area that includes the Northern Championships for Road, Cross Country and Relay each year across all age categories.
The club has just recently been promoted to Division 2 in the Northern League after topping their group with 355 points, ahead of Manchester and Liverpool Harriers.
"We want to support our regional body as they do a lot to provide events around the area, but there is a divide in terms of England Athletics about what they are doing to the club system and where that money is going that we give them."
As the 28-year-old said, the club is on its way up and getting back to their past decorated success. A resurgence similar to the one in the early 1960s for the club when Brian Renshall and Peter Roberts joined.
In this year's competitions, they successfully qualified for the National Road Relay Championships in the Senior category, after finishing third in the northern competition. 
Youngster Charlie Roberts is another stand-out for the club, taking 2nd position in the English Schools Championships as he looks to have a bright future ahead.
Crehan said youngsters can now see they can have success in St Helens like Dave Forrester had a decade ago and not have to leave elsewhere to be successful.
Running and athletics is in a transition period currently after the introduction of parkrun and the legacy of London 2012 yet to have fully presented itself, but membership is solid.
There are currently around 150 members (60% Seniors and 40% Juniors) signed onto the club, with the long waiting list for U11's not included in those numbers.
Other local running groups like St Helens Couch to 5k and Liverpool RunBugs have attracted a mass amount of numbers in the hundreds, but what they don't have is what SHS excel at.
A traditional club that provides three disciplines for all ages to try at Sutton Leisure Centre. 
Whether that be building up an international jumper like Michael Causer or success in the other two disciplines, the club provides an opportunity that many other sports don't.
Chairman's Thoughts
The transparency of athletics is something the club's Chairman points to that makes it different from most other sports.
"The best thing about athletics is that it is such a level playing field of a sport. Athletics is all down to you. If you don't train, if you're not feeling good, then it is your performance that suffers, nobody else's and everybody can see that.
"Athletics is so honest and transparent in that everything is ranked on time, length or height, it is all there so you can compare to any given year on Para10 and you can see how you rank compared to the rest of the country.
"No matter where you come from, you can train and you can work as hard as you want to work to get as high up in the rankings to see what goals you want to achieve. 
"Whether you are unemployed or a billionaire, it is based on how much work you put on the track and that isn't always the case in other sports.
"They (juniors) can see the hard work people within the club put in and their results and it shows if you have put the hard work, then you can achieve whatever you want to achieve."
With a rise in crime across Merseyside, sport should become a way to deter it and the perception of athletics continuing to change could aid that.
The past two years in St Helens has seen a 29% increase of those caught with guns and knives, with Merseyside having a 33% increase overall.
Over 17,000 crimes were recorded last year, which is significantly higher than the national average for a town of its size and similar to Liverpool.
Especially in St Helens, as the club helped those in the surrounding areas post-war, it could help to combat issues surrounding the town in 2019. 
St Helens Town Centre – Picture by Rept0n1x under Creative Commons License
Just more help and guidance to those who may want to participate in the area is needed from the local government and council.
St Helens Council pushing for grant funding to sort various issues including wear-and-tear on the track could be one way Crehan pointed to.
In conclusion, the club is one of Merseyside's most historic athletic clubs that is rich in history. 
120 years of excelling in competitive running and claiming their stake in the history of the sport.
A history that looks like it will continue forever with a continuing cycle of talented runners making their mark on the sport, just like the club's athletes did over 100 years ago.
Article created with help by St Helens Sutton Athletic Club Chairman Matt Crehan and with reference to 'From Acorn to Oak: A history of Sutton Harriers & Athletic Club (St Helens)' by Mary Presland, Ken Wilcock and Alan Moore.
Pictures with permission by www.st-helens-sutton.co.uk