Mike Clancy remained optimistic about his team's chances for this season following his side's overtime defeat to Blackburn Hawks 1 in the Midland Cup on Sunday.
Widnes Wild went into the match short benched, but battled hard against a Blackburn side a division above. The Merseysiders led the Hawks in the final period, but were taken into Overtime by a late Petr Valusiak goal with 18 seconds left on the clock.
The 5-6 overtime loss leaves Widnes stuck to the bottom of the Midland Cup table, despite gaining their second point in the competition.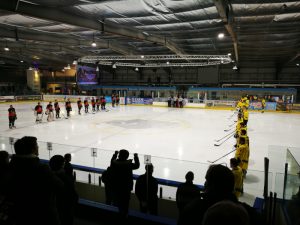 Manager, Mike Clancy, was confident his side's cup season wasn't over just yet. He said: "We're not out the cup yet. We have two more games. You never know. Six points might take us somewhere.
"I think it was tremendous effort by the team. They bought into a system that we believed would work against this level of opposition.
"We're still missing one of our bigger imports in Novack. He's still injured. We were missing a few through sickness this weekend. I'm not making excuses. Every person in that changing room has played fantastic.
"I don't see us being where we are for very long."
Czech import Jakub Hajek picked up the Wild's MVP after a scintillating performance. Scoring two, including a brilliant solo effort, the forward was a constant threat to the Lancashire side.
The Widnes Boss wasn't surprised by his performance. He said: "We know what we get with him (Hajek). He's a fantastic player that plays at pace.
"He always has a smile on his face when he is playing so he is a good lift for the boys."
Below: Jakub Hajek receives his MVP award after a superb performance.
Amongst those receiving more game time for the short benched Widnes was 16-year-old, Sam Anderson.
The young forward feels like they are more than capable of playing up a division next season.
"Tonight showed we can compete with Division 1 teams so there's no reason why we cant go up and compete with them," Anderson told MerseySportLive.
"I think the boys did amazing tonight, especially with a short bench as well.
"We have a great bunch of lads. There's a few different faces in there now compared to last year, so there's no reason why we cant do it (playoff champions) again."
Widnes Wild are back in action next weekend in the league. They face a visit from table topping Bradford who will pose Mike Clancy's side a huge test.