In May 1985, Everton were perhaps the greatest club side on the planet. After waltzing to the league title by a then record margin of 13 points, they went on to win the European Cup Winners Cup and reach an FA Cup final. 
Despite this, that squad doesn't receive the credit it deserves. A group dubbed as "The team that time forgot" by many, until now. Film director, Rob Sloman, has put them back into the spotlight.
Howard's Way is a piece of cinematic brilliance that perfectly encapsulates Everton's fortunes from the 1970 league winning squad, to the 1987 team that achieved the same feat.
We spoke to Rob to hear more about the film, firstly finding out how such an ambitious project got off the ground in the first place.
"I had a tagline for a film called 'The Team That Time Forgot',  that was knocking around for 10-12 years." Rob said.
"I mentioned it to a few people, but  nobody had really bitten my hand off for it. Then I went to a film company about something entirely different in October 2017.
"They knew I was an Evertonian, so they said that a film about Everton in the 80's would work. Something along the lines of 'I Believe In Miracles', which was a film about Nottingham Forest. He said that the Everton fans haven't got anything like that.
"They're a massive club with massive support and they've only got that period that you could make a film about."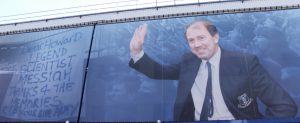 Everton have dined at England's top table in the past, but those days were too far down the line and most of those players aren't around now. But the playing squad of that 80's side made this the perfect opportunity for the life-long Blue.
"We felt it was a recipe that could work. A film about the 80's with the characters that were in that side, none of them are superstars. Andy Gray was the closest that team had to a superstar because of what he did afterwards, but someone like Neville didn't want to be.
"I spent the next few days feverishly working towards a proper treatment, I had the bones of it because I knew the story. It was just about writing it up and making it presentable for the film company."
Next for Rob was trying to get the players on side, but that task proved easier than expected. 
"They all shared the belief that this was a team which didn't get much credit." The 50-year-old told me.
"I knew Andy Gray and Trevor Steven a little bit, but not the rest. I had to get phone numbers and Andy started me off, then I got to Peter Reid who had a number for most of them.
"It felt like if I got to those two and Graeme Sharp first then if any of the players wanted to check it out, see if it was valid and serious etc, then they could refer to those guys. It was important to get the big hitters on board."
Piece by piece, Rob's dream was coming together, but there was still a long way to go. After talking to the club, Rob turned his attention to the fan base with Everton fanatic David Fehily, who features prominently in the film. 
From there, David introduced Rob to fellow Evertonian Keith Mullin, a guitar player in the Liverpool band The Farm. 
"Keith has proved invaluable. His knowledge of the music scene now and at that time was really important. I came up with the tracks, he crossed all of mine out, and he said 'leave it with me' basically. He's really talented, but he's also just a lovely bloke."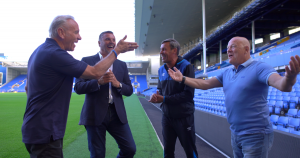 Further contacts were made. Carena Duffy from Everton In The Community and Dave and Franny from The Wimslow Pub offered their services. There was a real will to get this film made and get this story told.
"Carena has been outstanding throughout. In terms of access to the pitch or Goodison, behind the scenes, she was great. She'd make any team stronger.
"Same with Dave and Franny from The Wimslow, they threw their doors open and said we could film stuff there. (Which they did)
"I feel like Everton is one giant community that comes together. Everyone was like, 'you're making a film about Everton? We'll open the doors and welcome you in!' It felt like everyone was willing me on to make as good a film as possible.
"It's one giant family, everyone was pulling in the same direction." 
Everything seemed to be going according to plan, but much like Everton in the 80's, the project had its ups and downs.
"After about 12 months of thinking it was going to happen with this film company, they said they couldn't commit." Rob admitted. 
"It became a question of 'can I get private investment?' By this point I'd told all of the players it was happening, I felt mortified at the prospect of going back to them and saying it wasn't going to happen."
Then came January of this year, and Rob's film was still in the balance. Everton faced Millwall at the Den on a cold, frosty evening. In a game marred by controversy, on and off the field, The Lions dumped Everton out of the Cup.
But much like that Oxford game – this was the making of the film.
"I'd written to a man asking him if he was interested in investing, and he hadn't actually told me this until the other day, but he was going to come back and say that he was 'too busy' and that 'it wasn't the right time'. 
"Then Millwall beat Everton in the FA Cup and he thought 'bugger it, let's just do it!' So we did. He wrote back and said he wanted to get involved.
"My wife and I took the decision that we would go for it. She was more aggressive in the sense of wanting to do it and said we should risk it so we re-mortgaged the house. I absolutely believed in the project."
The belief was justified. Rob would spend the coming months travelling the world speaking to ex-players, who were all delighted to be involved.
"No player at any stage asked for money. They all gave me loads of time, none of them tapped their watch. I've been on plenty of films or projects where people had sat down and said 'you've got 10 minutes, go', or tapped their watch or said I need to get away.
"Andy Gray gave me five hours of his time, re-arranging meetings around it, he was brilliant. Neville was great, Gary Stevens was so warm and welcoming when we got to his place in Perth, Australia.
"None of them were difficult, every single one of them was an absolute pleasure to deal with. They were all brilliant."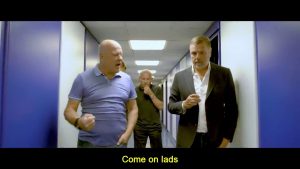 It shows on screen, too. It's clear that they all wanted to be there and that there was a passion for Everton like no other. Rob had created a tear-jerking, rollercoaster of a movie, which premiered at St. George's Hall on November 11th.
In the end, Rob achieved what he set out to do. He had created a movie which reminded you of why you fell in love with Everton, and why the club is supported like no other. It was a piece of cinema which resonates throughout generations of Evertonians.
"I wanted fans watching the film to come out of it and be reminded of why they love Everton, to feel uplifted by supporting Everton. It's a special, special club." Rob told me.
"The film makes people laugh, it makes people emotional, but overall I hope it makes people remember why they support Everton."
As of now, the film is #1 best selling sports DVD on Amazon, and the 66th best selling DVD on the site overall two weeks after release. The positive feedback just keeps coming, too. 
"It's been extraordinary, I don't know what to say to it. It's been so overwhelming." It was clear in his voice that Rob was truly lost for words on the support the film has received.
"When we did the viewing at St. George's Hall, people were coming up and kissing me! I didn't realise when i was making it how important it was to the fans and the team to have that recognition. 
"I got emotional reading some of the stuff people have written to me, because they're talking about their Dads and their Uncles and how it made them tear up – you don't think of that when you're making the film. The fact that it means a lot to them, means a lot to me.
"I love the fact that the reviews have been amazing, my wife is a bit like 'that's great, but what are the sales figures?'" Rob tells me laughing, it's clear it was a risk worth taking.
Rob may have spent the best part of two years on this film, but really it was over 30 years in the making. It's a poignant, heart-warming movie that will leave any Blue smiling, but also lachrymose.
It tells the story of a man who pushed water up a hill – and got all the way to the top. Howard Kendall meticulously stitched together the greatest side in Everton's history, and this film shows why they will forever be ingrained in Everton folklore.
It's the best piece of Everton cinema you're going to see – until they win it all again.
You can (should) purchase the film here.
Images credited to Howard's Way.