With all the talk and debate recently about the Premier League team of the decade, we thought it would be interesting to see who would fit into the Merseyside team of the decade.
Not those who have played for a Merseyside team, but those born in the area and have played or play at the highest level of the sport.
The noughties especially saw mass amounts of hugely talented players from the area come through and this decade hasn't seen as much talent, but more than enough to once again prove the quality of footballers that come from the area.
Goalkeeper – Tony Warner
The most difficult position to find but not choose.
For some odd reason, Merseyside has never produced a world-class goalkeeper and this is the only position where the player hasn't played in the Premier League.
In fact, Warner was at Liverpool through the youth ranks and spent five years there from 1994, but didn't make an appearance.
He did play for Merseyside's Tranmere Rovers 25 times in 2011, before moving on to several other English clubs as well as New Zealand's Wellington Phoenix and Malta's Floriana in the decade.
He is currently a goalkeeping coach as well as back up goalkeeper at Accrington Stanley.
Right-Back – Trent Alexander-Arnold
One of the easier choices for the team considering his impact on the Liverpool side in the past two years.
Alexander-Arnold is almost a certain for the next decade's team and at only 21 years of age, his legacy in the sport could reach the level of some of Liverpool's greats.
He is another academy graduate who made his first-team start in January 2017 against Manchester United and he hasn't looked back since, making 71 appearances in total and a Champions League winners medal in his trophy cabinet.
Just this month, TAA was voted the 19th best player in the world at the Ballon d'Or awards which is testament to his quality right now and not just in the future.
With Liverpool 10 points clear at the top of the Premier League table as well, it looks likely TAA will be part of the team that brings the first Premier League title to Merseyside.
Right Centre-Back – Jamie Carragher
Although he played just three years in the decade, his impact on the Liverpool team throughout his career cannot go unnoticed and during the decade, he still played over thirty games in each season of his last three and won the League Cup with the club in 2012.
In 2011, Carragher became the second most-capped Liverpool player of all time and his 148 European appearances is the second highest in British history, just behind Ryan Giggs.
The centre-back is one many have argued would have helped Liverpool sort their defensive problems during the title run in the season after his retirement which shows how important he was to the side.
Left Centre-Back – Conor Coady
When Conor Coady left Liverpool after making just one appearance in 2013, it was expected his career would fade to the lower leagues like many prior.
However, he has built himself up and has become a vital part of the Wolves team that finished 7th last year and have made it to the knockout stages of the Europa League this season.
After he left Liverpool, the centre back joined Sheffield United on a one year loan, after that he spent one year at Huddersfield before making the move to Wolverhampton where he instantly became a starter.
He has made 176 appearances for the Midlands club, playing all 38 games in last year's Premier League season as captain.
He also played 45 in their Championship winning season and deserves to be in the starting 11.
Left-Back – Leighton Baines
Although West Ham's Aaron Cresswell has had a good period over the past five years, Leighton Baines has been arguably the left back of the Premier League decade.
After getting his move to the Toffees in 2007 from Wigan, the Kirkby-born full back showed he has everything necessary to be a world class full back.
With Seamus Coleman on the other side, Everton had a solid defensive unit as well as attacking-wise for several seasons under Roberto Martinez.
Despite injury troubles and a dip in form over the past two years, his spot cannot be denied considering his 340 appearances for 'The Toffees'.
Centre Defensive-Midfield – Joey Barton
A controversial pick but it is hard to deny Barton's career despite his antics off the pitch.
He started the decade at Newcastle United before retiring in 2017 after a small stint at Burnley in the Premier League.
The decade saw him feature in England, Scotland and France for five different teams. He spent the most time as captain at QPR.
Barton is most likely known for his charges outside of the pitch, but at one point he was a tough-tackling midfielder who beats his opposition to the CDM position in the team.
He currently manages Fleetwood Town in League One.
Centre Midfield – Steven Gerrard (C)
The captain of Liverpool until his move to LA Galaxy in 2015 and the only choice to captain the Merseyside XI.
Although his best years came between 2005-10, Gerrard was still instrumental in Liverpool's 2013/14 title charge, scoring 13 goals in that season.
As the years went on, his role in the team got deeper into less of an attacking player, but he still played regularly for the Reds. In his last season, he made 41 appearances in all competitions.
Ultimately, when people think of football in Merseyside, they point to Steven Gerrard. A one-club player and a Premier League legend.
Centre Midfield – Kevin Nolan
Maybe the forgotten man of Liverpool because he didn't play for a club in the area, but Nolan had a massive impact on every club he played for.
Before his retirement in 2017, he racked up 99 goals for Bolton, Newcastle and West Ham combined.
His main role came playing just behind the striker where he enjoyed success at West Ham and Newcastle with Andy Carroll up top.
Although not the most flashy or recognised player, his place in the team is well deserved and he should receive more plaudits for his career in general.
Centre Attacking-Midfield – Ross Barkley
A current Chelsea man who has played the entirety of the decade since his debut for boyhood club Everton in 2011.
The way he left the club has Everton fans still resentful, but his performances throughout his nine years in the professional game so far cannot go unnoticed.
Similarly to Nolan, he prefers to play right behind the striker and his partnership with Romelu Lukaku at Everton was special.
His career in London hasn't gone as he would have hoped as of yet, but he already has an FA Cup and Europa League trophy so far and should achieve more in the rest of his career.
Striker – Wayne Rooney
The number one pick in this team having played the entire decade, putting in stellar performances.
The 34-year-old is set to join Derby County next month in a coach-player role in which he hopes to take them to the Premier League, where he spent 16 years playing in before his move to the MLS in 2018.
Rooney's career can never be questioned and his role doesn't need to be justified.
He stands alongside Steven Gerrard as the two best Merseyside has produced in the past two decades.
Striker – Rickie Lambert
You cannot forget some of the seasons he had for Southampton in their promotion from League One to becoming a mainstay in the Premier League.
It cannot be denied his goals from the turn of the decade was a massive factor in Southampton's Premier League status and so for that, his role up front with Rooney is certain.
Lambert was released by boyhood club Liverpool as a youth player and made a shocking return in 2014, before leaving a year after.
The Merseyside big man retired from the game in 2017 after spending his last season with Cardiff City in the Championship.
Full Team (4-1-2-1-2 Narrow):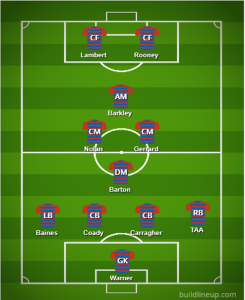 Nigel Adkins (Manager):
Yet another surprising admission but similarly to the goalkeeper position, Merseyside hasn't produced a high-quality manager this decade.
Despite Steven Gerrard having a promising start to his managerial career at Rangers and Wayne Rooney set to start his new role at Derby next year, Nigel Adkins' consistency sees him take the manager spot in this team.
He managed in every single calendar year in the decade for five teams: Scunthorpe United, Southampton, Reading, Sheffield United and Hull City.
His most success came at Southampton however, as his took them from League One to the Premier League and became the first manager in the history of the club to gain back-to-back promotions.
'The Saints' haven't dropped out of the Premier League since and although Adkins was only given five months in the Premier League before he was replaced by Mauricio Pochettino, his influence on the club should never be forgotten.
Despite managing throughout most of the decade, Adkins is currently jobless after his contract at Hull City was not renewed in June of this year. 'The Tigers' finished 13th in the Championship last season.
Honourable Mentions:
Aaron Cresswell:
Unlucky to miss out considering he has put in some stellar performances for West Ham during the deacde, but Baines was going to be the only option.
Cresswell is still a regular in the current London side, but his peak performances came in the 2015/16 season where West Ham finished 7th in the league with a record 62 points for the club.
Jon Flanagan:
If the team was predicted at the start of the decade, Flanagan's spot in the team would have surely been certain.
However, the scouse full-back once dubbed the "Scouse Cafu" has not reached the heights he was expected to do after that special 2013/14 season.
With Liverpool charging under Brendan Rodgers, Flanagan was given his first time minutes and impressed by securing the starting spot at left back for the entirety of the rest of the campaign after November.
Unfortunately for him, injuries and personal issues have stopped him following what was expected of him. He currently plays for Rangers after being released by Liverpool in 2018.
Martin Kelly:
Kelly is another product of the Liverpool academy and much like Flanagan, it looked like his future would have been at Liverpool early on.
However, things haven't gone as he would have wanted, but he still regularly features for Crystal Palace and has tallied 13 appearances so far this season in his new centre-back role.
Scott Dann:
Similarly to Kelly, Scott Dann has been a regular for Crystal Palace in the majority of the decade and has cemented himself as a typical Premier League centre-back.
He started the decade at Birmingham City, then moved on to Blackburn Rovers and finally Crystal Palace in 2013.
Injuries have limited his playing time over the past two years but he has played for Palace six times already this season on his way to finding his first time place again.
Next Decade Predictions: Trent Alexander-Arnold, Tom Davies, Curtis Jones, Paul Glatzel and Steven Gerrard (Manager).
Check out MerseySportLive's Liverpool and Everton team of the decade as well.
Picture by Egghead06 under Creative Commons License.