As the world waits for Japan to open sport's most diverse show, an athlete eyeing success is Liverpool Harrier Jamie Webb.
The 25-year-old won silver at the 2019 European Indoor Championships and this year looks set to be his most important to date.
After finishing his Master studies in Pharmaceutical Chemistry at Loughborough University, he initially delved into teaching, but the opportunity to become a full time athlete was something he couldn't pass up.
"To be honest, it is so hard to actually make money from the sport.
"It is only once you make the breakthrough at elite level that you can make a sustainable living over a period of time so I was always knew it was important to have something else.
"I am even aware now that one bad year and that funding can go.
"That is why I'm lucky to have that support and solid funding from ADIDAS right up to the Olympics.
"I am 26 and can teach until my deathbed if I want, but there is a limited window I can try to get to an Olympic final and do the best I can so I need to make it count."
With his sights set on Tokyo, he was given another boost by being selected for extra funding for those who are deemed to have podium potential.
"It is nice to have the medical support and structure from the Governing Body.
"I cannot falt the funding system so far. They just recently paid for a training camp for me and my coach in South Africa so that was positive."
The year's competition regime will consist of five or six events in the May/June period, with a training camp in Portugal a month before that.
He has already hit the qualifying standard time for the 800m so all concentration lies on the British Championships in June that will determine those selected to represent Team GB.
"This year is about running my PB time consistently against the best, but the Olympics is my dream.
"I have always said I wanted to win a European medal and I have done that. I always said I wanted to perform on the World Stage and I did that last year in Doha.
"If I can perform at my best, that puts me amongst the best in the world.
"The aim from there is to make the Olympic final and then just race," he laughed "there is just eight people for three medals then."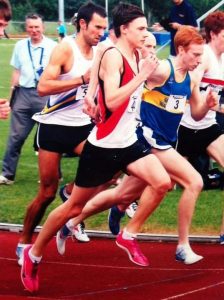 Despite starting athletics in a consistent sense at a late age of 17, he is already amongst the top ten 800m runners in British history.
But he made clear, he cares more about winning than time.
Jamie Webb is amongst a flood of British talent emerging in the track and field scene that are young and enjoying being the underdog.
"We have always been lucky as a nation to have a few big names who have contested for medals, and right now with have that with Dina Asher-Smith and Katarina Johnson-Thompson.
"There is always a nice team environment at events. Everybody is supportive of each other and you spent a lot of time with each other."
The 25-year-old also commended fellow Harrier KJT's global success and what he has personally taken from it.
"Seeing her win is always motivational. It shows that anybody can do it and that I can as well.
"I see myself being half a second away from being in that category so I am working hard to get there."
As the country's hope for 800m success, Jamie Webb has a vital few months ahead as prepares to secure his place amongst the best for August.