ITV Racing presenter Oli Bell talks to Merseysportlive about all things Grand National after the 173rd renewal was cancelled due to the Covid19 outbreak.
With all racing suspended by the British Horseracing Authority, the decision to pull the plug on this year's great steeplechase came on Monday 16th March by Aintree Racecourse.
"It is very disappointing but there are much wider issues that play here, losing the Grand National this year is not a problem at all because we have a global crisis on our hands that needs fixing," said Bell.
This is the first time in 23 years that the race will not be run on the first Saturday in April.
The 1997 race was hit with a bomb scare, with thousands of punters having to be evacuated from Aintree.
The 150th edition of the race was completed for a first time ever on a Monday.
A 25-length victory for New Zealand-bred, 8-year-old, Lord Gyllene followed for jockey Tony Dobbin and trainer Steve Brookshaw.
The Grand National draws the largest audience of the National Hunt season.
Although losing it doesn't seem that important in context with everything else going on in the world, it is pausing a positive trend in its growing viewership.
Last year's TV coverage pulled in a peak of 9.6 million viewers, which ITV reported was a 12% increase from the 8.5m in 2018, with the average audience for the National show up from 5.1m to 5.4m.
What is it like to be in front of the camera for one of the nations biggest sporting events?
Following his dad Rupert, a successful sports broadcaster, Oli's heart was set on television from a young age.
"I grew up watching Channel 4 racing, BBC racing and it was always a dream of mine to be involved in racing broadcasting," he said.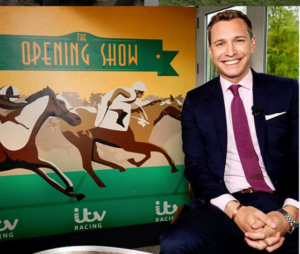 Bell got the chance to live his dream as he turned 29, joining ITV racing for his first broadcast of the Grand National.
He hosts The Opening Show on Saturday mornings and varies between roles on the main programme.
"Presenting for ITV is a dream come true but presenting the Grand National to an audience of over 10 million people, I feel very fortunate to be in that position," said Bell.
Like so many other racing fans, The Grand National was where it all started for Bell.
"It means everything to me really, it's the race that got me into racing.
"It epitomises why I love horse racing, it takes real skill, bravery, talent – from both horse and rider."
Filling the void on Saturday, we have the Virtual Grand National. This will be broadcast on ITV at 5pm.
Some more than others will enjoy Virtual racing, but Bell seemily is not being one of them.
"I mean… yeah… fine. It will give us something to do on Saturday won't it…" Bell quipped.
Dual Grand National winner Tiger Roll lines up in the Virtual edition of the race but will have to wait 12 months to have his shot at entering the history books.
Could this year's race renewal being cancelled be a blessing in disguise for hat-trick seeking 10-year-old? Bell certainly thinks so.
He said: "I don't think he was brilliant in his prep races this year, so perhaps a bit of time off will help him.
"Whether he wins it or not who knows… we can dream."
Aintree Racecourse has started their preparations for next year's festival with a classy gesture.
We want to say a HUGE thank you to our friends @AintreeRaces who will be donating 10,000 tickets to the #NHS for the first day of the 2021 Grand National Festival! ? The day will also be renamed as Liverpool's NHS Day. Thank you for your amazing support ❤️ pic.twitter.com/0JhCMZEwGh

— ? Alder Hey ? (@AlderHey) April 3, 2020
Due to not being able to have their annual visit to Liverpool's Alder Hey Hospital, The Jockey Club have donated 10,000 tickets to the NHS Staff and are set to rename Thursday at next year's festival 'Liverpool's NHS Day'.
Bell has joined forces with Equestrian Relief to support key workers in the U.K.
Oli talks about some of the fun challenges he and the team of ambassadors will be undertaking in the next few days in the Full Interview, which you can listen to here.
(Feature image courtesy of Oli Bell)