With new lockdown measures coming into force in England, golf courses have closed in line with regulations.
But many golfers are angry at the decision as they believe golf can be played safely as it is non-contact and outside.
Paul Hurst, a regular golfer at Royal Sandiway near Northwich in Cheshire, feels the current measures in place are working.
He thinks his club should remain open throughout the second lockdown.
The 58-year-old said: "People arrive within five to ten minutes before their tee-time, shoes on in the car, there's hand sanitiser all over the place, as soon as you finish your round people are getting in their car and are clearing off."
Following the previous lifting of lockdown regulations, members were able to participate in competitions again.
Mr Hurst won the Marland Cup despite not practising on the course for two months!
He added: "It was hard to return after a period of not playing.
"You have to get back into the swing of things, and with another closure it's definitely going to be a struggle again."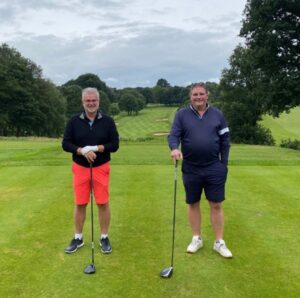 Royal Sandiway is on private land so walkers are not able to access the grounds.
For many people like Paul, golf is their main form of exercise, and the only social contact outside their household.
The club always know who's there, which makes it easier for them to maintain social distancing and keep on top of track and trace.
Many members of Royal Sandiway are retired, furloughed or widowed so playing golf is integral for their mental health.
This is a common feeling among golfers and a petition for courses to not close has more than 250,000 signatures.
The government must now consider this for a debate in parliament as it gathered over double the amount of signatures required.
England Golf challenged the government on their decision as well.
In a statement on their website, the governing body said: "As an open-air sport played by limited numbers in a vast outdoor setting which naturally lends itself to social distancing, we lobbied that golf should continue to be played in accordance with our government-approved 'Play Safe, Stay Safe' framework."
Private clubs like Royal Sandiway won't face financial difficulty as membership fees have not been forfeited.
Pay-and-play courses will suffer as they won't get any income for another month, which could lead to closing clubs.
More information can be found on England Golf's website: https://www.englandgolf.org/