It was a basketball derby day that had it all in this North West clash.
And despite a resilient performance in the final quarter from Cheshire Phoenix, Manchester Giants stood firm and came out on top in a nail-biting encounter.
The Phoenix went with a starting five comprised of Kahaon Ross and Devin Mitchell at the guard, Sol Rolls-Tyson and Pharroh Gordon at forward and Eric Hamilton locking down the Center.
Focusing on Rolls-Tyson, the 6ft 8in forward made a miraculous return to the court after being ruled out of action for over a year following a ruptured kidney and internal bleeding during a training session.
However, Sol kept up with pace of the game and proved he hadn't lost his excellent rebound awareness and shooting accuracy, finishing the game on a respectable 15pts and six rebounds.
The game itself was already a highly anticipated matchup before the opening tip-off for all BBL fans, but it soon swung into full gear after half time.
Phoenix started the game poorly and were soon five points down to the Giants after the first quarter, despite showing great hustle with three steals and dominating off the glass with high rebound numbers.
Manchester forward Alex Ouandie lead the scoring with eight points as the Giants ended the first quarter up 26-21.
Cheshire showed signs of improvement in the second quarter with substitute Disraeli Lufadeju netting ten points with only scored Ouandie (16pts) and Zach Powell (11pts) outscoring the Phoenix guard.
Phoenix continued to show their superb rebounding ability with Rolls-Tyson and Hamilton enjoying high rebound numbers while Manchester's David Ulph also recorded the only block of the first half.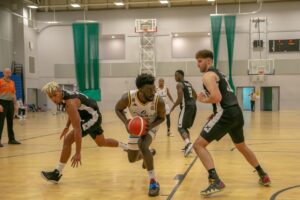 Manchester continued their dominant scoring spell in the third quarter with Jack Hudson and Jordan Whelan being the particular stand-outs in a one-sided quarter.
Manchester were also able to force a lot more turnovers from Cheshire with the Giants finishing the quarter on an impressive seven steals and 15 assists.
Ouandie racked up a further four points to take his scoring tally up to twenty with teammate Hudson sitting on 17 points and Rolls-Tyson ending the quarter on 15 points for the Phoenix.
After a comfortable third quarter for the Giants, from which Cheshire were down by 17 points in a 76-59 lead for Manchester, Cheshire needed to spark a huge comeback to have any chance of taking the game to overtime or potentially snatching the win.
The final quarter already set the early pace for what was to come as Mark Rangeley and Kahron Ross both netted early three's to draw back the deficit with Ross in particular showing great character and commitment in Cheshire's late comeback.
With around three minutes left in the quarter, Cheshire continued to find their rhythm, scoring three's for fun forcing numerous timeout's from both team's coaches.
Manchester kept up the pace and attempted to hold onto their double digit lead, but Cheshire continued to pile on the pressure and were soon scoring three's that would make Russell Westbrook proud.
With thirty seconds left, the score stayed in favour of Manchester with a lead of 93-88, and soon found themselves enjoying a six point lead after Jordan Whelan netted both of his free throws forcing another late Cheshire timeout.
The Phoenix responded almost instantly after a sublime triple from Jones which forced Cheshire to intentionally foul in the hopes of gaining some valuable points on the fast break.
Hudson scored both of the resulting free throws to take the score to 97-92 in favour of the Giants and despite a late surge back from Cheshire, the Giants were able to convert another late free throw and see out the rest of the game winning 98-92.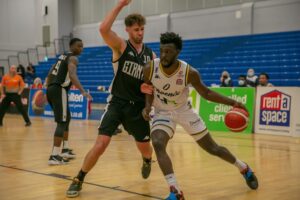 A fourth quarter that provided an abundance of action and sensational shooting from both teams, it certainly fit the definition of an intense derby.
Cheshire may have come up short here but there was still some excellent individual stat-lines from numerous stars including a dazzling final quarter performance for Ross and a fulfilling return for Rolls-Tyson.
Cheshire will now look ahead to their back-to-back home ties against Glasgow and a rematch against Manchester in the coming weeks as they look to progress through the group stage of the BBL Cup.
(Photos authorised by Adam Day)