Where Liverpool football club find themselves at the end the twenty tens compared to where they started it shows the monumental change the Reds have made in the last 10 years.
Liverpool started the decade with a disappointing seventh place finish, which was their worst finish since the 1998-99 season.
It was the first time they failed to finish inside the top four since 2004-2005.
The season foreshadowed a dark period for the club as they fell to mid-table mediocrity for a few seasons.
Glimpses of hope were shown in the Brendan Rodgers era, when Liverpool pushed Manchester City all the way in the 2013-14 season.
However, a poor season followed which saw Rodgers sacked and replaced by the highly rated Jurgen Klopp.
This was the start of Liverpool's journey back to the top of the football world.
Liverpool are currently one of the best teams in the world and last season were crowned champions of England for the first time in 30 years.
The current team holds some of the biggest stars in world football but not every player has been a success over the decade.
As we approach the 2020s, we look back on the worst possible XI across the 2010's!
Goalkeeper – Doni
Between the sticks for this team is former Roma keeper Doni. The Brazilian arrived at Liverpool with a decent reputation after having a good career in Italy and Brazil.
Doni was initially brought in as back up for Pepe Reina and he seemed to be a solid signing.
However, Doni did not have the best time at Liverpool making four appearances and not winning a single game.
The calamitous performance that summed up Doni's Liverpool career was in April 2012. Doni got a chance to play after Reina was suspended, he had the opportunity to face off against Everton in a FA Cup semi-final the following week as a result.
Unfortunately, he never got that chance as he got sent off himself against Blackburn the week before, giving away a penalty in the process.
After this he made two more appearances for Liverpool and fell behind Brad Jones in the pecking order.
Centre back – Sebastian Coates
Liverpool signed the Uruguayan centre half from boyhood club National for £7 million pounds. Coates signed a long-term contract for the Reds as many hoped he would become a future star at the club.
The man from Montevideo did not live up to his potential and only went on to make 16 appearances for Liverpool across four years.
His performances in those games showed the 6ft 5 defender was slightly rash and a bit clumsy.
He will always be remembered however for an acrobatic wonder goal in a 3-2 loss against QPR in the 2011-12 season.
He has gone on to have a good career for Sporting Lisbon in Portugal and has no doubt improved from his Liverpool days.
Centre Back – Tiago Ilori
Ilori was another young transfer blunder for Liverpool. The Portuguese defender was supposed to develop into a first-choice defender.
His £7 million pound price tag looked a bargain at the time for the talented prospect, but after he never was able to force his way into the first team.
After countless loan spells Ilori eventually left the club for Championship side Reading. He has since moved on to play as third choice centre back at his first club, Sporting Lisbon.
Right Back – Paul Konchesky
Konchesky plays as a left back however he slots in on the right in this team due to Liverpool being blessed with solid right backs over the decade.
Paul Konchesky had a solid career as a pro with good spells at Charlton, West Ham and Fulham. Sadly, he was not quite good enough to make the grade at Liverpool.
The English defender followed former manager Roy Hodgson to Liverpool, and it did not end well for either of them.
Konchesky lasted one year at Liverpool, in one game Liverpool fans cheered when he was substituted after making an error which led to an Aaron Lennon goal.
He was eventually shipped out on loan to Nottingham forest.
Konchesky went on to have a good spell at Leicester City making over 100 appearances.
He was last seen playing for Billericay Town after dropping down the leagues.
Left Back – Alberto Moreno
Alberto Moreno looked to be an absolute steal for Liverpool after good performances in his early days at Anfield.
He scored a wonder goal against Tottenham after dribbling across half the pitch before smashing the ball into the bottom corner.
However, this was as good as it got for Moreno at Liverpool as he was highly inconsistent in his first season.
He often looked effective going forward but was disastrous defensively. Moreno fell out of contention for a first team place after veteran midfielder, James Milner, seemed a much more assured choice at full-back.
He was often criticised by fans and pundits for being a liability at the back and his worst performance came in the 2016 UEFA Europa League Final against Sevilla, where he was at fault for two goals in a 3-1 loss against his former club.
Defensive Midfield – Christian Poulsen
Christian Poulsen came to Liverpool after a solid career throughout Europe with spells at Schalke, Sevilla, and Juventus. For the small price of £4.3 million it looked like a decent addition to the team.
Poulsen failed to win the Liverpool fans over in his time at Anfield. This was down to the Danish midfielder filling the boots of the classy Xabi Alonso.
Poulsen made 12 appearances for the club and only lasted one year at the Reds. After Roy Hodgson was sacked Kenny Dalglish saw no use for the midfielder as he preferred to use local youngster Jay Spearing.
Left Midfield – Oussama Assaidi
Brendan Rodgers had high hopes when he landed Oussama Assaidi for £2.4 million. The Moroccan winger had had successful spells in Holland with De Graafschap and Heerenveen before joining Liverpool.
Assaidi was not able to establish himself in the side due to the breakthrough seasons from Raheem Sterling and Suso.
Assaidi is unlucky to be included on this list as he was not given many chances in a Liverpool shirt as he only made 12 appearances.
He went out on loan to Stoke after a season and had flashes of a good player, but he was recalled as Liverpool decided they wanted to cash in. Liverpool sold Assaidi to Al-Alhi Dubai for £5 million.
Right Midfield – Lazar Markovic
Liverpool looked like they had won the race for one of football's brightest prospects in Lazar Markovic.
At the age of 18, he was named Partizan Belgrade's player of the year. A year later he helped Benfica to a domestic treble and a Europa League final, but his side were defeated on penalties.
He arrived at Anfield for £25 million and was burdened with a big reputation. Markovic  failed to make an impression on the team in his first season.
He did score 2 goals in 19 appearances that season but Markovic looked like he was not ready to make the jump to the Premier League after only two seasons as a professional.
Liverpool thought it wise to send the Serbian out on loan, in the hope he would get some valuable experience. However, after four failed loan spells in three years the Reds decided to cut ties with the underwhelming winger.
He is now back at Partizan and has rediscovered some form.
Markovic is still only 26 years old so he still has time on his side to fulfill part of his former potential. This will not be at Liverpool though as he has openly criticised the club for the way he was treated.
Attacking Midfield – Joe Cole
Another poor signing from the Roy Hodgson era, Joe Cole arrived at Liverpool at the age of 29 with a long career behind him.
Cole had a disastrous Premier league debut for Liverpool as he was sent off for a challenge on Laurent Koscielny.
Cole went on to feature 26 times for Liverpool while getting 3 goals.
The former Chelsea player was a shadow of his former self and Liverpool decided to loan him to French club Lille. Cole had a decent spell in France, and many thought he would make his move permanent.
Brendan Rodgers recalled him as he attempted to make him part of his plans. He only lasted 6 more months and moved to boyhood club West Ham.
Spells at Aston Villa and Coventry City followed before he ended his career in America with an enjoyable spell with the Tampa Bay Rowdies in the North American Soccer League.
He honestly admitted that signing for Liverpool was a mistake as he struggled to gain a connection to the club.
Striker – Andy Carroll
Andy Carroll signed for Liverpool as a prospect, the season before he scored 17 goals in the Championship which saw Newcastle promoted back to the Premier League.
The target man had scored 11 goals by the January transfer window and he clearly had ability to score goals. However, he had suffered an injury that was set to keep him on the side-lines for about a month.
Deadline day arrived and Liverpool's hand was forced to replace want away striker, Fernando Torres.
Torres left for Chelsea for a record fee of 50 million and Liverpool went and spent 35 million on an injured Andy Carroll at the final hour. The fee made Carroll the most expensive British footballer of all time.
Liverpool fans would have to wait until March to see their new number 9 in action. He scored his first and only goals of the season against Manchester City.
The following season a lot was expected of Carroll and he did not hit the heights expected of him. There were rumours of Carroll not living right and this showed in some of his performances as he looked unfit.
He did get 9 goals in all competitions and scored in two Merseyside derbies; the latter was the winner in a FA Cup semi-final.
He also went on to score in the final and nearly turned the game on its head on his own as he came inches away from an equaliser late on.
These moments were not enough to revive his career at Liverpool as the reds wanted to try and recoup as much of the £35 million pounds as they could.
Carroll will always be remembered as an example of a panic buy gone wrong.
Striker – Mario Balotelli
The heartbreak of losing Luis Suarez to Barcelona was hard enough for Liverpudlians but it was not helped by the signing of ever controversial Mario Balotelli.
Balotelli arrived at Liverpool with a respectable goal record of 66 goals in 156 games at his last three clubs. However, no amount of goals could be worth the hassle Balotelli seems to cause whoever he plays for.
His half-hearted performances in a Liverpool shirt was his downfall, and it was another year of Balotelli proving all his critics to be correct.
Balotelli got his first Liverpool goal in the Champions League group stages against Ludogorets. He did not score in the Premier League until 6 months into his Liverpool career. The striker ended the season with 4 goals in 28 games.
He was sent out on loan to AC Milan and a year later he was allowed to leave Liverpool for free.
The Italian said that signing for Liverpool was the biggest mistake of his career. On the other hand most would argue that Liverpool made a bigger mistake in signing a player with possibly the worst attitude in football.
At the age of 30 he finds himself without a club and was last linked with championship club Barnsley. However, I think any Liverpool fan would tell the side from South Yorkshire to stay well clear.
The line-up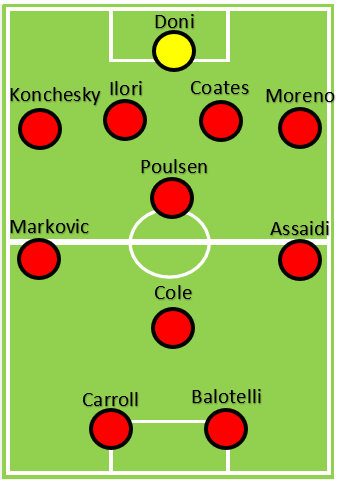 Honourable mentions
Loris Karius – His two blunders in the Champions League Final still haunt Liverpool fans.
Steven Caulker – A inadequate back up centre half who spent most of his time as an emergency striker.
Aly Cissokho – A player who always looked like he could make an error. Liverpool decided not to take him on after a loan.
Jay Spearing – Hardworking scouser just did not have the quality to cut it at Liverpool despite his great work rate.
Luis Alberto – A player who could not break into the team at a young age but has gone on to have a great career with Lazio.
Alberto Aquilani – A talent who never got to grips with life in England and injuries did not help the Italian.
Milan Jovanovic – A bizarre signing who looked like he did not want to be at the club after Rafa Benítez.
Fabio Borini – A player Brendan Rodgers trusted from previous spells. Borini was unlucky with injuries but never looked a threat in front of goal.
Rickie Lambert – A poor decision from Liverpool's recruitment as they signed a 32-year-old striker who did not suit the system.
Iago Aspas – He never looked like the prolific striker who was at Celta Vigo, he returned there two years later and now has 138 goals for the club.
Do you agree with the team we have put together? Let us know @merseysportlive on Twitter.
Featured Image by anwo00 (pixabay.com)