Last November when Stephen Carroll was elected President of Liverpool Harriers & AC, the city's biggest running club and one of the most decorated in the country, he had no ideas of the challenges he would have to face during his first year in charge.
Sports clubs around the world have faced the ruthless financial impact of COVID-19, and cancellations have blighted the sports industry.
Facility closures have meant that athletes haven't been able to train, and many followers of athletics are concerned about a lost generation that may be the result of these closures. 
"Things have changed quite dramatically since I've been elected President," the local athletics coach affectionately known by many as 'Ste' begins the interview.
This is an interview conducted professionally, but there's a personal touch to it. Ste has been my coach for the last five years, and has followed my progress since I started running ten years ago.
I achieved my best accolades in athletics under Ste's guidance, winning a northern medal, reaching several national finals and almost receiving a Team GB call-up as a teenager.
To me, Ste is family. He is one of the warmest, kindest people in athletics as well as being a renowned coach. But for this interview, he speaks in a purely professional capacity. 
"After four months of being elected President (in November 2019), coronavirus hit everything at the club. We had to shut down until September," Ste continues.
"All the training groups carried on off-site training but all competition was cancelled. There was still business to be done within the club by the secretary and committee, myself included.
"One of the most difficult aspects was the re-opening of the track. Ste and the rest of the committee took their time in deciding how to open the track, to ensure it was done in a safe way.
"There were other clubs who were opening who may not have been as COVID-secure as we wanted to be. We had to make a proposal to the council to say we would like to open and these are the measures we're taking."
Liverpool Harriers' home in Wavertree faced more challenges than many running tracks across the country, as there was a COVID testing site in the car park.
"This was going to have an impact so we had to consider them as well for us to open up the club again."
The committee created an app which athletes had to download to register their attendance at the track and monitor symptoms through a track and trace system.
"The best thing I think for us to manage was the creation of our own app. Everyone had to register and answer a questionnaire in order to gain access and log on every time they attended.
"That was a major challenge for us all but the committee worked so hard on it. There was a lot of unsung people behind the scenes who wanted to get us up and running, for example Simon Fennel who developed the app. It's been very successful." 
Ste had been a Vice President for 20 years to the day when he was elected President. He'd been on the committee nearly 30 years.
He originally joined Liverpool Harriers for fitness as a young footballer playing for Birkenhead Boys Club, where he played with Kenny Skupski, father of professional tennis players Neal and Ken Skupski.
"I came through playing football and went running for my own enjoyment.
"I kept in touch and when I was in my late twenties I saw Stan Roberts (a popular coach at the Harriers) and he asked me about getting involved again.
"At the time I had a young daughter, Hanna, who wanted to run as well, so I decided I would come back to help out and run for my own enjoyment."
Ste learned his trade from observing other coaches and learning as much as he could from them.
"I went around and watched and learned as much as I could over the period of a couple of years, then went on all the courses and went through that way.
"You pick up a lot of useful information, you learn a lot from other people and you can use it." 
To many people in Liverpool Harriers, it was clear that Ste was destined to become President. There was one person who was oblivious to all that, though.
That person was Ste. "I didn't give it much thought that I would be President one day. Then I was approached, would I stand and I said yes, obviously, you had to go to the committee and they decided I would be the right person at the time for the particular job."
He wasn't being elected just to hold the title of President, but for his attributes and hard work.
"With the President of the Liverpool Harriers, although people look at them as a figurehead, you're actively involved day-to-day which is maybe different to a lot of clubs." 
When asked about his biggest achievements in the sport, Ste lists those of his athletes before I draw attention to his own ones.
He once featured in the Liverpool Echo for helping seven athletes reach the English Schools Championships in one year, but usually has at least five of his own in the competition every year.
He has been nominated for best coach in the north and in England as a whole several times, but it's the achievements of his athletes which gives Ste the most pleasure.
"Watching the athletes get their personal bests gives you a lot of satisfaction. I've been nominated a few times for speed mainly, because that's what I'm noted for, but I tend to play it down. I just try to do what I think I can do well and I'm still learning."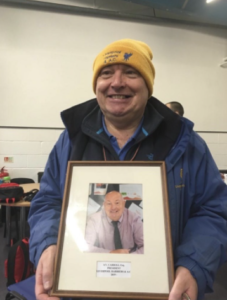 Ste was one of the coaches who set 2019 World Heptathlon Champion Katarina Johnson-Thompson on her way at a crucial early stage of her development, which he only mentions at the end of the interview.
"She was originally in my sprints group. What happened with Katarina was she always wanted to do other events as well, whereas we were doing specific short sprints and running, she wanted to do long jump and high jump, but to be part of her development initially, albeit for a short period of time, I like to think that's helped her."
He goes on to pass on most of the credit to her former coach Mike Holmes at Liverpool Harriers, who he says 'handled her very, very well'. 
Now into his 60s, Ste is still thriving in his role. "The Presidency of the Liverpool Harriers is only a five-year term, so I have four years left to serve and after that I'll be back on the committee again."
He coaches just as much as he did before being elected President, and isn't ready to give that up either.
"From a coaching perspective, you renew your license every three years, I've got another two years before mine needs renewing. If I renew it again I'm probably going to be in my early 70s then so I'll maybe consider am I doing a good enough job or are people coming through who need a little bit of guidance or support rather than coaching. No signs of slowing down at the moment though!"  
Although much has happened this year, it's still only the beginning of Ste's Presidency at Liverpool Harriers.
He has shown he can handle challenges in the role, with zero outbreaks of COVID at the club despite returning to training almost four months ago.
Now as the world looks towards returning to some form of normality, Liverpool Harriers & Athletics Club can hopefully soon return to winning plenty of medals under Ste's guardianship. 
You can find all the latest news on Liverpool Harriers via their website: https://www.liverpoolharriers.co.uk/