Growing up, many of us can only dream of playing at stadiums such as Anfield or the Nou Camp.
The rich history, the countless famous nights, and above all, the players who have graced the fields play a part when romanticising these famous venues.
It is a dream cherished by many, but a sobering thought that only a handful ever get to experience it. Josh Power has, alongside a host of other historic grounds.
Playing for North West Cerebral Palsy FC, the 22-year-old has had quite a journey in his early football career already.
After a year of unbroken success in 2017, he went on to be awarded the player of the campaign in the Barcelona International Tournament. Power is no stranger to success.
Born in West Derby, the youngster was always likely to have a keen interest in football, so ingrained is the sport in the community. Power admits as much and was involved from an early age.
"I first got into football after watching Liverpool in the Champions League, back when I was younger.
"My dad was a big fan so it was no surprise that I started to love the game and got involved playing."
Despite having Cerebral Palsy, which affects balance and co-ordination, Power has never been a person who has been fazed by his disability.
Willing to throw himself in at the deep end, he was keen to be involved with those around his age, no matter the level of quality.
"There wasn't that much disabled football when I was younger, so I used to play for Team Oasis on a Saturday…getting battered every week!
"Then, when I was ten, it stopped and I started to play for Liverpool Disabled, got moved onto Merseyside then North West England (NWE)."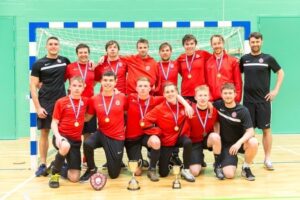 Playing centre back, the West Derby local has seen steady career progression.
Comfortable on the ball and dominant in the air, Power's attributes saw him play alongside the Under 16s when just 13 years old at North West England.
It was with this group his first real taste of success was felt.
"The standard at North West (England) was much better than what I'd had before, and we had a really good group.
"I won the FA youth cup two years in a row with that team, so it was really good for my development as my own game improved a lot."
Things were going well, but it wasn't all plain sailing.
The FA stopped funding North West England in 2015, and so the team was disbanded.
This would have spelled the end for most clubs, but a group as united as this one were not going to let that happen.
"When the FA withdrew the funding from it (NWE), we made our own team.
"It was called CP United and it was awarded charity status, so we all paid money to keep the team going
"I think the FA wanted to look at semi-pro footballers and find a semi-pro footballer with CP and bring them in that way, that's the way the recruitment is working now."
The side's togetherness spurred them on to achieve more success.
Another FA youth cup victory preceded Power's most successful campaign.
2017 saw a league triumph, a League Cup, an FA Cup (no longer youth) and the Barcelona International Trophy (which is the equivalent of a Champions League style tournament with international sides allowed to compete in it also), all won in a single season.
It was quite the feat.
Playing against CP teams from around the globe, Power's side participated in the tournament the following year. It was another memorable experience.
"The year after (2018) was the world cup year, so all teams like Argentina and USA had come to Europe to get used to it.
"We beat Denmark 3-1, and lost to Scotland although we could have easily won that game.
"I think I got concussion halfway through that game after one of them elbowed me in the head!
"Then we played Argentina and Argentina had probably the best South American CP footballer that has ever played, and I was marking him, so it was mad!
"I mostly had him in my back pocket, but he did score a header past me because I didn't expect the ball in to have as much quality as it did.
"But other than that he couldn't get past me!"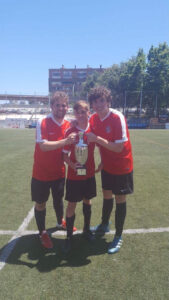 Power's side finished fifth that year, although he was voted player of the tournament by his teammates, an accolade any player would be proud of.
In 2019 the 22-year-old signed for North West Cerebral Palsy FC, and was on course to win the league before the Corona Virus resulted in the campaign being null and voided.
The time off has allowed Power to re-assess his goals, and there is one he has his eyes fixed on.
"I've had a couple of England trials, November 2019 was the last one that I went to, and I was successful but my fitness wasn't great. Then at the next meet up I was injured and so missed out, then Covid-19 happened.
"There's meant to be a new trial in April that I've been training for, so I'm hoping that I'm successful again this time. It's definitely my main goal at the moment."
Power hopes that playing disabled football as a part time career at the highest level, will supplement his main body of work which is data analysis in sport.
Currently fulfilling a tactical analysis internship at a Premier League club, his career seems destined to be involved in the field of work he loves most – football.
(Images all courtesy of Josh Power)