Golf is a notoriously difficult sport.
Any number of factors on a given day can affect performance levels and in the blink of an eye the competition can be out of sight.
The margin for error for long drive competitors is even slimmer. This is not something that fazes Greg Harvey.
The 21-year-old has been playing the sport since he was aged just four.
Based mainly at Allerton Golf Club, Harvey's ambitions are focused on long drive competitions – essentially, tournaments based on who can hit the ball the furthest.
Whilst not as popular as open events, the long drive format still maintains a solid level of competitors and spectators.
Having participated in both forms, Harvey believes the ambiance felt during competitions contributed to his decision when deciding on which type of golf to focus on.
"Long drive events have a bit more of a relaxing atmosphere whilst still being really competitive," he said.
"The events are organised really well, with music playing throughout the day, and the times you're playing your opponent being very clear.
"Sometimes open competitions can be really tense and sometimes not as welcoming, which can make the experience a lot less enjoyable."
Chilled Friday night session!! #golf #longdrive #work #commitment pic.twitter.com/NcdPDX1ldz

— Greg Harvey (@GHarvey99) February 14, 2020
With a personal record of 396 yards at 134mph club head speed, the 21-year-olds potential is clear to see.
Despite his young age, impressively, Harvey has already managed to participate in a pro event, finishing in 6th out of 12 competitors.
It was not an invitation he initially expected.
"The one indoor event I have competed in was at North Wales Golf Club. I got thrown in at the deep end and got put in the pro event.
"There was an amateur event before us, but some of the lads there had seen my Instagram posts, so they said I could enter the pro event.
"I was really nervous coming up against some serious players. I won my first knockout match with my first ball hitting 330 yards. My next match I got beat after hitting a 390-yard drive.
"I then went into a losers' play off and won with a 370 yard drive, and in the final match I got beat after hitting a 378 yard drive."
Having gained valuable experience from one pro event, Harvey is keen for more. With international competitions available worldwide, the Halewood youngster's goals are clear.
"When Covid eases, I'm looking to compete outside. The tournaments are played mainly in Europe, South Africa and America."
"The American ones are the biggest events, so my main goal is to compete in events over there."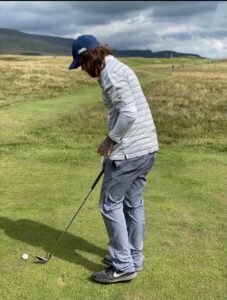 Despite his lofty ambitions, things have not been so easy.
For an upcoming talent, consistency in training is a fundamental aspect in continual improvement.
The emergence of the Coronavirus has proven to be a particularly difficult obstacle for progression, not only physically, but mentally.
"Corona has impacted my life and my sport quite heavily to be honest.
"I was going to the gym four or five times a week and playing golf at least three or four times a week.
"Now I have lost all motivation to train and diet as well.
"Sport has been key for my physical and mental well-being. I am really missing competing and meeting new people.
"Also, for the social side of being able to play the sport with my mates, I'm really missing that too.
"I'm trying to stay positive with hope that we can return to some form of normality soon."
Encouragingly, Harvey has targeted a set routine and ambitions for when normal training can resume.
"My first goal is to get fit and to feel confident with my training and structure. Dieting well is also a big part of that.
"For my golf, I'm looking to enter a lot of events with club competitions and long drive competitions. I want to be ready for when we get given the all-clear to compete again.
"Winning as many events as I can in the future is of course the main goal."
With a revamped motivation and direction in place, combined with a new fitness and dieting regime, the future looks bright for this young Halewood golfer.
(All pictures courtesy of Greg Harvey)