In light of St. Patrick's Day, we countdown the top five best Irish names to ever wear the famous royal blue of Everton football club. Including players whose names will forever live in the club's everlasting folklore.
5: James McCarthy (2013 – 2018):
While McCarthy's Everton career was cut short due to injuries, he may well go down as one of the club's most underappreciated midfielders of the Premier League era.
In his first campaign with the Toffees, McCarthy played an instrumental role in the heart of the Everton midfield and formed a bright partnership with fellow newcomer Gareth Barry, as the Blues went onto to bag results against the likes of Manchester United, Arsenal and Chelsea to name a few, finishing fifth in the process.
While the next few years weren't looked back on the greatest of fondness, McCarthy remained a stand-out name in the Everton midfield before suffering a broken leg in a January 2018 clash against West Bromwich Albion, which the Irish international was never truly able to fully recuperate from.
It was a shame to see McCarthy's Everton tenure end on such a depressing note, but he was seen as a huge asset to the Everton midfield during his spell with many fans still looking back on his time at Everton with the upmost appreciation.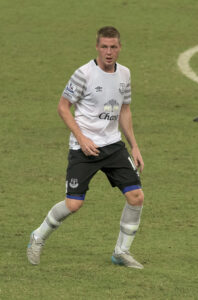 4: Billy Bingham (1961-1963, 1973-1977 as manager):
Bingham is known for both his time as a manager and a player of the Blues and despite only playing two seasons at Goodison, between 1961 and 1963, he was still looked back upon as a dependable forward scoring 23 goals in 86 appearances.
During that short stint, Bingham would collect a league winners medal as a part of legendary Everton manager Harry Catterick's 1962-63 league winning side. Bingham would depart Everton later that year for Port Vale before taking up the rugs as Everton manager from 1973-1977.
3: Alex Stevenson (1934 – 1949):
It's well documented that Stevenson's name isn't looked back upon with as much familiarity as the likes of Dixie Dean or Tommy Lawton, but Stevenson is still ranked as one of the club's all time top scorers. He was also known as a sublime link-up player for Everton's star-studded frontline.
While Stevenson would still enjoy his fair share of success at Everton, he would've likely have been able to have gained even more honours if not for the suspension of the football season between 1939 and 1945 due to the Second World War.
In spite of this, Stevenson still remains as an Everton legend to this day, with a total of 82 goals in 255 appearances being nothing to frown upon.
2: Seamus Coleman (2009 – ):
Over a decade after his fabled £60,000 move to the Toffee's from Sligo Rovers, long-time veteran Seamus Coleman still remains as one of the club's greatest ever bargains and as one of its finest servants.
Coleman has made just under 300 appearances for the Toffee's, in all competitions, and shows no sign of slowing down at the age of 32, with Everton fans still showing great support and respect for their current longest-lasting stalwart.
Much like the aforementioned James McCarthy, Coleman has had his playing time cut short due to injuries that have certainly seen a slight dip in his usually reliant performances over the past few of years.
Yet despite this, Coleman still remains as one of the most beloved players to wear the royal blue of Everton, with arguably his greatest ever years being between 2010 and 2015, where he was widely regarded as being one of the league's greatest fullbacks.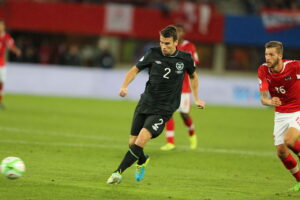 1: Kevin Sheedy (1982 – 1992):
Not only is Kevin Sheedy known as being the greatest Irish export to ever play for the Blues, but there is a case to be made that he is arguably one of the finest footballing talents that the country has produced period.
Garnishing an almost unparalleled ability on his left foot, Sheedy established himself as one of the most exceptional left midfielders on the planet during his heyday.
Sheedy spent ten years at Everton playing in the bulk of arguably the club's greatest ever renaissance during the mid 1980s that saw Sheedy collect his fair share of accolades including two league titles, an FA Cup and a European Cup Winners' Cup as well as making two appearances in the PFA First Division Team of the Year.
Featured Image: Wiki Commons – Author: Michael Kranewitter