A former Merseyside boxer who was forced to hang up his gloves following a serious injury has now turned his attention to personal training. 
Tyler Cliffe, who represented North Mersey ABC for five years, sustained a torn rotator cuff and dislocated shoulder in 2019 whilst competing at a boxing event in the city's Adelphi Hotel.
The 18-year-old began fighting at the age of 13 and was tipped to be one of the boxing club's next big things until that heartbreaking night put his promising career to an early end, telling Merseysportlive it was something he struggled to accept at the time.
"It was difficult for me when I fell out of the boxing scene.
"The injury happened during my last ever fight, I haven't been able to fight competitively since.
"I've had many hours of physiotherapy since then but it has never quite been the same, it constantly causes me pain and discomfort."
Cliffe explained how he had never felt better in the weeks leading up to that fight and had just returned from a successful trip with the England Boxing National Team. The youngster revealed that it was the first time he had experienced such pain and he simply couldn't continue on the night.
"The pain was excruciating and I had never felt anything like it before. 
"I tried so hard to carry on and shake it off but the pain was unbearable."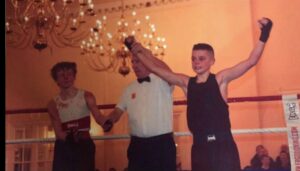 Although he still feels the side effects of the injury almost three years on, the former Chesterfield High School student is looking forward to setting up his own personal training business and providing safe and effective exercise programmes for his clients.
Also a talented footballer during his younger years, Cliffe was offered trials at Liverpool, Everton and Blackburn Rovers, however Boxing was always his preferred sport.
"I have always loved combat sports.
"I initially started Muay Thai boxing at the age of 9 and then boxing four years later. It sounds a bit mad but I got a bit of a buzz when I was getting punched.
"It made me want to punch back harder and beat everyone I faced."
The avid Arsenal supporter represented both Merseyside and Cheshire at regional level but is now fully focussed on getting to work with his clients once gyms are allowed to re-open during the government's next easing of coronavirus restrictions on April 12.
"I have now switched my main focus to personal training.
"It hasn't been easy during lockdown with a lack of access to facilities, but that has made me more eager to get to work and help others improve and feel better when I can."
As well as his impressive boxing history, he is now a product of the well renowned Hugh Baird College in Bootle, achieving numerous qualifications during his two years at the education centre.
"I am knowledgeable about fitness and I now know with the many qualifications I have achieved in the last few years that my main goal is to help others improve and develop their ability."
Cliffe, who currently works part-time as a supermarket worker, already has an impressive number of clients and has conducted numerous one-to-one outdoor sessions.
He admits his eventual aim is to have his own training facility to welcome his clients but insists he needs to continue the hard work and ensure his clients continue coming back to him.
"One day I wish to have my own facility that has a gym as well as being able to facilitate sports such as boxing and football, but that will only come through hard work, dedication and keeping my clients happy."