By George Martin
The development of Liverpool's Anfield Road stand is in full swing as the first piece of construction can be seen outside the ground.
As progress continues, Sports Business Writer for Liverpool Echo Dave Powell spoke to Merseysportlive on the benefits it will bring.
Following the successful expansion of the Main Stand, work began on September 30 2021.
Manager Jurgen Klopp was among those in attendance as construction started on the Anfield Road stand.
Last Wednesday (December 1), the metal structure was beginning to take shape with rapid improvements being seen every day.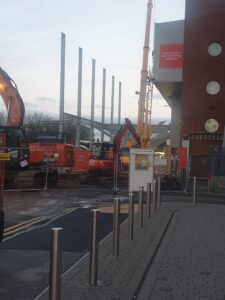 Buckingham Group LTD are contractors on the reconstruction after completing the work on the Main Stand.
7,000 new seats will be added to the ground, taking the Anfield capacity to 61,000. It is expected to be the final development of the ground.
It is estimated the expansion will cost £80m.
Powell said: "The expansion is all about the supply of demand for tickets.
"Although it won't be as grand as the Main Stand, it will still be hugely beneficial to the club.
"There is a waiting list of thousands for Liverpool tickets and the more scope they can provide to get more people in the ground will be better.
"This is vital for the club.
"The Anfield Road stand will feature some commercial benefits through different conference spaces.
"But that was more done with the Main Stand, that is the centrepiece of the ground."
He added: "This development is all about tickets."
The stand is expected to be completed ahead of the 2023/24 season – the final year in Jurgen Klopp's contract.
(Header Image: Wikimedia Commons)