Ken Skupski has had an illustrious career spanning over the past two decades which has seen many partnerships and successes.
Turning 39 next month, he isn't planning to put down the racquet anytime soon.
Born on April 9 1983, the Liverpool-based tennis player's origins began at Palmerston Tennis Club, situated in South Liverpool.
Speaking to Merseysportlive, he said: "If you sort of knew where my mum and dad lived, you'd have a better understanding of that tennis was basically going to be my life.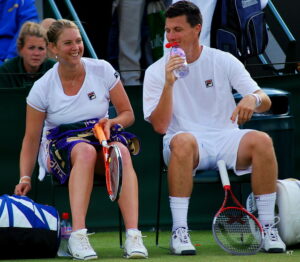 "If you opened the back door you go onto a tennis court, it's one of the six courts of the [Palmerston Tennis] club.
"My mum and dad were members, and very influential in the club, being on the committee and stuff."
More or less growing up on tennis courts, young Ken played as much as he could and his dad in particular was an influence to him, instilling discipline while he developed through the short tennis ranks.
"He was an ex semi-professional footballer.
"So he sort of knew the demands of being a professional sportsman."
Progressing through the different ages groups as a junior, his skills developed, playing in tournaments when he was eight years old, onwards.
"It was pretty clear that I wasn't necessarily going to turn professional at a young age, I wasn't that good.
"And that's why I went down the route of going to college, which sort of gave me the chance to sort of still mature and get better."
University in US
Skupski pondered to University in 2002, the 19-year old ventured to Louisiana State University (LSU) in the US to obtain a General Studies degree.
It allowed him to spend many hours a day on tennis courts and 15 hours of study a week.
"LSU was one of the biggest universities in the country, one of the best sports schools. So you go to school as normal.
"It gave me the freedom to then do more of the tennis because that was the idea.
"My focus was to go there to play as much tennis as possible, improve the best I could.
"I'm proud of the fact that I've graduated."
Beating a Wimbledon champion in an exhibition match
In 1996, when Skupski was only 13, Richard Krajicek burst onto the Wimbledon scene, winning the men's singles and becoming the only male Dutchman to win a Grand Slam tournament.
Eight years later, the former Wimbledon champion faced Skupski in an exhibition match hosted in Liverpool.
"Growing up, I didn't expect there to be a big tournament in Liverpool.
"But it still, for me at the time, was basically the biggest match I was ever going to play in.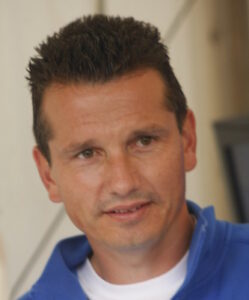 "This [was] a big opportunity to play a really established tennis player.
"He had one of the best serves I've ever faced. Even to now."
The LSU student defeated Krajicek in a Super-Tie break 10-7, showing the prospect of playing tennis professionally was a realistic venture.
"I got a signed photo from him saying thanks for the lesson!
"So it was quite a cool little thing afterwards that I've still got."
Turning professional
After playing tournaments as an amateur, Skupski turned professional in 2007.
Whilst he enjoyed playing singles, he realised doubles would be the way to go, moving forward in his career.
"To be good at the professional game you need you need to be able to do it consistently. It's not about doing it one match here and there.
"I knew from a fairly early age, doubles was the route I was going to take."
Flemski partnership
Colin Fleming and Ken Skupski began a partnership in 2008, which started off successfully. Dubbed as "Flemski", the pair won their first four tournaments together.
"I must have been in like the five hundreds (ranking), mid 2008.
"And then by mid-2009, we beat the Bryan brothers who were world number one."
The Flemski duo won two ATPs in the 250 series; the St. Petersburg Open and Open de Moselle in 2009.
At one point in 2010, Skupski was ranked ATP doubles world no. 44, which is his career high.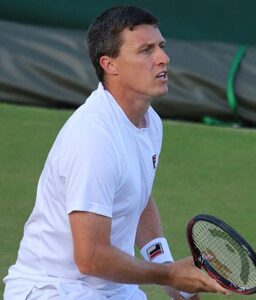 "The toughest year on the tour for many sports is, is actually the second year because people actually give you respect, but also watch your play and understand well."
"You start to get a little bit more of a target on your back and we struggled the second year to be honest with you but it was it was nice to be at that level."
After falling in the rankings, the Flemski pairing was no more and both athletes decided to go their own ways.
"It was a frustrating split up, because I felt like we could have done more.
"But it probably was the right decision at the time."
2010 Commonwealth Games
Tennis made its first and only appearance in the Commonwealth Games in Delhi 2010, as an optional sport, with stars such as Mahesh Bhupathi leading the line in India.
Skupski had the opportunity to compete in the games, this time with new partner Ross Hutchins.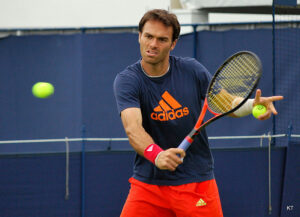 The duo defeated Rohan Bopanna and Somdev Devvarman in the semi-finals, and were excited to potentially face Bhupathi, surrounded by a hostile home crowd.
"We thought potentially we could play, in India against Mahesh Bhupati [and Leander Paes]. They're idolised like two David Beckham's in India.
"It was unfortunate that we ended up not playing them in the final.
"And it was even more unfortunate that we lost to Aussies in the final."
Australians Paul Hanley and Peter Luczak, defeated the English pair with a 6-4, 3-6, 6-3 victory, after letting a 3-0 lead slip in the decider.
However, Skupski looks back on the games with great fondness.
"To stand on the podium receive a medal, was something I didn't even think that was possible because it's [was] the only time tennis had ever been in the Commonwealth Games."
Mixed Doubles
The silver medallist also competed in the mixed doubles with partner Sarah Borwell who were both paired up by coach Louis Cayer.
"I won a bronze medal in the mixed doubles as well which is also a good thing because I had to beat Ross (who was paired with Anna Smith) in the bronze medal match.
"It was a bit weird playing him, then beating him, to get to walk away with two medals."
Brotherly partnership and Wimbledon
While he enjoyed accolades at the Commonwealth Games, his biggest ambition was to one day play with his younger brother, Neal.
Since the Flemski partnership, Skupski partnered up with Robin Haase and won the ATP Open 13 tournament in 2011, in the men's doubles, adding his third ATP victory to his cabinet.
The decision was made after a brief pairing with Jamie Delgado, to scrap the idea of looking for a partner with a similar ranking and instead play with his brother, who had only recently finished his studies at University.
"I sort of just knew that at some point, I'm gonna play with my brother."
"I must have been 30 at the time but I was at an age where I was like, well the sooner I can get him up maybe I could still play with him in my peak."
The pair's first major final was the 2013 Kremlin Cup final in the ATP 250 series and they  unfortunately lost to Mikhail Elgin and Denis Istomin; 6-2, 1-6, [14-12].
After losing the final, Skupski, while being disappointed to not add another ATP title to his collection, was more disappointed his brother didn't win.
"I didn't think about me at all because I already won ATPs.
"It was more the fact that I was so disappointed that I had not won an ATP for him or with him.
"I was like, we might never get to win one and  it was like a like a mental disappointment and a negative outlook on things."
Skupski on his massive win in the Mexican Open 2021 last year and health setbacks
Wimbledon Championships 2017
Fast forward to 2017, the pair made an appearance at the Wimbledon Championships.
He played with brother Neal as a wildcard in the men's doubles, losing to Łukasz Kubot and Marcelo Melo in the quarter-finals, who went on to win the championships.
Recollecting moments from the Grand Slam tournament, the most prominent ones were nothing to do with the tennis.
Skupski recalled: "I remember having to change hotel a lot!
"I'd win the match and then we're like, oh god, I haven't sorted another hotel room out, because we were thinking maybe we'd go home if we lost or whatever.
"So I was changing hotels literally every night."
However, one of his best moments was getting the opportunity to play on Centre Court with mixed doubles partner Jocelyn Rae.
"Growing up, I always wanted to play on Centre Court at Wimbledon."
After winning a round of 16 match, Skupski and Rae were told they would be playing on Centre Court in their next fixture and he described it as a "special moment."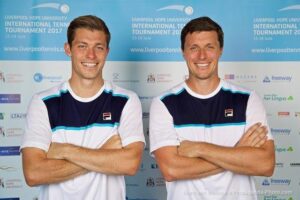 "I actually thought we played a pretty good match.
"It was just unfortunately came up against [Martina] Hingis and Jamie Murray (who went on to win the tournament).
"It's a proud moment, but obviously it's a shame that you obviously have to walk off the court, second best."
First victory together
The pair won their first ATP title together in the Open Sud de France in 2018, beating Ben McLachlan and Hugo Nys in the doubles.
"The one in Montpellier was probably our first big moment.
"And it was yeah, it was an unbelievable moment not just from my brother and I both, but obviously for the whole family to achieve that."
Successes continued with the sibling unison, when Skupski won his sixth APT title at the 2021 Mexican Open with his brother Neal, though it was his first at the ATP 500 level.
Brotherly love 😍

Congratulations on your third title together, @nealskupski & @k_skupski! #AMT2021 pic.twitter.com/wNXJC8VQxP

— ATP Tour (@atptour) March 21, 2021
Whilst the win being very memorable for positive reasons, the trip back provided some daunting memories for the recent doubles champion.
"Unfortunately I got ill literally on the trip home or just the following week, I had blood clots in my leg and I was out and I don't think I've ever really properly recovered from it.
"I just don't think my level has been as good as it was prior to that."
Since recovering from illness, Skupski won the 2021 Sofia Open in the men's doubles with partner Jonny O'Mara over Oliver Marach and Philipp Oswald: 6-3, 6-4, adding his second title of the season.
Academy and the future
Skupski, alongside Anthony Hardman, created The Skupski Doubles Academy in coalition with We Do Tennis, designed to coach all age groups, passionate about the sport.
The 38-year old said: "The reality is I'm obviously getting older, I've got to think about the future.
"The plan is when [my] tennis does finish professionally, I will go into coaching and do it more full time and I'm excited about it."
@k_skupski passing on his words of wisdom #skupskiacademy pic.twitter.com/RzPyF3WL0G

— We Do Tennis C.I.C. (@wedotennisuk) March 10, 2022
He added: "Liverpool John Moores University are potentially going to do a little bit of work with them [the academy] for their tennis teams."
Skupski is currently in France, before setting off to Spain next week for the ATP Challenger Marbella.
"I'm playing with Jonny O'Mara this week, who's a friend of mine, he's Scottish, and he complements my game and I feel like I complement his and we'd get on really well off the court.
"We have similar things and interests, we could play golf every day if we could, together."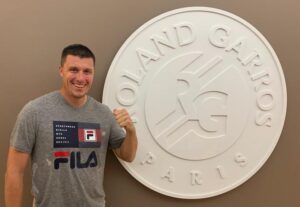 "Hopefully if we get a bit of confidence from playing well this week, then we can try and do our best there as well."
Looking back in retrospect, Skupski has enjoyed the many successes of his playing career and hopes it continues in the long run.
He concluded: "I'm 39 next month, so I can't say I've had a bad career.
"I'm still playing tennis. I'm loving what I'm doing at this age.
"So I've got to be very grateful as well."
You can check out the Academy website in the link below.