On the 15th of December, Steph Curry scored his 2,974th 3-point shot and officially became the greatest 3-point shooter in NBA history.
Curry needed two going into the Warriors game against the New York Knicks in Madison Square Garden, and with the whole of the NBA watching, made both in the first 4 and a half minutes of the game.
After breaking the record, Curry said:
"It's weird because I'm still feeling the emotions of that,
"It was so emotional with the lead-up and all of that.
"Every 3 that I make now is a new record, which is kind of funny, but I still have a lot of gratitude for all the people that celebrated it with me."
Curry made the historic shot in front of then 2nd and 3rd placed Ray Allen (2,973) and Reggie Miller (2,560), both now retired.
Now 2nd placed with most 3-pointers, Allen said:
"Myself, Reggie Miller, Kyle Korver, Klay Thompson—we play a different game.
"We're shooters.
"We come off screens, pin downs—Steph can do that, but he's creating a different lane.
"Point guards haven't been able to do what he's been able to do, because he's mixing that 2 guard-ish in there with having the great handles of a point guard."
Philadelphia Sixers guard James Harden recently overtook Miller in 3rd, he currently has 2,582.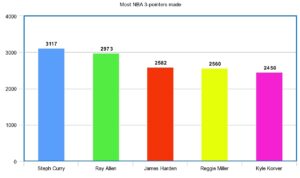 Curry was touted as a good shooter in college, but nobody foresaw what he would achieve in his NBA career which probably explains why he was only the 7th pick in the 2009 draft.
Achievements
Since then, he has become a three-time NBA champion (2015, 2017, 2018) with the Golden State Warriors, a 2-time MVP (2015, 2016), (the only ever unanimous MVP) a seven-time all-star and has also won the all-star weekend 3-point shooting contest twice (2015, 2021).
After going to the NBA finals for five straight years (2015- 2019), the Warriors finished bottom of the entire NBA standings in the 2019-20 season, with Curry missing the majority of the season through injury and his 'splash brother' Klay Thompson being side-lined for over two years.
Thompson returned in January to join a Warriors team that has been frighteningly good this season.
Despite falling to third in the Western Conference standings due to recent form, they are one of the heavy favourites to take this year's championship and return to the franchise that dominated the league for what felt like an eternity to other fans.
After returning from injury, Curry's miraculous shooting performances have not looked like slowing down, despite turning 34 this month.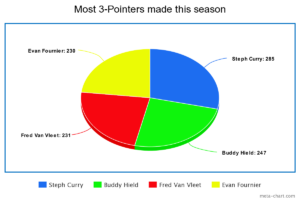 The one thing Curry is yet to achieve is a Finals MVP award, it's something that some fans still hold onto before putting him on the Mount Rushmore of greatest point guards.
Many still debate that Curry should have won Finals MVP in 2015, teammate Andre Iguodala took it that year after guarding LeBron James for the 6-game series.
Kevin Durant took the other two Finals MVP awards in Curry's other two winning years.
Curry still has time on his side with recent NBA players' careers performances seeming to prolong to their mid-30s.
Other point guards
His shooting stats in the regular season have always carried over to the play-offs and have always remained impressive, especially if we compare them to other great point guards over the last 10 years.
(Stats rounded up to full numbers)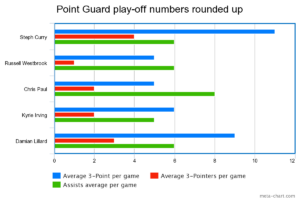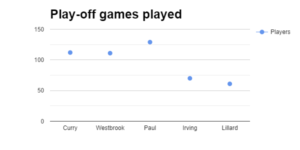 These stats are made more impressive by the fact that there is only one other championship (Irving) among the other point guards, compared to Curry's three.
Changing the game
It's hard to dispute that Curry's introduction to basketball has not revolutionised the sport and its three-point shooting.
The NBA has drastically changed with all players, including centre's, now attempting multiple threes per game, as it moves towards 'position-less basketball'.
Kids over the world grow up shooting deep threes in an attempt to be like their heroes Curry, Lillard and Harden.
There are less mid-range shots and post-ups.
We can take a closer look at the NBA's 3-point attempts (red) and three pointers made (green) since the early 2000s compared to now.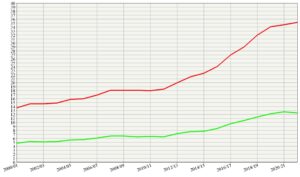 We can see how much of an impact Curry has had since entering the league in 2009.
He also holds a host of other league records including:
The fewest games played to reach 2,000 career three-pointers made.
Most consecutive regular-season games with a made three-pointer (157).
The only player in NBA history to score 50 points and make 10 3-pointers in a single game multiple times.
(Stats up to 31st March 2022)
Featured Image courtesy of creative commons licence (https://commons.wikimedia.org/wiki/File:Golden_State_Warriors_Point_Guard_Stephen_Curry_01.jpg).