Liverpool born Muay Thai fighter, Alex Kenton is aiming to defeat Joe Le Maire to win the European title and become the second-best fighter in the UK.
The fight is taking place at Grand Central Hall in Liverpool on Saturday April 9.
The 21-year-old who is fighting out of Titanium Combat Academy is aiming to reach the highest-ranked position of his career but in his way is Bury St Edmunds born fighter Le Maire, who is fighting out of Unit 1 Gym and is currently the UK's #2 fighter.
In an exclusive interview with Merseysportlive, Kenton has expected a difficult fight.
"I've fought Joe twice before, won one and drew one.
"He hunts for body shots a lot and he's an aggressive fighter, but he's also slick with it.
"He will make you miss and then punish you, he's a very good fighter and I haven't got a problem with him."
But Kenton, who is currently ranked 6th best in the UK believes he can win the fight.
"I am confident going into the fight.
"My fighting style is clever. I don't go into a fight and brawl people, I will make people miss and look daft but recently I have become a lot more aggressive by putting a lot more hands-on and setting kicks up with my hands more, but I do love to make people look stupid."
This is the biggest fight of the Scouser's career, but he is setting his sights on becoming the best in the UK within the next year.
"Providing I beat Joe on the 9th (Of April) I think I can easily have that within the next 9-12 months."
Kenton has recently started to teach the next generation of Muay Thai fighters and has begun coaching children over the age of seven, but he hopes he can inspire them.
"How I have been taught is to play a long game with them and they can get bored easily.
"I might have a kid come who is really good, but they might get bored within six weeks and move onto a different sport.
"My role is to entice them quickly, but once they are in you have to keep them interested and play a long game with them.
"There were times when I was growing up when I was rushed but also times when I was held back a bit. It shows that it's all about timing."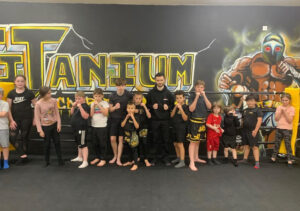 Muay Thai is one of the most growing sports in the UK and Kenton thinks it's good for the sport: "It's becoming more popular, which is only good for the sport.
"Shows are now selling around 2000 tickets and especially in London, the sport is getting big.
"Due to the sport entering the Olympics in the next few years, I think once it gets shown it will explode."
The fight between Kenton and Le Maire is a Pay-Per-View fight and is available to watch on the Nation Muay Thai website.
(All images supplied with permission by Alex Kenton)