Liverpool CC captain Matty Jackson says his side are targeting a top half finish, as the opening day of the L&DCC First Division season fast approaches.
Jackson's team finished ninth last season, during a campaign which the Liverpool skipper says was all about consolidating their status in the division.
Despite confirming their First Division status for the 2022 season, Liverpool experienced varied results, with Jackson expressing a need for consistency.
"We didn't beat either of the bottom two, but I think we beat three of the top four," he said.
"At the halfway point we probably thought 'we can't go up, we can't go down' and we almost got dragged into the thick of it, to be honest."
Afghan slow left arm bowler Zohaib Ahmadza has joined Liverpool this season, as Liverpool look to be more ruthless in terms of their wicket taking.
Captain Jackson backs the new arrival to hit the ground running, adding depth to their bowling options.
"I think we've got a batting order that wants to score quickly," Jackson declared reflectively.
"Zohaib could be a big difference for us, in having that wicket taker. At certain points last year, we maybe struggled to get the wickets we needed."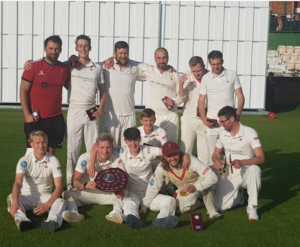 As captain of the side, Jackson has also evaluated his own performances and decision-making, pondering the thought of taking more risks and gambling with their batting.
"We are a very, very good limited over side, we've proven that over the past four to six years, so we're going to try to bring that into the timed cricket I think, in terms of maybe trying to score quicker.
"If you look at the teams that go up, they take risks early in the season and kind of reassess in the second half."
In terms of his personal targets for the season, Jackson is looking to increase his runs tally, aiming for 500.
His status as team captain has seen Jackson take on more responsibilities, but he is relishing the opportunity to help nurture the young talent at the club.
"It's a very different year for me this year as a lot of the lads around my age aren't really playing much anymore.
"Over the past few years, I've seen my own role change, into the older experienced player, so I'm looking forward to taking that on, I think.
"I just want to help the young lads coming through."
Over Easter, Liverpool will start their pre-season fixtures, playing four games in the space of six days before their season-opener against Lytham CC on the 23rd of April.
With just over a week to go, Jackson says his side are rearing to go.
"We have trained really well through the winter, better than normal actually," Jackson admitted.
"Our pre-season games are all in one block, rather than spreading them out and we're excited to start with our young team."
(Featured image: with permission by John Middleton)