A student at Liverpool John Moores University has her mind set on hockey success as her chances of being selected for Great Britain's hockey team increase.
Eve Bowen, aged 19, first started playing hockey in primary school and has continued ever since.
Eve said: "I got into hockey after I did a physical education lesson in primary school, I then followed up on this and went to a local club which was hosting a pre-season trial."
Born in Bodelwyddan, Wales, Eve grew up in a sporty family.
Her mum also played hockey and her dad a huge rugby fan who played in many a sport himself.
The sporty upbringing that Eve had didn't just stop at hockey, but also participating in extra sports such as cricket and athletics.
However, it is hockey that has gripped the teenager and she is able to boast an array of achievements already.
"I have achieved quite a lot over my time playing hockey such as many Welsh finals in all age groups as well as senior Welsh cup winners at my previous club.
"I have played for Wales since I was 14, going through the youth system, and am now currently playing and training with Wales under 21 and 23 squad."
Eve has played for many teams since falling in love with the sport, including Northop Hall and Flintshire under 16's and under 18's along with the international setups at Wales and North Wales throughout her childhood.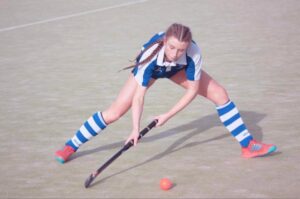 The versatile player said that she is happy to play in several positions to help the team.
"My main position on the pitch is left or right midfield but I can also happily play as a left-back too."
Bowen, who now plays for Timperley hockey club in the national league, spoke about her love for the sport.
"I love hockey and I want to play at the highest possible level.
"I am a very competitive person and I just want to make sure that I win everything that I can."
This weekend, Eve will compete against premier league side Buckingham in a tier one semi-final, a huge achievement for the club.
She said: "It will be a very hard game and we are not expected to win. I am just hoping for a good performance from the team and that everyone puts in the work to give us the best chance."
Unfortunately, Liverpool John Moores lost out to University of Liverpool during the Varsity competition in early April.
However, Eve did not let the result dampen her spirits.
"Varsity was a good experience playing a local derby against a team in the league above us.
"Neither team played that well but unfortunately they managed to get the goals in.
"If we played how I know we can we would have won the match. Although the result wasn't good, it was a great experience to be a part of."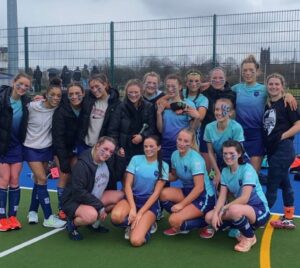 The ambitious and driven teen is looking to continue her passion for hockey to reach the highest level possible:
"I would love to take hockey to the top level which would be senior Great Britain.
I am at a good point in life to do it as I am in the Welsh 21's, from this I could potentially get selected to trail for GB EDP programme which is the perfect development pathway for the GB hockey team."
If all goes to plan, Eve is setting her goals at a shot in a future Olympics.
She said: "The dream is to play at the Olympics but I know how hard it will be to get there.
"I am so determined and cannot wait to see what the future holds."