Many factors influence a player's importance to a club and how valuable a player is thought of.
These can range from how many goals they score to how many shirts the club sell with their name on the back.
Mo Salah & Liverpool FC
For Liverpool, Mo Salah has been regarded as one of the best players in the club's history due to his performances over the past couple of seasons.
His numbers speak for themselves with 153 goals in 242 appearances for the club.
As seen in diagram 1, Salah's best football has been played in Liverpool with 153 career goals out of 230 coming for the reds.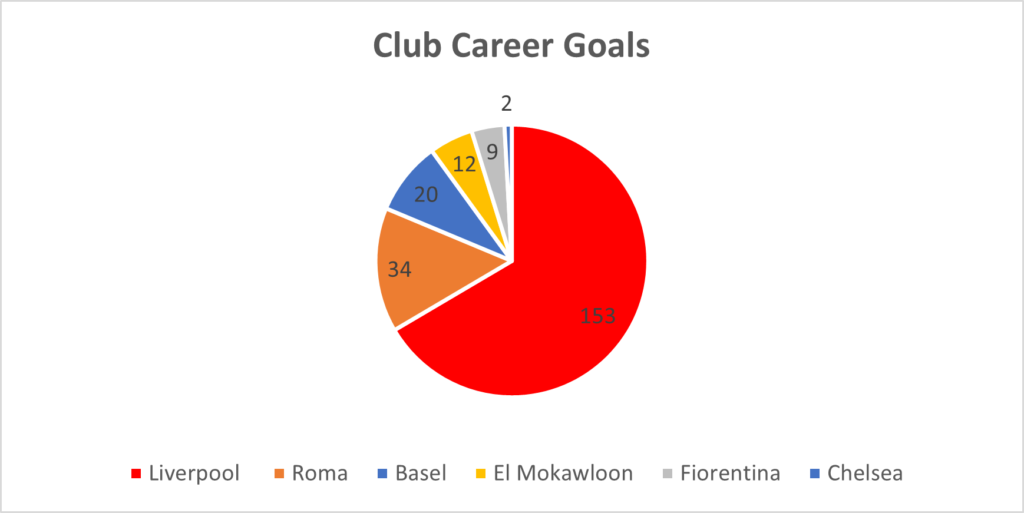 The Egyptian has broken many records for Liverpool since signing in 2017 scoring 44 goals in 52 games in his first season.
As seen below he has continuously performed at a high level and Liverpool have enjoyed great success through his relationship with Roberto Firmino and Sadio Mane. (Goal Contributions = Goals & Assists).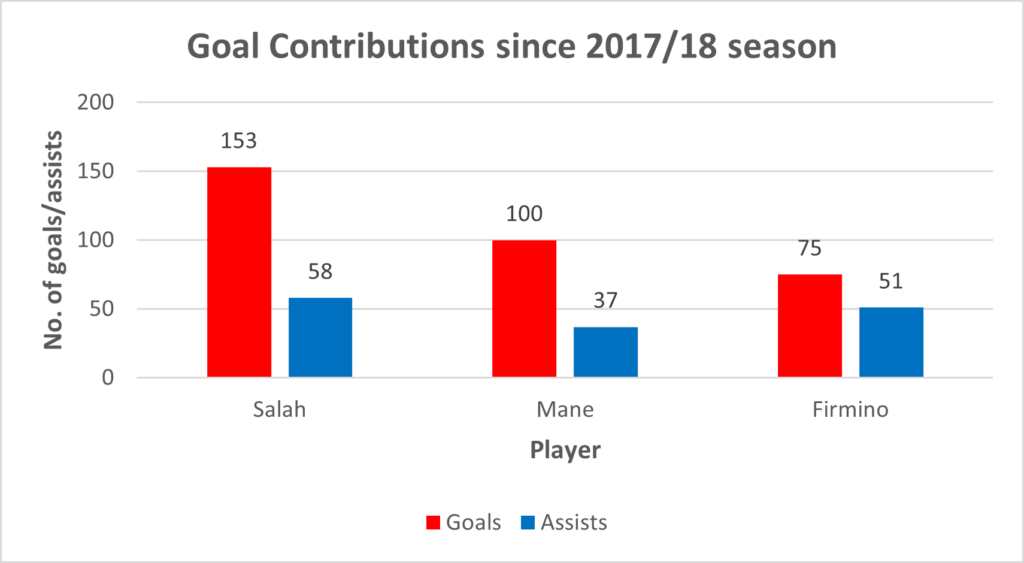 Salah has arguably had his best season so far this year contributing to 31 goals out of Liverpool's 79 scored in the Premier League.
Liverpool without Salah
Although Salah has contributed to 40% of Liverpool's league goals, it can be argued that Liverpool have been less reliant on their number 11 this year.
The signing of Diogo Jota and more recently Luis Diaz has given Jurgen Klopp more chance to manage his players and prevent fatigue.
Some fans even think Liverpool played their best football of the season in January this year when Liverpool where missing Salah and Mane due to international commitments.
Liverpool fan Harvey Pargetter was impressed with how Liverpool dealt with the absences of Salah and Mane.
"Missing Salah and Mane really showed the strength of our squad," he said.
"Other players stepped up, showed their ability and the desire to play for this club.
"The players that came in are now challenging for a place in the starting 11 and nobody seems happy to sit on the bench.
"You can see how frustrated the players are when they are substituted because they know that the players coming on are wanting that place on the team just as much."
New Signings
The introduction of Jota has provided Liverpool with another devastating goalscoring threat, and the early signs of Luis Diaz suggests he will be a formidable threat also.
As seen above, Jota has broken the 20-goal barrier and it is expected that Mane will also while Salah could break the 30 goals mark this season.
Having players of this ability who all take their chance when given it has been central to Liverpool's success this season.
The reds have won the League Cup, are currently in the FA Cup final and Champions League semi-final and also trail Manchester City by one point in the race for the title.
One key responsibility Salah has for Liverpool is hitting penalties and he has scored seven penalties this season for Liverpool.
Other players comparison
With a 40% contribution to League goals this season Salah's numbers are quite high in comparison to other teams and players.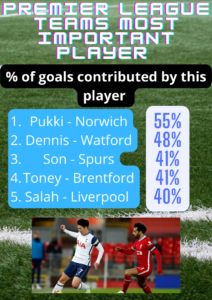 As seen from the graphic, Salah is in the top five of goal contributions by each team's most important player.
The top two players Teemu Pukki and Emmanuel Dennis have been vital to their teams this season and even though both teams look set for relegation it could be a lot worse for them without these players.
Keeping Mohammed Salah fit, and injury free hasn't been a problem for Liverpool, and they feel this will have to continue for them to pick up more silverware this season.
Salah has only been ruled out of three games for Liverpool due to injury since his arrival which shows his ability to keep himself fit.
David McGinley, lecturer in Sport & Exercise Psychology at NWRC in Derry said: "There's positives and negatives to a team missing their star player or main player.
"There is a term in psychology called the Ringelmann effect and it means that if a team is over reliant in one player, other players feel like they can coast through games and not give 100% effort.
"Teams will often perform better without a star player as others perform at higher levels due to the thought of missing an important teammate."
When asked about the pressure on a player if they are the main player in a team, McGinley added: "It can bring the best out of a player if they know they have to perform to their best consistently for their team to be rewarded.
"They can make the players around them perform more positively.
"Like everything else though it can bring negativity to that player also.
"Added pressure comes to the player, it can lead to anxiety in the player, if they don't perform the teams being let down.
"Some players can deal with this well, but others take it badly some cases often lead to mental and physical problems with players."
Supporters' thoughts
People will have different thoughts on where Liverpool would be without Mo Salah.
70 different supporters were asked outside Anfield on who they thought Liverpool's key man was this season and while majority said the Egyptian there was a few honourable mentions for others as seen in the graphic below.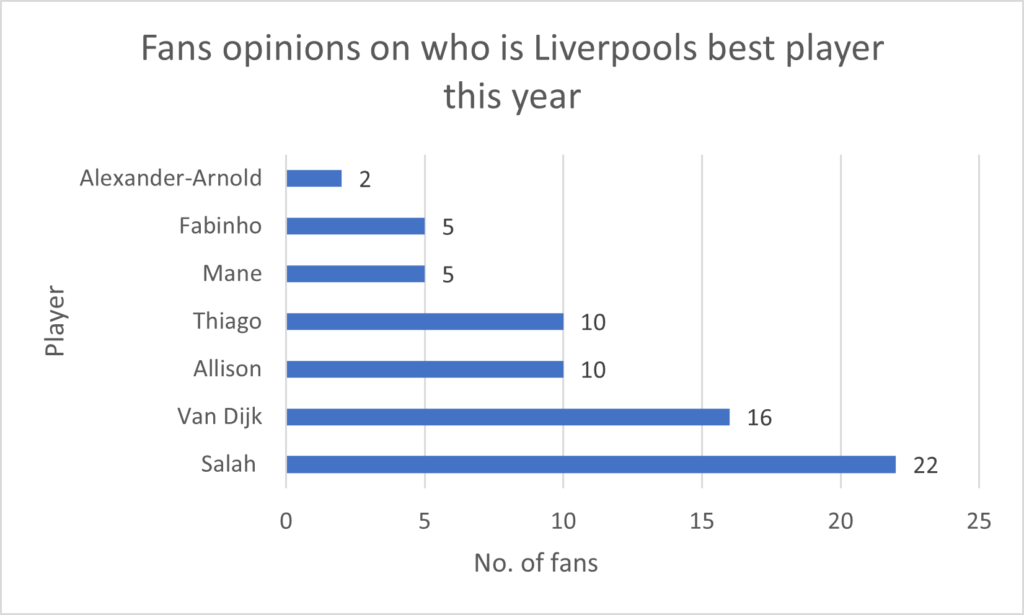 Salah is pivotal to this Liverpool team, without his numbers Liverpool would not be on course for a famous quadruple.
It is not known yet how many trophies will be won this season but with one already in the bag and a final to look forward to the excitement continues to rise on the red side of Merseyside.
If Liverpool pick up more trophies this season, then they will have Mo Salah to thank among others for the success.
(Featured image by Mehdi Bolourian, creative commons )