The City of Manchester Aquatics Swim Team (COMAST) blew their competitors out of the water to take the lion's share of success at the Swim England NW Winter Regionals held in Liverpool.
After taking 19 finals medals on the first day, the Manchester swimmers finished their weekend at the Liverpool Aquatics Centre in Wavertree with a final medal tally of 41 and 15 of those being gold.
🚨SENW Short Course Regionals🚨

Final medal tally for the weekend was 40!

Great Effort from the Team!

No rest for the wicked as we head to training tomorrow morning to complete two days of Race Simulation. 👊🏼@arenaUK_ @SwimEnglandNW pic.twitter.com/02bOk8LJMu

— City of Manchester Aquatics (@CoManchAq) November 6, 2022
Stockport Metro Swim team followed with a respectable 31 medal finishes and Wigan BEST came third with 21.
Marine mastery from Manchester
The City of Manchester team performed at an exceptional level with many of their swimmers finding top-three finishes in their respective events. Their three national-level big swingers displayed dominance in their races.
Reuben Rowbotham-Keating, Toby Hill and Jess Calderbank contributed to nine of the 15 gold medals won by COMAST by winning a combination of to-the-wire finishes and complete blowout wins.
What many called "The event of the weekend" saw Rowbotham-Keating pip City of Liverpool swimmer, Tyler Melbourne-Smith to the men's over-17's 100m freestyle crown by just 0.72 seconds. His teammate Hill finished a further 0.38 seconds in third.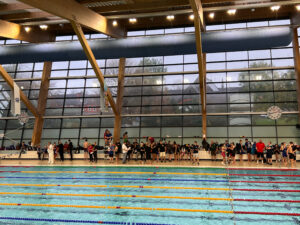 Class from Calderbank
25-year-old Jess Calderbank won both the 50m and 100m women's over-17's butterfly finals convincingly.
Having started competitive swimming at the relatively old age of 17, Calderbank is a part of the North-West regional pathway programme which offers psychological support as well as physical conditioning and lifestyle advice to upcoming prospects.
She has also worked with Sky Sports in a documentary named 'Aquaphobia', alongside Rowbotham-Keating and others.
She was full of praise for the set up at the Liverpool Aquatics Centre: "My team view this event as good race preparation for nationals. The facility here is great and getting to use Olympic timing pads really helps with that.
"Our major one for the short-course season is the Winter Nationals in early-December."
Professional swimmers and coaches will be familiar with the word 'taper', which is a period where swimmers lower training intensity before an important event to rest their bodies and improve performances.
The butterfly expert said she has "definitely not" reached the peak of her powers yet, adding: "I've actually come into this event and they're some of the quickest times I've swam untapered. I'm definitely heading in the right direction."
King of the Hill
Hill is an 18-year-old national champion and another COMAST swimmer making waves amongst his competition.
After producing some comparatively elite level displays of backstroke at the Aquatics centre, Hill revealed that the 200 backstroke was "the only race I didn't get a personal best in!"
The Warrington swimmer added: "After this morning and especially yesterday I'm really happy and pleased with how my races have gone.
"This event has enough people to provide good competition, you've always got someone on your shoulder."
The ex-Prescot swimmer won all his races by at least one second apart from the men's over-17 200m backstroke race where he won by an impressive 6.01 seconds. In his inaugural year at the British National Championships Hill became national champion in the 50m backstroke and second in the 100m at the age of 14.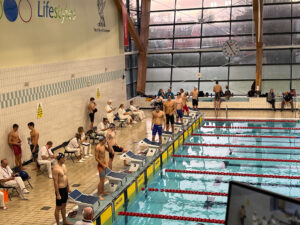 A little more from Liverpool
The City of Liverpool Swim Team had much to show but also much to improve on after being left out of the top three medal-winning clubs.
The foundations of excellence were present in men's 200m breaststroke champion, Daniel Kinsella and all-rounder Tyler-Melbourne-Smith, who finished just milliseconds behind Manchester's Rowbotham-Keating.
Mia Burslem also won three under-16 finals ranging from 50m butterfly to 100m freestyle.
With such fierce competition on display at the weekend, the Merseyside swimming outfit will be going into the Winter Nationals with grudges to settle and points to prove.
You can find all of the results from the weekend on the Swim England Website.