Muay Thai fighter Alex Kenton will put his UK number two rank on the line against an opponent dropping down two weight divisions to face him.
The Liverpool martial artist faces Dom Hill at the University of Bolton Stadium on Saturday, November 12.
Kenton will be looking to make it four wins in 2022 having broken into the top five of the rankings earlier this year. The Titanium Combat Academy-based fighter defeated Joe Le Maire in April to take his number two spot. This has put him in prime position to become the best bantamweight in the UK.
Full Interview below:
Kenton told MerseySportLive that lots has changed since his last bout. He said: "I have really knuckled down. I have changed my strength and conditioning coach.
"My new coach who has his hands on me now so physically I've come on a lot.
"I'm hitting harder every time so I can see it working and even conditioning wise it has helped me."
The young fighter still has his eyes set on UK number one Tyree Stevens. However, Kenton wanted an extra fight to stay in shape before the biggest test of his career.
he said: "I wanted to get another camp in. We're talking about going after the number one next year, but I'm done after this one this year. I'm knackered!"
Fighting on the big stage
The opportunity to fight on a card such as this had also tempted Kenton into the fight. The fighter added: "The show is a big one and you get a lot of attention off it if you play your cards right."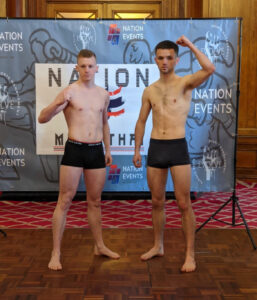 Competing on a big stage means a lot to most fighters and the 22-year-old is no exception. However, the European belt winner plans to take his time before taking any big leaps.
he said: "I'm going to wait out my opportunity, I have been a little bit unlucky this year as I was meant to have a big fight and the show got pulled.
"I wasn't ready to wait around so I could have been sat here in the world rankings right now."
Although the Huyton fighter takes pride in his rank, he does not let it get to him. Kenton believes rankings can cause an ego in some fighters and the validity of the number is there to get him to the top.
"I could be ranked 27th in the country but as long as I can get that number one next to my name I'm not bothered," he said.
Kenton plans to get a win against Hill this weekend and take his shot at the number one next year.
"Obviously I've got to beat Dom on the 12th and hopefully go and beat Tyree next year maybe in spring.
"I think Tyree is ranked 20th in the world so I don't know how the world rankings work but hopefully if I beat him I get his rank."
(Images with permission by Alex Kenton)