The global Movember campaign has many Liverpool residents growing their moustaches for men across the world.
Two friends from  Melbourne, Australia came together in 2003 to start the Movember Foundation to raise awareness of men's mental health and prostate cancer.
Although the original campaign began with only 30 friends of the founders, projects around the world now have over 5 million participants.
The foundation encourages people (especially men) to raise money in any way they can, but their main options are to grow your moustache or complete a 60km walk or run within the month of November.
Around 10.8 million men around the world are living with the diagnosis of prostate cancer and testicular cancer is the most common cancer within men. The foundation believe their work can bring these issues to light to help men not go through this alone and find the issues their early.
The Movember Foundation said: "Our fathers, partners, brothers, and friends are facing a health crisis, yet it's rarely talked about. Men are dying too young. We can't afford to stay silent."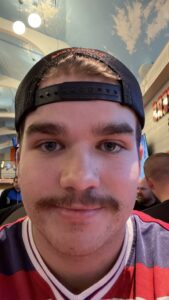 Sport teams have been a huge area of fundraising around the world, with over 13,000 university teams getting involved, raising awareness and money.
Liverpool is no different and Liverpool John Moores University teams have been participating within the last month in Movember.
Josh Atkinson, LJMU Fury line-backer and kicker, is one of many within the American football team to be participating in the campaign.
He said: "I decided to get involved in Movember to raise awareness for men's health.
"I believe that it isn't spoken about enough, particularly mental health. There are far too many men ending their lives over things that can be changed and can be spoken about."
The rate of male suicide continues to grow every day. Within 2021, 3,852 men in England committed suicide and on average every three in four suicides are men. This is something Movember Foundation want to change by helping men to speak out.
Sport can be a great outlet when struggling with mental health, which is why Movember attracts many sporting teams to get involved.
Atkinson said: "It [American football] has helped me by introducing me to a new group of lads when I felt lonely. I have since become extremely close with these lads. When I'm on the field playing the sport I love, I forget about all my outside problems."
This on-going stigma around men speaking out about mental health is one that the campaign is looking to dispel. Recent research by the Movember Foundation has found almost a third of men worry that they could lose their job if they expressed their mental health issues at work.
The Foundation said: "The research shows that stigma surrounding mental health is still preventing men from talking about their problems and seeking help when they need it."
For each of the issues that the foundation looks to tackle, "the plan of action" works alongside their local and international projects to bring these problems to the front of many conversations.
Mr Atkinson said: "Please talk to someone, it might not always seem like anyone cares but, trust me, people do.
"Someone will always be there for you, and someone will always listen. You might have the weight of the world on your shoulders but if you talk to someone this weight starts to get lighter, even if it may not seem like it much at first, the more you talk to someone the better it gets."
You can donate to and find out more about the Movember Foundation HERE.