Despite historically being one of England's biggest and most successful clubs, there are a generation of Everton fans who have never witnessed their team win a trophy.
After years of financial struggles and cash-counting under then majority owner and chairman Bill Kenwright, the Merseyside club was bought by by Iranian billionaire Farhad Moshiri in 2016.
With the promise of big investment came dreams of replicating the success of years gone by, but it has not been that easy for the Blues.
While Moshiri has spent big to try and improve the team, the operation has been erratic at best, with financial blunders in the transfer market and seven permanent managers since the takeover, the club has slipped further and further down the league and finds itself now battling relegation.
Criticism of the way the club is being run has been rife, but one fan group in particular are trying to take action to turn the tide, believing the problems start at the very top.
The 27 Years Campaign, named after the period of time that has passed since Everton last won a major trophy, was founded last year in protest of the Everton board, and have organised multiple demonstrations including the first half walkout in a home game with Arsenal last year.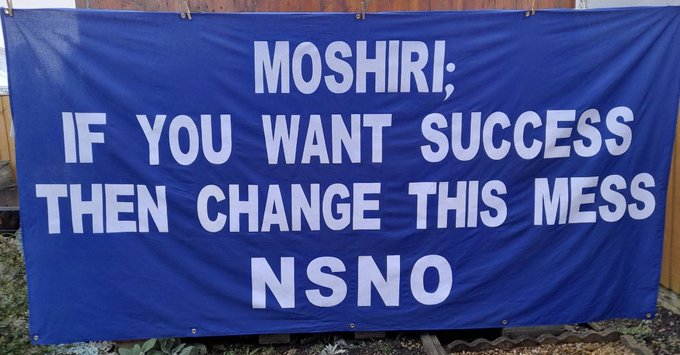 Campaigners have published a second open letter to Moshiri, claiming that there are "issues surrounding the finances, ownership, leadership and direction" of the club.
Group representative Paul describes the letter as a 'call for change' and believes the club needs to be much smarter in their future approach: "Clearly the money hasn't helped us in the time that Moshiri has been here, we've spent that money badly and now we're in a position were we can't really spend large sums of money. We can't just throw money at the problem, we've got to be much smarter and better at what we do."
One of the groups biggest criticisms of the Everton owner is how he has failed to restructure the club behind the scenes. Kenwright still serves as club chairman despite selling his majority shares years ago. His tenure according to the 27 campaign believe has been detrimental:
"We've still got the same chairman that we had when Moshiri arrived at the club, Denise Barrett-Baxendale has been CEO for seven years, and it's our belief that these are both inappropriate people to be running a modern football club. Kenwright obviously has a lot of experience as a director but we don't believe he's the appropriate and right person as he doesn't have the necessary skills to chair a modern football club."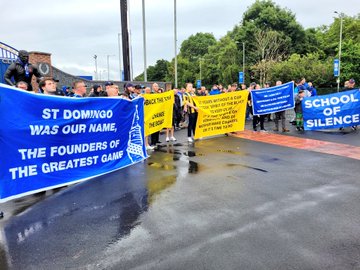 Being outspoken about the club has brought both support from likeminded individuals, and a backlash from those who think the group are trying to speak on behalf of all Evertonians. Paul rejects any claims the protesters are some sort of superior faction and the backlash the campaign has faced is overstated:
"If you challenge people and take them out of their comfort zone then one of the natural ways to react is to react aggressively. It's the nature of social media, but I think what we're saying is quite challenging to a lot of people, if it makes people think about their relationship with Everton and then we're challenging something that's very important to an awful lot of people. In a sense I'm not really surprised that we get this reaction from some, but it's equally true that we get a lot of positive reaction from a lot of people as well."
#TimeForChange 🟡⚫️ pic.twitter.com/7p9mApGucB

— 27yearscampaign (@27yearsCampaign) July 22, 2022
As the Toffees struggle to recapture form under Frank Lampard and the club's Premier League status comes under increasing threat, the 27 years campaign believe will only continue so long as Moshiri refuses to make changes:
"We will find it increasingly difficult to stay in the premier league. Not only do we not have the resources, but players will look at us and see our decline, then they will be more likely to look at clubs who are on an upwards trajectory instead."