A law firm acting for hundreds of Liverpool fans is taking legal action against UEFA over the Champions League final chaos last year.
It comes after an independent review published this week found UEFA "bear primary responsibility for failures which almost led to disaster" at the 2022 final in Paris.
Law firm Leigh Day have been working on their case since the day after the Champions League final at the Stade de France in May last year.
The firm have launched a group claim on behalf of around 600 Liverpool fans who attended the game on May 28 last year.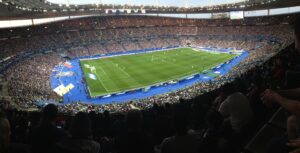 Kick off in the match between Liverpool and Real Madrid was delayed by over half an hour after serious congestion outside the stadium and the use of teargas and pepper spray by police.
An independent review concluded that UEFA's organisation of the event was "defective" and that the policing model used "was not fit for purpose".
It made 21 recommendations for future Champions League finals going forward, based on the failures at the 2022 final.
London-based Leigh Day state that the aim of their legal action against UEFA is "to hold those responsible to account and to prevent football supporters from being treated with such contempt in the future".
More than 600 fans have joined the claim so far – and this number continues to increase.
Charlie Holt, solicitor in the Product Safety Department at Leigh Day, said: "We and our clients are pleased with the report, firstly because it is so critical of UEFA and its failings, and secondly because it clearly exonerates Liverpool fans of any blame for what happened.
"As part of holding UEFA to account we want them to engage with us so we can secure our clients proper compensation for the very serious physical and psychological injuries they have suffered, and many continue to suffer the consequences of."
If you attended the 2022 Champions League final and were affected by the failures that took place you can join Leigh Day's claim here.
(Main pic by Alamy Images under agreed licence)