Jurgen Klopp expects Anfield to be ready for Tuesday night's huge encounter with Real Madrid in the UEFA Champions League.
The Liverpool boss spoke ahead of the Round of 16 tie, which sees a rematch of last season's final in which the Reds lost 1-0.
"I don't think we needed the Paris game to make this a special game," said Klopp.
"We lost the game, and the good thing about sport is we now want to put it right."
Klopp reflected on the game and felt his side were unlucky in Paris.
"I didn't watch it back until this weekend, now I know why. We played a good game and could have won.
"What held us back was the fact it was a final, we didn't take enough risks."
Liverpool are winless in four Champions League matches against Real Madrid under Klopp, with their last victory against tomorrow's opposition coming back in 2009.
However, Klopp dismissed past encounters ahead of tomorrow night.
"This is now same clubs different teams, different times.
"That's the history. Usually if you want to go to the final you have to kick us out or them."
The match will be the first time Liverpool have faced Real Madrid with a full Anfield crowd and Klopp hopes the atmosphere will make a difference.
"It will be a special game. Our people are football people.
"Real Madrid is in town, [let's] celebrate it in the best possible way. Let's go together."
The Reds come into this game on the back of two consecutive Premier League wins, having previously been winless in the league in 2023.
Klopp said he was glad to have momentum, but the size of the game means form doesn't matter.
"Life's all about timing. [I'm] really happy we can play it now, not four weeks ago. But I would have expected us to be ourselves because it's Real Madrid.
"I expect us to fight with all we have. We work so hard qualifying for the Champions League, we have to cherish these moments."
Klopp did not play down the challenge of Madrid, highlighting the talents of their squad.
"They're absolutely world class. Always super competitive and super tough to beat.
"You have to defend them collectively, that's what we will try.
"We need to play two super games to get through.
"If you don't play your best, you don't have a chance. Real Madrid doesn't have to play their best but still has a chance."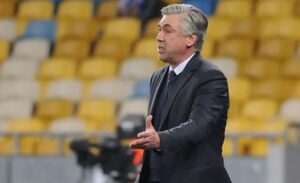 Klopp was also complimentary towards his opposite number and former Everton boss, Carlo Ancelotti.
"Carlo is the most relaxed manager, one of the best people you can meet. [His] man management is completely different level to all of us."
Klopp offered an injury update on forward Darwin Nunez, after the Uruguayan was forced off with a shoulder injury in Saturday's 2-0 win at Newcastle.
"It's not the case [that's it's not nothing]. We'll have to see how he trains, then make a decision."
January recruit Cody Gakpo also spoke and revealed his excitement for the game.
"This is one of the biggest competitions in Europe and the world.
"We are ready, we want to perform, we want to win and go through."
(Image: Alamy, under agreed licence)