Create a Fighter Contender Series held its second-ever show this weekend in Liverpool mixing a variety of MMA, kickboxing, and submission grappling with 15 fights.
The three sports have become increasingly popular recently, and the Contender Series gave Liverpool's up-and-coming athletes a chance to showcase their potential at The Adelphi Hotel.
Submission Grappling
The night began with back-to-back grappling matches. BJJ purple belt Kieran Fletcher caught an early armbar submission after his opponent, Ben Kyffin, successfully escaped multiple early leglock submissions. The second bout saw MMA fighter Anthony McGovern catch a smooth d'arce choke on Nathan Craddock.
Sean McCrystal faced Sam Jones in the third bout. The two hesitated to shoot for a takedown early on until McCrystal shot at Jones' legs and passed into side control. From there, within a split second, McCrystal took a mounted position before grabbing an arm and getting the tap.
Jay Reilly faced Gavin Doyle in the final grappling match on the card, with Reilly getting an early keel hook followed by him being awarded his purple belt by his coach, a big moment for anyone who takes part in Brazilian Jiu Jitsu.
Kickboxing/ K1
Nicole Vernon was the first to win under kickboxing rules as her opponent, Ellie Wright, found Vernon's accuracy too much early in the first round. The referee stopped the fight within two minutes. The second bout was a 60kg matchup between Jake Bettie and Alfie Pritchard, who fought at a fast pace until the end of the match, in which Pritchard was too much for Bettie who was stopped in the second round.
Next came a genuine contender for fight of the night between Aalim Ahmed and Matty Mills. The two began the bout kick-heavy with multiple low kicks. The two went back and forward for three rounds. The crowd was on their feet to rear the two as they swung tit-for-tat. Ahmed's precision and head movement was eventually too much for Mills, resulting in a decision win for Ahmed.
Lewis Humphreys had the quickest win out of the kickboxers steamrolling Jason Cummings in the first minute, mixing punches with kicks and getting a stoppage victory.
MMA
Ethan Cain got the first MMA win of the night, beating Mikey Kelly via unanimous decision utilising skilled takedowns with heavy top control.
Connor Wearing landed a clean head kick on Ryan Byrne, followed by punches to secure himself a round 1 victory over his opponent.
Jack Perry was victorious over Kurt Shortt. Perry had his back taken in round 1 and remained there until the end of the round. Perry came out quickly in round 2, catching short and finishing him off via TKO.
The night's final fight was between Tom Brennan and Ethan Munroe. Brennan's mixing of striking and takedowns resulted in a well-earned unanimous decision for the Aspire Combat Academy fighter.
Performance of the night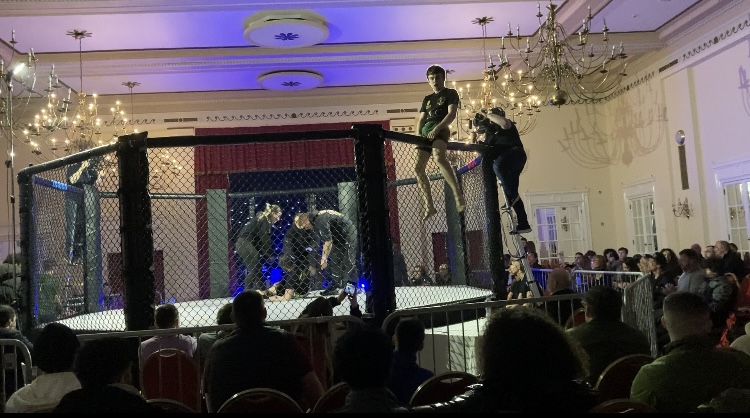 Arguably the performance of the night, however, came by Joel Lavin. The young fighter was initially set to face his opponent under MMA rules before it was changed to Sub-grappling.
As the fight began, the fighter picked his opponent up and slammed him in the Lavin corner. It wasn't long before Lavin had mounted his opponent, Adam Wallace, and threw up a deep triangle choke. Wallace remained inside the choke until he was unconscious.