Everton are set to welcome back their 1997-98 FA Women's Premier League winning squad at Goodison Park for this evening's Merseyside derby.
After an incredible victory 25 years ago, the club and its Heritage Society have tracked down the entire squad, manager and coaches to be commended during the first, and potentially last, Merseyside derby at the ground.
Bill Jackson was the manager of the title winning team in 97/98, beating Victor Akers' Arsenal side by three points. The Blues secured 13 wins and only one loss in their 18 games that season with this being their most successful season to date.
Janette Cunliffe (nee Hill) was a part of that historic squad and has fond memories of the season. She said: "There's no words to describe that day when we won the league having only lost one game all year. We were all truly ecstatic."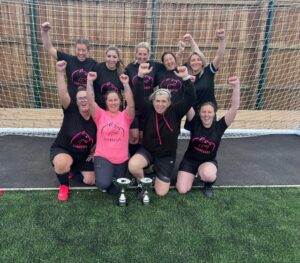 The Toffees have never played against Liverpool at Goodison so it will be a night to make history whilst celebrating the past.
After such a long time since the win, Cunliffe was delighted to be invited to the Goodison derby with her foremer teammates: "When asked to celebrate after 25 years, I was over the moon. We made history and we are still being thought of.
"I am Looking forward to meeting back up with the girls. We had such a great team."
With players in squads constantly moving from team to team and finishing football, many  possibly would have never seen each other again after that successful season. Mo Marley was one of these players who stayed at the club until 2002 where she then became manager but now oversees Lionesses Under 23's.
Cunliffe said: "I am looking forward to meeting back up with the girls. We had such a great team/squad."
The following year after the historic title win, Everton Women reached the final of the Women's Premier League Cup but unfortunately fell short to Arsenal at Prenton Park.
Since the late 90's women's football in England and around the world has massively progressed with more money, time and opportunities given to many teams. The opportunity for current Blues women's team to play at Goodison Park is another step forward for the future of the game.
Cunliffe said: "Watching women's football develop has been absolutely amazing. It's what women's football has really needed for a long time now."
📅 Friday 24 March
⏰ 7.30pm GMT
📌 Goodison Park

Tickets for the first @BarclaysWSL Merseyside derby at Goodison are on sale now ⬇️

— Everton Women (@EvertonWomen) February 20, 2023
The squad from 25 years ago included Mo Marley, Janette Cunliffe, Emma Wright, Jo Fletcher, Kathy Burke (Top goal scorer for Everton in 1997/98), 1997/98 players and mangers player of the year Cathy Gore, Becky Easton, Louis Jackson (previously Thomas), Annie Wright, Tammy Burgess (previously Byrne), Tina mason, Tracie Wing (previously Johnson), Joy McQuiggan, Andrea McGrady, Kerry Halfpenny and Jackie Greatorex (previously Bertie).
The match at Goodison Park will kick off on Friday (March 25) at 7:30pm.