EXCLUSIVE
Manager of Celtic Women Fran Alonso has received an apology from rival Rangers' Craig McPherson after an alleged "headbutt" at the final whistle.
Scenes at the end of Old Firm clash appear to show Rangers Women assistant coach McPherson butting Alonso after Rangers conceded an equaliser with the last kick of the match.
The game at Broadwood Stadium on Monday (March 27) finished 1-1, with Rangers in third place one point behind the Hoops on 55 points.
Alonso, who previously worked at Everton as Ronald Koeman's assistant and the first team technical coach, spoke exclusively to Merseysportlive today about the incident.
And he denies there was a headbutt, and that McPherson has today called him to apologise for the incident.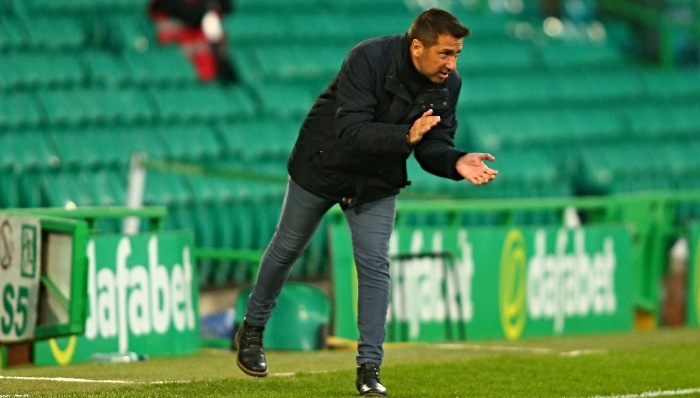 After the incident McPherson, who was celebrating his birthday during the old firm derby, was trending second in the UK. Fran Alonso's name was trending fourth.
Alonso told us today: "Even when I was at Everton, I never experienced anything like this that's had such a repercussion."
Many people on social media accused McPherson of "headbutting", but Alonso denies this accusation.
He said: "He didn't headbutt me, I didn't feel any contact, I felt like a push.
"In the Sky Sports interview they asked me about the incident, they showed me what happened for the first time because I didn't know what happened and I couldn't stop laughing.
"In the video it looked like he headbutted me but he didn't."
Since the incident, contact has been made between the two coaches.
"Fair play to him he asked for my number, he called me today and apologised, for me that's the end of everything and I accept the apology."
The Spaniard, who was also Mauricio Pochettino's technical coach at Southampton, brought on defender Caitlyn Hayes up front late on in the game.
And in the 99th minute of stoppage time, Hayes found the net and scored the equaliser with the last kick.
Alonso added: "We were delighted, for us it felt like a win and for them it felt like a defeat."
After the final whistle, Alonso is seen shaking players hands before being approached from behind and assaulted by McPherson.
"When I was shaking everyone's hand I felt a little push behind, he called me a little rat and I didn't have a clue why, or what I've done I had no idea."
Police in Scotland have investigated the incident and Alonso said he will not press charges.
Despite the incident, Alonso is pleased with the amount of coverage it has brought to women's football.
He said: "It had everything, it had late drama, the Celtic fans got crazy at the end.
OUR FANS 😍, our community, the bhoys, the ghirls, our academy …. together!
We never give up
WE NEVER STOP 🍀

This is GLASGOW CELTIC 💚 pic.twitter.com/Y7ijY8HSWY

— Fran Alonso (@FranAlonsoFA) March 28, 2023
"Then obviously they got something that everyone's talking about, which is not a very positive thing in terms of the actual accident but I think it's positive that everyone is talking about that game.
"It's good exposure for the women's game."
(Featured picture under licence agreement with Alamy)