Liverpool fans are asking that the Premier League and FA crack down on tragedy chanting.
Liverpool supporters are frequent targets of tragedy chanting, with rival fans often singing about the 1989 Hillsborough disaster that saw 97 fans lose their lives following a crush at the FA Cup semi-final.
At the recent all-Manchester FA Cup final a Manchester City fan was caught mocking the 1958 Munich air disaster, which killed 23 people, as he was seen holding an inflatable aeroplane at Wembley.
The FA Cup final brought tragedy shaming into the spotlight once again.

I'm sure this person was unaware that Frank Swift — who was one of Manchester City's FA Cup winning heroes in 1934 — died in the Munich Air disaster whilst working as a reporter.

— Chloe Digby (@ChloeDigby) June 4, 2023
A Manchester United fan was also pictured wearing a shirt appearing to mock the Hillsborough disaster with 'Not Enough 97' printed on the back. The Metropolitan Police has confirmed that James White, 33, of Warwickshire, has been charged with displaying threatening or abusive writing likely to cause harassment, alarm or distress, after allegedly wearing a football shirt at Wembley Stadium which appeared to make an offensive reference to the Hillsborough tragedy.
I am so sorry…
The Hillsborough victims Families have to still witness this heartless prick who thinks it's a good idea to get a @ManUtd shirt with
(97 NOT ENOUGH)
Printed on the back of it!!!!!
Also how has that even been allowed???
Personally if I saw this dickhead… pic.twitter.com/weCG6htIom

— The Kenny Dalglish Stand YNWA 🔴 JFT97 🙏🏻 6 x (@TheDalglishStnd) June 4, 2023
"Quite frankly it's disgusting. I'm not sure why anyone would want to joke about such horrible events," says Liverpool fan Ella Taylor.
"Those at the top of football, whether that's the Premier League or The FA, need to step in and do something. I think there needs to be an approach which tackles these problems directly with fans, and that starts by educating them about the effects that these chants can have."
Ian Byrne, MP for Liverpool West Derby, wrote a letter to the Premier League CEO Richard Masters last year which stated: "These chants and the people behind them shame the game. Since the events of the Uefa final in Paris we have seen many [Hillsborough] survivors triggered and struggling, tragically three survivors have taken their lives this year alone and two since Paris."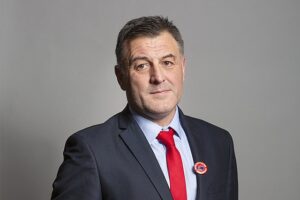 The Premier League and The FA have recently consulted the police and CPS in an attempt to address the chanting. It is understood that the discussions are working towards legislation which would lead to convictions of  perpetrators found guilty of mocking tragedies.
Liverpool fan Jordan Convery says: "I think anyone caught should be locked up. It's pretty simple, it's not acceptable to chant about these things. Punishing people would act as a deterrent and stop more people tragedy chanting."
Byrne has set up The Real Truth Legacy Project, a campaign to educate all generations about the truth and injustice of Hillsborough. This will be done via a 'political education toolkit' which will be used by trade unions, Constituency Labour Parties, and any other organisations who want to learn more about Hillsborough.
The project will also run a campaign to get education about Hillsborough added to the national curriculum, including a dedicated "Hillsborough Day" in the Liverpool City Region.
Miss Taylor said: "Education is by far the most important thing. It is far more effective than simply locking people up. Of course we have to educate fans, but we also have to start in primary schools by teaching kids about how fans and ordinary people can be used as scapegoats for disasters such as Hillsborough."