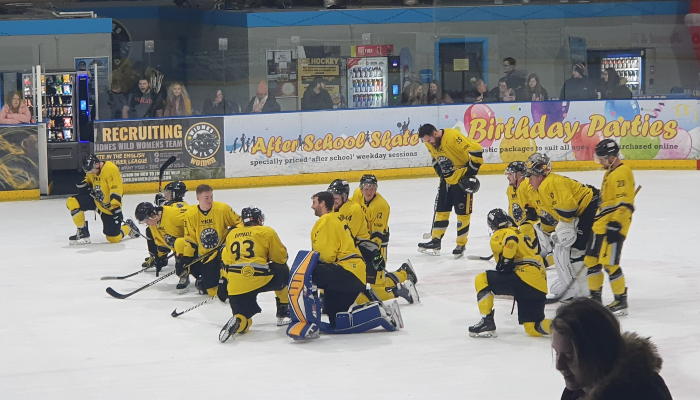 Widnes Wild's home fixture against Sheffield Scimitars on Sunday has been postponed due to concerns over carbon monoxide levels at Planet Ice.
The decision has come after multiple reports of illness from people who have attended recent games.  This has leds to calls for the ice rink to close until health and safety checks have been carried out. Ticket holders will receive a full refund for missed games.
A statement released by Widnes Wild says: "Following concerns relating to a report of carbon monoxide levels at the rink at the weekend – Planet Ice Widnes is currently closed.
"The cause of the concern has now been identified and addressed. In the meantime, anyone who was present at the site at the weekend is advised to seek medical advice if they feel unwell."
The root of the carbon monoxide problem has been revealed to be the ice resurfacing machine that is used in between breaks at games. The equipment is now out of service allowing for a new one to be tested in a mock hockey game scenario with the premises being examined by an air quality expert.
A statement released by Planet Ice said: "This is the first time we have ever experienced such an incident, and are truly sorry that it has resulted in people feeling unwell.
"We extend our best wishes to them all and hope they are now feeling much better."
Sunday's fixture against Sheffield has been cancelled.

Ticket holders will receive a refund, no need to contact or send emails.

Game to be rescheduled at a later date.#TTGW #WidnesWild #IceHockey #Widnes #EIHA pic.twitter.com/9A7Zzd1jZN

— YKK Widnes Wild (@WidnesWild) November 16, 2023
Despite just one win in the last six games, the Wild would have been eager for the game to go ahead on Sunday after beating the Scimitars, who are one place below them in the NIHL North 1 division, away last week.
The teams who sit seventh and eighth were set to go head-to-head in back-to-back weeks after the first game ended 4-3 to the away side. However, due to the closure of Planet Ice, the game will now be moved to a later date.
This all comes at a difficult time for the sport with the recent passing of Adam Johnson which has called for questions about whether Ice Hockey is as safe as it can be.
Widnes Wild hope to return to Planet Ice on December 2 as they welcome Deeside Dragons in the M56 Cup.