Being diagnosed with cancer can be horrific for anybody.
Having to go through chemotherapy and relapsing is the worst-case scenario for many who have lived with the illness.
But one woman from Liverpool has lived through such an experience and has successfully come through the other side through the help of exercise and staying active while undergoing treatment.
Sophie Mulligan, 27, was diagnosed with acute lymphoblastic leukaemia in 2015 and after two and a half years of chemotherapy found out she had relapsed.
She said: "I got the all clear and was in remission, but then in June 2018, I was told I had relapsed and would need a stem cell transplant. That was obviously a huge blow, because I'd already had two and a half years of my life consumed by cancer and now, I was being told that I'd need even more treatment, more intense treatment then I'd had before."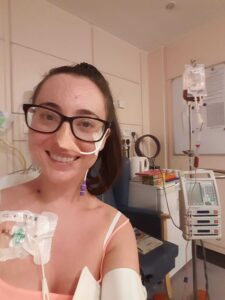 The transplant took place a few months later in October and Sophie recalls how tough the recovery from the procedure was.
She said: "Every side effect they listed, I seemed to get. My body changed in so many different ways that at one point I barely even recognised myself when I looked in the mirror.
"It was a really tough time, I was in hospital initially for nine weeks, in isolation and that was a really low point for me."
Constant visits to the hospital followed and Sophie admits it took about a year for her to finally feel back to herself again.
But the worst news possible followed when in February 2020, it was revealed that she had relapsed a second time and would have to undergo the relatively new CAR T Cell Therapy. Sophie admits at this time she was beginning to lose faith in ever recovering fully.
She said: "I was like, how many more times is this going to happen, what more can my body take. Only a handful of people had had it [CAR T Cell Therapy] before me so that was quite scary, because it's like, what am I going into."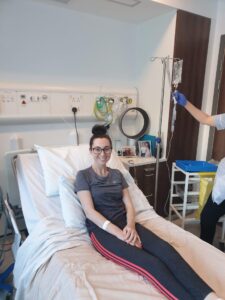 Describing this bout of treatment as 'the last throw of the dice', Sophie was made aware of the MOVE Charity, which supports and inspires people to move against cancer through online exercise programmes.
She was paired with a cancer rehabilitation therapist who specifically designed a programme that was suited to Sophie and one which would benefit her over eight weeks. She said: "I did the programme almost like a prehab before going into CAR T, and I was actually shocked about how much progress I could make in eight weeks. I had sort of written myself off a bit, because I was still recovering from the stem cell transplant and the long-term effects of that. I had quite limited mobility at this stage as well."
Despite doubting how much she could participate in any form of exercise, the programme was aimed at exercises she was capable of doing.
She said: "We incorporated resistance bands into my routine and that was something I absolutely loved. I had never thought you could do so much with the resistance bands, as my instructor showed me. You can basically do a full body workout with them, they're amazing! I just felt in a much better place physically and by the end of the eight weeks, I was like bring CAR T Cell Therapy on!"
After initially being told that she would remain in hospital for five weeks for the treatment, Sophie was discharged after a fortnight.
She credits the exercise as part of the reason for her remarkable progress during this time. She said: "Even when I was in the hospital, I was doing some of the exercises every day, doing very gentle yoga and things like that. That was so miraculous for me to feel so well during and after treatment."
The Childwall native even got to the stage where, soon after being discharged, she was able to play badminton in the back garden with her family, despite having recently undergone such heavy treatment.
Speaking about how the exercise she was able to do, Sophie described how it changed her outlook on supposed limitations people might think they have undergoing treatment.
She said:" It showed me there is so much you can do, and you can still live well with cancer and beyond."
Sophie now works with the MOVE charity as their Admin and Fundraising Coordinator as well as hosting the Move Against Cancer Podcast where she talks to people who have gone through the programme like she has.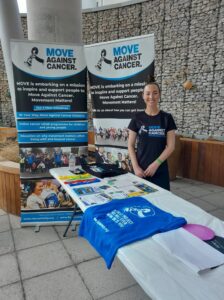 She is now three and a half years in remission and 'as active as she's ever been'.
Reflecting on how the last few years impacted her, Sophie also had a message for those going through to something similar she did.
She said: "I feel very lucky to feel as well as I do and be as well as I am, considering all the treatments I've had. I'm incredibly lucky to be here, I probably shouldn't be here considering how it looked for me at the beginning, but I am. Cancer was only part of my life, not my whole life and that's something that I always say as well."
Full interview: